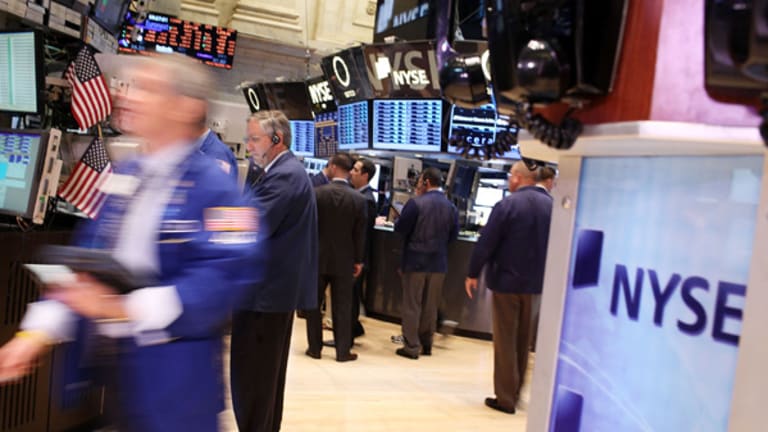 Harbin Electric Going Private: Chinese LBO Pioneer
Chinese stock Harbin Electric wants to go private. Is it just the first of the Chinese stocks frustrated with U.S. market valuation set to say see ya to the U.S. capital markets avenue and return to the hands of private investors?
(Harbin Electric, China stock LBO story updated for analyst comment)
NEW YORK (
) -- There seems to be no end to the appetite for Chinese stock initial public offerings, but how about Chinese stocks bidding adieu to the public markets?
One of the first major Chinese stock leveraged buyouts was announced on Monday.
Harbin Electric
(HRBN)
doesn't want to be a publicly traded U.S. stock any longer. The Chinese electronics firm said that its chairman and CEO, Tianfu Yang, had struck a deal with
Baring Private Equity Asia Group
to acquire all of the outstanding shares of Harbin for $24 per share in cash. Yang already owns 31.3% of the Harbin Electric shares. Goldman Sachs is advisor to the Harbin CEO and Baring on the deal.
Is Harbin Electric to be the first of Chinese stocks fed up with valuations from the public markets to say goodbye to listing in the U.S.?
The deal took the markets, and analysts who cover Harbin, by surprise. Harbin Electric shares spiked early in the morning to a level above the $24 per share privatization premium, as speculation arose that a competitive bidding war would ensue.
Echo He, analyst at Maxim Group, said that she found the prospect for a competitive bidding war unlikely, as there is not a very active leveraged buyout market in China, and for new private equity players to get into the market is far from easy. Additionally, the existing private equity players in China have no shortage of private investments to throw money at, so they have no need to bid up Harbin.
Additionally, the $24 price per share represented by the privatization offer is a premium that it would take 12 months for Harbin Electric shares to reach, in the opinion of the Maxim analyst, who has a 12-month $24 price target on Harbin Electric shares.
At a larger level, Harbin Electric's decision to go private may reflect the long-time issue for Chinese stocks of not getting the valuation their management believe they deserve from the U.S. markets.
Part of the problem has always been the accounting scandals and earnings restatements, if not rampant fraud, that has dogged Chinese stocks and resulted in a major risk discounting in shares. While many Chinese stocks deserve this toxic reputation, the Maxim analysts said that Harbin doesn't fit this stereotype and Harbin management had expressed frustration recently with what it viewed as poor valuation for its shares.
Ping Luo, an analyst with Global Hunter Securities, said Chinese companies have been talking about taking an action similar to Harbin's "going private" for a while now, as frustration has grown over valuations in the U.S. market. The analyst said that Chinese management teams have been anxious to talk to private equity players.
"The negative press accounts and all the scrutiny against Chinese companies has led Chinese management teams to worry about how long this situation will last and what it will take to end this negative reputation," the analyst said, adding, "This is the beginning of some of the more established Chinese companies getting out of the U.S." The analyst said she expects a shakeout among Chinese companies, with less qualified companies going the way of the dodo, while companies with a strong enough profile pursue a similar option to Harbin.
Yet it's not easy for just any company to go public in China, with a primary focus for the IPO market on backing state-run companies. The reason Chinese companies come to the U.S. is that in China it's a long process and there is a very limited number of companies approved to go public, though that is changing with exchanges launched this year to focus on bringing smaller companies public. Global Hunter's Luo noted that the Nasdaq has more listings than all the companies listed in mainland China.
"I think they were frustrated with the public market, and I think it's going to be a while in terms of the stereotype of Chinese stocks and for stocks like Harbin to be differentiated from the general Chinese stock group," Maxim's He said.
Harbin Electric, for example, doesn't have an auditor that is among the Big Four. Even though the company hasn't had any of the accounting issues associated with crash and burn Chinese stocks, the Maxim analyst said the simple fact that it's auditor is not a Big Four firm adds another layer of perceived risk.
This market dynamic leads up to why the $24 offer to Harbin Electric shareholders might be a good deal. Take the profits and run, says the Maxim analyst. While LBO deals typically feature a 25% premium to share price and this deal would fall below that threshold, it could take a huge investor relations campaign in the U.S. for Harbin Electric shares to reach the $24 mark on their own, the Maxim analyst said.
Global Hunter's Luo said that Harbin is a company with which analysts have to "pound the table" to get anywhere near a fair valuation. Global Hunter has a $28 price target on Harbin over the next 12 months based on fundamentals, but Luo said she wasn't even certain when Harbin would be able to reach the $24 mark given the market.
"The prices of these stocks aren't determined by fundamentals, or the U.S. or Chinese economy," the Global Hunter analyst said. The problem is so acute, according to analysts who cover Chinese stocks, that a U.S. traded Chinese company might be able to spin off a subsidiary on a mainland China exchange and get a higher valuation for the subsidiary that the valuation given to the parent company traded in the U.S.
The fact that Harbin's LBO plans are the first from what might be described as "a good Chinese company" is significant. It opens up a new road for Chinese companies that initially used the U.S. public markets for IPOs but may spurn that IPO process in the future. All the big IPO deals are now taking place on the mainland China exchanges, and in Hong Kong.
Harbin hasn't just bought itself a new life as a private company, if the LBO goes through, but it's opened up several new avenues for reissuing public shares. Harbin could improve its operations and growth as a private company and ultimately go public again in mainland China, where deal valuation have been much higher.
"Companies much more average than Harbin get a higher valuation in the Chinese IPO market," Maxim's He said. Or Harbin Electric could one day come back to the U.S. as an IPO backed by a bulge bracket firm, such as Goldman Sachs, serving as advisor on its LBO.
Harbin was part of the now much-maligned reverse merger wave of Chinese companies that started happening in 2003 and reached a peak between 2005 and 2007. Roughly 60% of Chinese companies became public in the U.S. through reverse mergers, according to Global Hunter's Luo.
Harbin has to raise money for capital spending in the next year, too, and while it could meet those needs in the debt markets -- not wanting to dilute shares with another equity raise -- the company had a bad experience with the convertible market in 2007, according to the Maxim analyst, when it had to pay a steep premium to get a convertible deal done. Expectations are that current market conditions would again make a convertible deal an unattractive option.
While long-term investors might think that Harbin Electric shares are worth more than the $24 takeout price, it's a cash deal and waiting for shares to appreciate to that level would entail the risks related to the company's capital raise needs and share dilution resulting in top line growth that doesn't translate into bottom line value.
If the Harbin Electric LBO translates into a new avenue for Chinese companies frustrated with U.S. valuations is another relevant question that the future of Harbin's capital markets plans may help to answer. "It's the first time in China for this and we'll see what happens. If it's good for this company, we may see other companies follow suit," Maxim's He said.
Trading action in Harbin shares on Monday moved from as high as $25 at the open -- a dollar above the LBO premium and suggesting a competitive bid -- to as low as $23.20 at the close, suggesting the some arbitrage players think the deal might not be consummated. Indeed, the class-action lawsuits on behalf of Harbin investors arguing that the $24 share price was a low-ball offer were out immediately after the announcement.
With Harbin CEO Yang controlling so much of the company, a legal fight over what's in the best interest of shareholders could be a threat to the planned LBO. The interest in going private from Chinese companies that don't think they are getting a fair shake from U.S. investors, on the other hand, is not likely to be slowed.
Global Hunter's Luo said that if the lawsuits exert enough pressure on the board, Harbin management might be willing to go as high as $26 to $28 to get the privatization deal done. However, if investors still think $28 is too low, Luo doubted Harbin management would go any higher in offering a premium to current share price. "Even at $28, Harbin management would be making a real effort. Last week this stock was at $17," Luo said.
-- Written by Eric Rosenbaum in New York.
>To contact the writer of this article, click here:
Eric Rosenbaum
.
>To follow the writer on Twitter, go to
.
>To submit a news tip, send an email to:
.
RELATED STORIES:
>>Chinese Stock Bashing Will Hurt Investors: Poll
>>Chinese Stocks: More Trouble Than They're Worth?