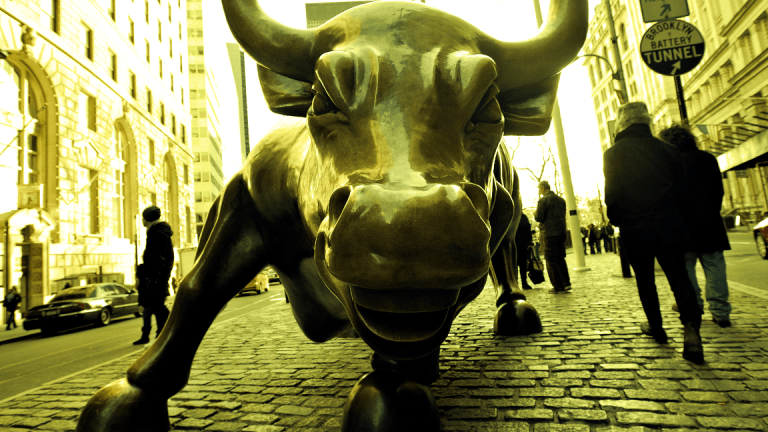 Global Stock Inflows on $700 Billion Pace, Topping Bonds for 1st Time Since 2013
Chart-topping equity inflows are not coinciding with headline returns, Bank of America Merrill Lynch noted, but inflows are on pace for a record $717 billion this year nonetheless.
Investors are pouring money into equity funds at a record pace, according to Bank of America Merrill Lynch data, and outpacing cash into fixed income investments for the first time in five years even as markets stall in the face of rising political risks and concerns of a global trade war.
BAML's 'Flow Show' report suggests equity inflows are on pace for a record $717 billion in new funds this year, after an all-time high of $43.3 billion was recorded last week, with investors favoring the tech and financial sector as well as emerging market equities and Japan-listed stocks. BAML noted, however, that inflows are positioning for higher short-term bond yields as well as higher near-term earnings.
"Treasuries & bunds hinting at 'growth scare' makes stocks vulnerable", the BAML reported noted in reference to benchmark 10-year Treasury bond yields rising to a four-year high of 2.94% earlier this month. "LIBOR leading to tighter financial conditions, higher US dollar required to ding tech & (Emerging Market stocks)."
The dollar index, a measure of the greenback's strength against a basket of six global currencies, was marked 0.18% lower from Thursday's close at 89.98 during European trading, extending its year-to-date decline to 2.33%. Benchmark 10-year Treasury yields hit a four-week low of 2.797% last night before stablising at around 2.82% during European hours. Benchmark 10-year German bund yields, meanwhile, are on track for their biggest one-week decline in seven months, having fallen 9 basis points to 0.56% in early Friday trading.
BAML noted, also, that the U.S. equity inflows ($34.6 billion) have come despite slowing performance for domestic stocks so far this year. The benchmark S&P 500, for example, has recorded a total year-to-date return of 2.76% so far this year and is on track for its worst quarterly performance since the three months ending in June 2016. 
The report noted that U.S. investors are targeting large cap stocks ($22 billion inflows), growth stocks ($5.8 billion) and small cap stocks ($5.4 billion). Tech sector inflows hit a record $2.6 billion, BAML said, followed by financials ($1.6 billion) and materials ($300 million).