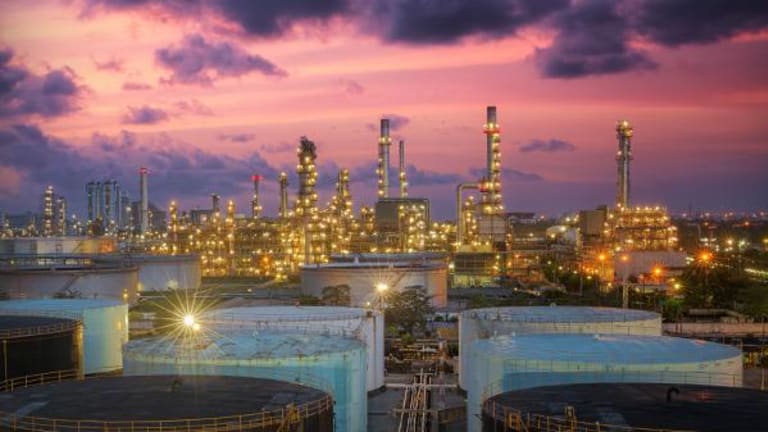 Global Oil Prices Pull Back After Report Says Kuwait Oil Minister Confirms no Depper Production Cuts
Global oil prices turned lower Thursday, reversing early gains after Kuwait's Oil Minister said to confirm OPEC ill extend, but not increase, production cuts.
Global oil prices turned lower Thursday, reversing early gains after Bloomberg reported that the Kuwait Oil Minister confirmed that OPEC agreed to extend recent production cuts for 9-months but not deepen them when the market had hoped for deeper cuts.
Earlier Speaking to reporters at the cartel's meeting in Vienna Saudi Arabia's Oil Minister Khalid Al-Falih said deeper cuts weren't necessary and that the global market could re-balance to its five-year average if the current agreement is extended for a further nine months.
WTI futures for July delivery were marked 0.58% lower than Wednesday's closing price and trading at $51.07 per barrel by mid-morning. However, the sharp pullback has lopped more than 1.6% from prices in the early European session, as prices rose amid speculation of an agreement on cuts that may have included deeper output limits. Brent contracts for the same month, the global benchmark, were seen 0.5% lower from Wednesday's close at $54.69 -- but down 1.4% from their intra-day high.
OPEC is attempting to re-balance a market they claim is awash with supply owing in part to faster U.S. production rates and the development of shale oil reserves around the world. OPEC members currently pump around 31.9 million barrels a day, according to the International Energy Agency, down from 33.3 million in the latter half of 2016.
Prices were supported in Wednesday trading after the U.S. Energy Information Administration said commercial crude stocks in the world's biggest economy fell for the seventh consecutive week last week, with 4.4 million barrels rolling of an overall stockpile of 516.3 million barrels, the smallest since February. 
Investors have been consistently marking prices higher since early May when the influential Al-Falih raised the prospect of an extension of OPEC's agreed production cuts into the second half of the year during an industry event in Kuala Lumpur.
Al-Falihsaid at the time he was "confident" that OPEC members could reach an agreement that would extend their 1.2 million barrels per day in output reductions "into the second half of the year."
WTI crude prices have risen more than 12.2% since Al-Falih's comments and a follow-up statement on May 15 with Russia's Alexander Novak to do "whatever it takes to achieve the desired goal of stabilizing the market and reducing commercial oil inventories to their 5-year average level ... as well as to underscore the determination of oil producers to ensure market stability."
One of the issues that could make a full agreement difficult to reach in Vienna, however, is the issue of compliance among members, many of which have a significant reliance on the U.S. dollar revenue that oil exports provide, and whether certain countries, such as Libya and Nigeria, will continue to be exempt from the current agreement. 
Read More Trending Articles:
25 Wealthiest States: What They Export, Whom They Employ