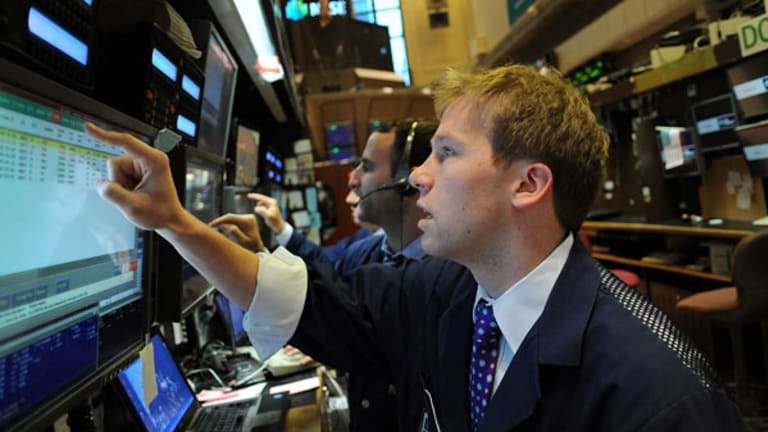 Global Macro: The Fed Doesn't Taper for Good Reason
Reducing growth forecasts and then telling markets support to help that growth will be removed is somewhat counterintuitive.
NEW YORK (TheStreet) -- The big news out of the Federal Reserve meeting on Wednesday was that Fed officials have chosen not to taper just yet. That led to a spike higher in almost all asset classes.
To look at the fundamentals, there was a strong case against tapering now. Although this is in hindsight, that the Fed reduced its growth outlook yesterday was the first signal that tapering was probably not yet on the table.
Reducing growth forecasts and then telling markets support to help that growth will be removed is somewhat counterintuitive.
Meanwhile, bank lending rates are at multiyear lows. Bank lending simply hasn't returned to its pre-recession levels. The gradual nature of the economic recovery as seen in the data has led to a slower-than-expected return to credit lending growth.
The talk of Fed tapering hasn't helped lending, either, as higher rates have made it more expensive to borrow. And so it didn't seem like a wise time for the Fed to start forcing rates higher.
Lastly, with Larry Summers out of the race as new Federal Reserve chairman, Janet Yellen, now the Fed's vice chairwoman, is perceived as the front-runner. She is said to be dovish in her policy stance, which means she would probably prefer to keep stimulus measures in place.
Read: Unfortunately, Dell Is Staying the Course
With Fed Chairman Ben Bernanke expected to leave office in 2014, it would present a difficult situation if the Fed were to start tapering now and leave Yellen in a situation where she may feel more accommodative policy is necessary.
To make the transition easier, it makes sense the Fed would hold back on slowing bond purchases.
As stated earlier, financial markets exploded higher on Wednesday on the news that no tapering was taking place.
The first chart below is of
Market Vectors Gold Miners ETF
(GDX)
.
Read: Class Action Suit Alleges LinkedIn Utilizes Illegal Marketing Practices
Mining stocks had shown extreme weakness the past few weeks as commodities fell due to the fading threat of Syrian conflict. Similarly, equities were in a sideways trend leading into the Fed meeting.
At suppressed levels, the lack of tapering led to a heavy inflow into gold, a traditional inflation hedge, and similarly gold stocks were bid higher.
On the chart below, you can see the drastic spike in price action highlighted in the blue box. With tapering off the table for at least the next few weeks, expect this index to trend higher toward its August highs.
The next chart is of
iShares JPMorgan USD Emerging Markets Bond
(EMB)
.
Emerging-market debt has benefited from the low interest rate environment. Emerging markets carry the added risk of default and vulnerability to large outflows of funds from their economies.
Investors feared that tapering could mean a lack of liquidity for emerging economies as well as slower growth due to more expensive borrowing rates.
Read: US Airways/American Workers' Merger Blitz Is Unique, Expert Says
Now that the Fed has chosen not to taper, funds sitting on the sidelines have poured investments back into emerging-market assets.
The multi-month downtrend in the index below has been broken and prices should continue higher until the next round of tapering talks.
Read: 4 Ways Americans Are Screwing Up Their Retirements
At the time of publication the author had no position in any of the stocks mentioned.
Follow @AndrewSachais
This article is commentary by an independent contributor, separate from TheStreet's regular news coverage.
Andrew Sachais' focus is on analyzing markets with global macro-based strategies. Sachais is a chief investment strategist and portfolio manager at the start-up fund, Satch Kapital Investments. The fund uses ETF's traded on the U.S. stock market to gain exposure to both domestic and foreign assets. His strategy takes into consideration global equity, commodity, currency and debt markets. Sachais is a graduate of Georgetown University, where he earned a degree in Economics.