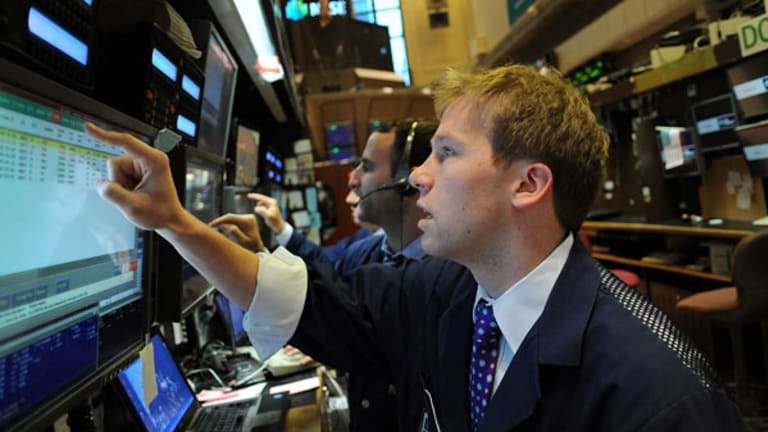 Global Macro: Rising Rates Hurt REITs, Emerging Markets
The domino effect of the rising rate on the 10-year Treasury has begun.
NEW YORK (TheStreet) - Ten-year Treasury yields broke out to the upside this week, which has major implications for asset classes across the globe, especially for real estate investment trusts and assets in emerging markets.
Rising yields diminish the value of current outstanding debt. As benchmark yields rise, assets that track the risk-free rate are inflated and their underlying price falls in nominal value.
The chart below is an index tracking the 10-year Treasury rate. The price action formed an ascending triangle pattern with strong overhead resistance. As uncertainty lingered over the future of U.S. monetary policy, the price traded in an increasingly tighter range.
Read: Housing on a Cliff?
An exchange-traded fund that closely tracks the price movements of the 10-year Treasury is
iShares Barclays 7-10 Year Treasury
(IEF) - Get iShares 7-10 Year Treasury Bond ETF Report
.
For now, it looks like investors have begun to price in an end to the bond-buying phase of monetary stimulus, which should begin this September at the
Federal Reserve's
meeting.
Investors have sold off fixed-income assets and reallocated their funds toward commodities and foreign equity markets, such as Europe.
The next chart is of
Vanguard REIT Index ETF
(VNX)
. REITs depend on interest rates for determining financing costs. As mortgage rates rise, it becomes more expensive to acquire property.
The chart below shows a steep decline in the REIT ETF beginning in mid-May. As Federal Reserve Chairman Ben Bernanke hinted at a potential end to quantitative easing, investors realized it would mean an end to the cheap credit over the preceding years.
Read: In Praise of Across-the-Board Bonuses
The ETF saw a strong selloff and now stands at yearly lows. Policy expectations are solidly priced in at this point, and so look for further weakness -- though somewhat subdued compared with past movements -- to continue leading up to the September Fed meeting.
The last chart is of
WisdomTree Emerging Currency
(CEW) - Get WisdomTree Emerging Currency Strategy Fund Report
. Although the U.S. dollar has been under extreme selling pressure the past few months, rising rates have caused many investors to flee assets in emerging markets.
Emerging markets tend to incur large debt loads. Rising rates cause borrowing to become more expensive to these countries. With gross domestic products remaining suppressed worldwide, increasing debt expenses expand the debt/GDP ratio. That causes already risky countries to become riskier and pushes investors out of such assets.
Read: Bond ETF Investors Rocked by Trading Turbulence
As uncertainty continues in August and benchmark rates remain at elevated levels, funds should flow into developed economies with more stable monetary policy such as European equities and currency.
At the time of publication the author had no position in any of the stocks mentioned.
Follow @AndrewSachais
This article is commentary by an independent contributor, separate from TheStreet's regular news coverage.
Andrew Sachais' focus is on analyzing markets with global macro-based strategies. Sachais is a chief investment strategist and portfolio manager at the start-up fund, Satch Kapital Investments. The fund uses ETF's traded on the U.S. stock market to gain exposure to both domestic and foreign assets. His strategy takes into consideration global equity, commodity, currency and debt markets. Sachais is a graduate of Georgetown University, where he earned a degree in Economics.