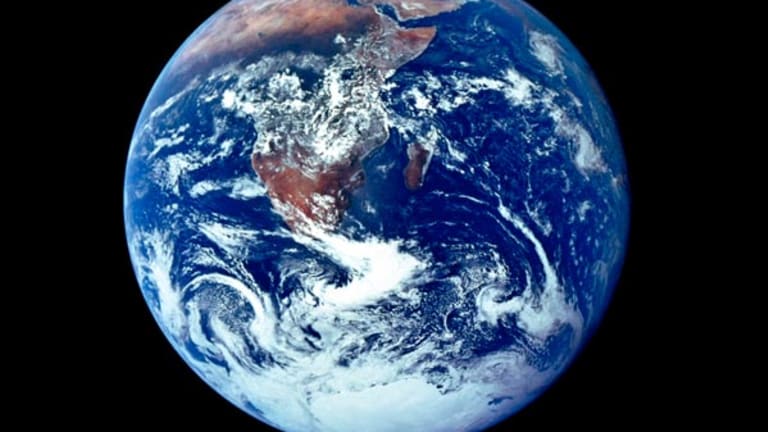 Global Macro: Emerging Markets Are Taking a Beating
As volatility and uncertainty re-enter global markets, emerging market assets are being sold off.
NEW YORK (TheStreet) -- The Bank of Japan's decision to not do anything further with monetary policy left markets unsettled on Tuesday, and the general fear of what central banks will or will not do next has emerging market investors on their toes.
The pair below is of
JP Morgan Emerging Markets Bond Fund
(EMB) - Get Report
over
Barclays 7-10 Year Treasury Bond Fund
(IEF) - Get Report
, which measures the relative demand for emerging market fixed income. Over the past six months the price action has oscillated within a sideways pattern, indicating indecision over future direction.
Central bank easing taking place across the world has pushed funds into emerging markets, which outperform when the U.S. dollar is weak. Starting in 2013 the U.S. dollar rallied, which had adverse affects on the pair below.
Another factor driving the chart lower is the emergence of volatility across world markets. As investor fear rises, it leads to a flow out of riskier assets such as emerging market debt and equities.
The pattern below reflects the uncertainty and overall rotation into a more cautious investment style. The wave of volatility over the past year has led to the emergence of a head and shoulders pattern within this intermarket relationship. By breaking the lower trend line, this chart has signaled that riskier assets, at least for the time being, are too much exposure to uncertainty for many investors.
The next chart is of
MSCI Emerging Markets Index Fund
(EEM) - Get Report
over
Total World Stock Index ETF
(VT) - Get Report
. This chart measures the relative performance of emerging market equities compared to the broader world equity market.
In an article
, I discussed how Chinese weakness has drastically affected financial markets this year. The chart below is another testament to this. Emerging market equities have underperformed throughout 2013.
>>Also see: Apple's Worst Kept Secret: Mobile Payments >>
Chinese economic data have continued to miss time and time again, which has negatively affected inflation expectations. Lower inflation has led to weaker exports, as well as weakness in the commodity sector.
Exports and commodities are major revenue drivers for emerging economies, and broad economic weakness from their major importers, Europe and the U.S., has kept this pair falling.
The U.S. dollar strength has also played a role in the move lower. As the dollar rises it makes investing in U.S. equities more attractive compared to emerging equity. The total returns tend to be higher as investors can swap their domestic currency for dollars and invest in U.S. equities, When they do sell and repatriate funds they see gains in both the physical asset they held and an improved exchange rate.
Essentially both economic outlook and trading strategy fundamentals have played into emerging equities showing relative weakness throughout 2013.
The final pair is of
Dreyfus Emerging Currency Fund
(CEW) - Get Report
over
CurrencyShares Swiss Franc Trust
(FXF) - Get Report
, which measures the strength of emerging market currencies. The franc is a great currency to compare against because it is one of the least volatile currencies currently. The yen is usually viewed as a safe-haven asset as well, but with all of the monetary intervention taking place in Japan, it is magnifying price fluctuations.
As stated earlier, world inflation expectations are on the decline. The fear that Chinese growth will miss expectations in 2013 has financial markets anxious. The lack of self sustainable growth around the globe, and heavy reliance on central bank policies have left interest rates deflated.
The chart below shows the deep selloff that has taken place in emerging currencies. Over the past month this pair has dropped from above its consolidation region all the way down to its lower limits.
>>Also see: The Rise of Twit-Commerce >>
Investors are not happy with the way the global economy is operating right now. Central banks are essentially driving the price action of financial markets, while traders and analysts alike have very little insight in what is going to happen next.
The guessing game is creating an environment of high volatility and fear. In this environment investors are selling emerging market assets, as seen in the charts of this article. Until legitimate growth can make a comeback and inflation expectations bottom out, investors will not have an appetite for growth driven assets.
At the time of publication the author had no position in any of the stocks mentioned.
Follow @AndrewSachais
This article was written by an independent contributor, separate from TheStreet's regular news coverage.
Andrew Sachais' focus is on analyzing markets with global macro-based strategies. Sachais is a chief investment strategist and portfolio manager at the start-up fund, Satch Kapital Investments. The fund uses ETF's traded on the U.S. stock market to gain exposure to both domestic and foreign assets. His strategy takes into consideration global equity, commodity, currency and debt markets. Sachais is a senior at Georgetown University earning a degree in Economics.