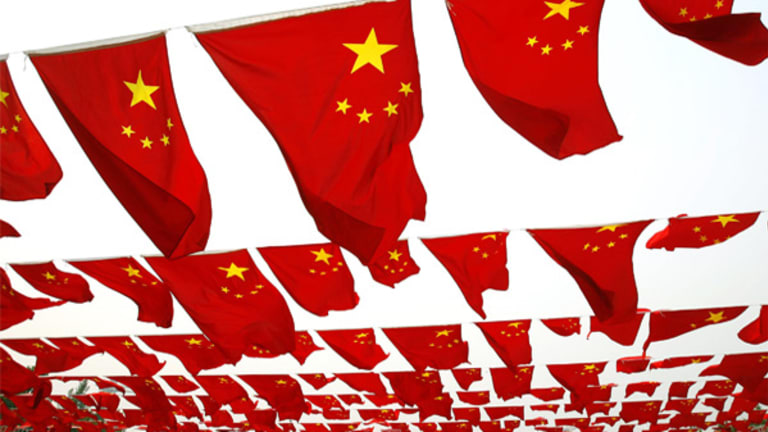 Global Macro: Emerging Market Equities and China Sink
Inflation expectations weigh on commodities, emerging equity markets.
NEW YORK (TheStreet) -- Poor economic data continues to flow from the macro environment's most important countries. Early Wednesday, German business sentiment missed the target of even the most pessimistic analysts. Investors saw this as a final straw in pushing the ECB towards more accommodative policy.
The U.S. durable goods reading gave no form of respite. The release highlighted the drag that higher payroll taxes have had on the U.S. economy. In spite of the negative tone, equities were able to see a silver lining in Goldman Sachs' advice on being "overweight" equities, which kept markets at break even. The deterioration of global growth and tepid inflation is seen within the inter-market charts below.
Source: Stockcharts.com
The first chart, above, is of
DB Commodity Index Tracking Fund
(DBC)
over
Barclays 20 Year Treasury Bond Fund
(TLT)
. Commodities have felt selling pressure due to declining global demand. As industrial production falls, countries find themselves needing less oil, copper, etc. In a risk-on environment this pair should see strength. The fact that the trend broke down in mid-March falls in line with other inter-market indicators. The global economy lost some luster towards the end of the first quarter, further represented in the charts below.
Source: Stockcharts.com
Also see: Smart Retiree Yield Solutions >>
The next chart is of
Barclays TIPS Bond Fund
(TIP)
over Barclays 20 Year Treasury Bond Fund. This ratio directly measures inflation expectation, similar to that of the commodities indicator at the beginning of the article. People are viewing near term inflation as less of a threat with weakening China, euro region and U.S. economies. Growth is necessary for risk assets to see a valid move higher, central bank easing can only do so much. It can create a floor that keeps risk assets afloat, but it looks as if the TIPS market has become weary of this game.
Source: Stockcharts.com
China has led global growth expectations lower, beginning earlier this year. The chart above
FTSE China 25 Index Fund
(FXI)
over
FTSE All World Ex US ETF
(VEU)
illustrates just how quickly sentiment has turned. GDP and export growth have both underperformed expectations recently, which weighs heavily on commodities and emerging markets. Any market linked to global production has seen tempered expectations.
Source: Stockcharts.com
Lastly, there is a look at both
MSCI Emerging Markets Index Fund
(EEM)
over FTSE All World Ex US ETF and
DB USD Index Bullish
(UUP)
over an equal weight DB Commodity Index Tracking Fund.
Also see: The ICE Man Cometh, and the NYSE Can Hardly Wait >>
Emerging equity is affected by the dollar in two ways. First, they tend to have heavy exposure to commodities. With a stronger dollar, comes pressure on commodity prices, pushing them lower. This hurts emerging market exports. Next, dollar price appreciation makes U.S. equities more attractive. A strong dollar means equity gains in emerging markets are actually lower in real dollar terms.
Resounding economic weakness and a shift in inflation expectations have provided a catalyst for a relative drop in emerging equities. A bottom in copper and Chinese equity indexes should offer an argument for bottoming in this emerging market ETF.
At the time of publication the author held no positions in any of the stocks mentioned.
Follow @AndrewSachais
This article is commentary by an independent contributor, separate from TheStreet's regular news coverage.
Andrew Sachais' focus is on analyzing markets with global macro-based strategies. Sachais is a chief investment strategist and portfolio manager at the start-up fund, Satch Kapital Investments. The fund uses ETF's traded on the U.S. stock market to gain exposure to both domestic and foreign assets. His strategy takes into consideration global equity, commodity, currency and debt markets. Sachais is a senior at Georgetown University earning a degree in Economics.