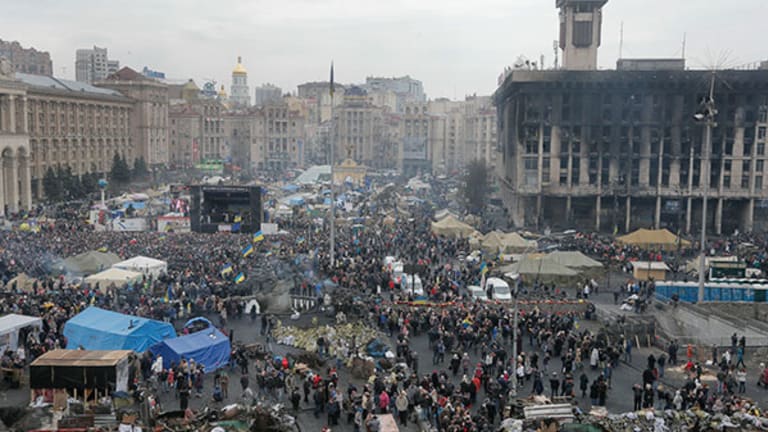 Global Macro: Dollar Rises on Russian War Games
The situation in the Ukraine has sent investors to the safer U.S. dollar.
NEW YORK (TheStreet) -- Investors pushed funds into safe-haven PowerShares DB US Dollar Index Bullish (UUP) - Get Free Report as tensions between Russia and Ukraine rose on Wednesday.
Russian President Vladimir Putin prepared 150,000 troops for war games, some less than 200 miles from the Russian border with the Ukraine. The news sent the Russian ruble and Ukraine hryvnia lower on the day. The hryvnia fell 4% on Wednesday; it has fallen 20% since the beginning of the year.
[Read: Kass: Fair Market Value Update]
Meanwhile, Ukraine must still come up with the funds needed to pay off its heavy debt load, and worries are growing that the country may default on its near-term obligations.
Ukraine's new leadership was planning to set up its cabinet as early as Wednesday night, opening the door for talks with the International Monetary Fund to give the country the financial aid it needs as Russia has backed the $15 billion lifeline it had offered Ukraine.
[Read: Auto Sales Flat in February for Third Straight Month -- Is the Weather to Blame?]
The IMF has said it is ready to help the struggling country, but Ukraine needs to establish a stable government first to ensure the terms of the bailout are understood and policymakers are accountable to the mandates.
Oleksander Turchinov, the interim president of the Ukraine, said on Sunday that the country was in a "pre-default," leading credit insurance markets to push the probability of a default in the next five years up to 52%.
[Read: Wacky Tax Deductions]
As the country looks to establish a stable political and economic system, investors are pushing money into the U.S. dollar. Until the situation in the Ukraine becomes more settled, the dollar should continue to gain against the ruble and hryvnia.
data by
At the time of publication, the author had no position in the fund mentioned.
Follow @macroinsights
This article represents the opinion of a contributor and not necessarily that of TheStreet or its editorial staff.