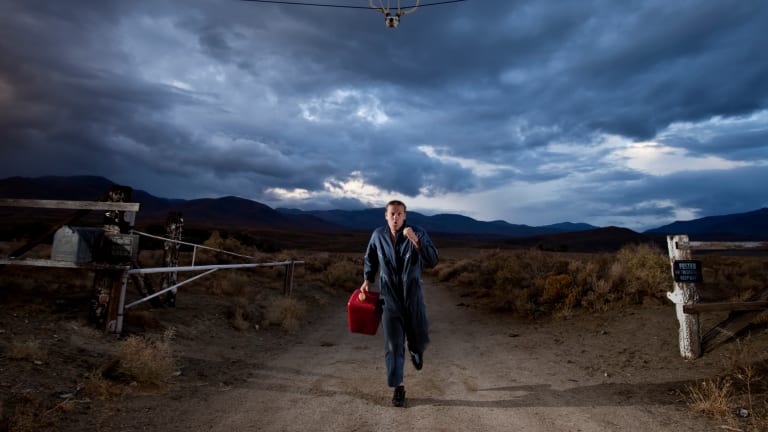 Geopolitical Risk Is So Hot, Investors Get Primed for the Ultimate Fire Sale: Market Recon
Geopolitical risk is heating up and investors are feeling it.
"Take calculated risks. That is quite different from being rash." -- George S. Patton Jr.
The Fire and The Fury
I would not call this a fire sale. The fact is that the selling really is not all that furious. That said, it is not likely lost on the trading community that U.S. stocks peaked around mid-day on Tuesday, and then proceeded to close near the lows of the session. Even allowing for that nine-day streak of record-breaking performances that begged for a catalyst to the downside, most seasoned pros will cringe when they see a close like that. Even more important than the way equities shut it down for the day was the reason why they sold off if the first place. With uncertain forward looking monetary policy, uncertain legislative signals from Washington, and growing concerns over valuations, it took old-fashioned saber rattling to spook the marketplace.
Just in case you spend all of your time watching sports or cartoons, President Donald Trump responded to threats from North Korea by telling reporters that such threats would be met with "fire and fury like the world has never seen". Say that again. "Like the world has never seen". There had already been reports throughout the day that North Korea had successfully miniaturized a nuclear warhead so that it could fit inside an already produced missile. Poof! The record run for equities evaporates. Poof! Ten of 11 sectors headed lower, leaving only the Utility sector clinging to an eerie shade of green. Performance that you might have expected from a sector known as a proxy for the bond market. This morning? Equity index futures are indeed soft, as are global equities. There is some safe-haven buying being seen across the sovereign debt space (btw, Treasury auctions $23 billion worth of 10-year notes this afternoon), as well as for the barbarous relic, gold. Store of wealth? Medium of exchange?
Is this the big one? I'd like to think that the answer to that question is a resounding "no". That's not so much out of concern for my portfolio as it is the threat of global thermonuclear warfare that I dislike. Remember the August Trading Strategies roundtable here at The Street? Remember my answer to what was the greatest threat facing the financial markets was at this time? I said North Korea. You can go back to April, where I interviewed best-selling author and economist Jim Rickards right here in this space. Rickards was way ahead of the crowd on this trend of thought. Overnight, North Korea took it one step further, and threatened the U.S. territory of Guam. Hmmm.
Does this whole situation all blow over? I sure hope so. That said, it sure would have been nice to have already had some gold in the portfolio, now, wouldn't it? If the situation should intensify, just what direction do you think that the value of that yellow metal will head, as opposed to your other investments? I'll bet more than one kid (or old man) searched the internet for recruitment information last night.
Jobs, Jobs, Jobs
Geopolitical concerns aside (not easy to do), the JOLTS print for June really struck me yesterday. I'll admit that over the years, I have found this data-point to be rather useless, as it rarely reflected actual labor market conditions, but the addition of 461,000 job openings in the space of just one month is huge. You've got to keep in mind that the retail business, traditionally a very large employer in aggregate, has been in contraction, so this seems to be in spite of that trend. That's positive.
The growth in these job openings seems to be where you would expect it in 2017. Education, healthcare, business services. Two areas not seeing the love would be manufacturing and construction. Both of these areas represent to varying degrees skilled labor-type jobs that would benefit greatly from the original Donald J. Trump agenda. Still, I think there is hope, even for these two areas. The dollar is already significantly weaker. This has been a rather overt target for the administration from the start. The dollar may not have gotten to where it is by the method desired, but it certainly is the result sought after. A break to even lower levels, which is certainly possible will impact the manufacturing space quite positively, unless all of the soft data across that space, both nationally and regionally is just incorrect.
Watch More with TheStreet:
In addition to that, how about a budget deal? Raise the debt limit. Borrow and spend. Military spending. Infrastructure building. Both sides of the aisle know that the nation needs to rebuild its infrastructure. Those missing job openings in construction are indeed out there. They just have to be unlocked by a legislative body that appears more intent on winning than on accomplishing. That could, and likely will, change as mid-term elections approach.
What do I think this all means? I dare say that this time it could be different. Maybe this time, the growth in job openings and the potential for further growth in demand for labor could translate into actual hiring going into next year. This will also imply greater participation. The end result translates into fewer folks being forced into part-time labor, or having to work multiple jobs. Despite what you've been told by educated people with an agenda, there is obviously still a lot of slack in labor markets. The first step is this burst in demand. Demand will meet supply. Agenda? Do some heavy lifting.
Am I turning positive on the U.S. economy? Even with headwinds such as a central bank intent on normalizing policy? This is tricky, but I think I might be. The potential, for the first time in a long time, is enormous. Don't tell the folks that know me.
One More Thing
While we're on agenda, allow yourself to think tax reform. Go ahead. Think it just for a minute. Earnings season is in its later stages. We are likely to put a second consecutive quarter of double-digit growth in the books in terms of percentages. Tech, energy, and the financials account for more than 70% of this growth. Comparisons will start to get tough as the year develops.
Tax reform becomes a priority for a victory starved legislature. What if something actually gets done? What if the small-caps finally get the good news that they are looking for? What if the hoard of cash currently stashed overseas is suddenly unleashed in the form of dividends, corporate repurchases, research & development, and, wait for it ... mergers and acquisitions? I may lighten my book ahead of Mario Draghi's speech later this month, but longer-term than that, I would rather lose money waiting for this pipe dream of mine than take profits well ahead of events such as these. Time will tell.
Macro
08:30 - Non-Farm Productivity (Q2):Expecting 0.7%, Q1 0.0% q/q SAAR.
08:30 - Unit Labor Costs (Q2):Expecting 1.2%, Q1 2.2% q/q SAAR. Though not at all where we want to be for these two related data-points, we do expect the ball to roll in the right direction in the second-quarter data. Look for productivity to print in positive space after bottoming out in the first quarter. Look also for labor costs to still grow faster than does Productivity despite the far slower growth for such costs that we have seen for most of 2017 versus the disaster that 2016 was for this series..
10:00 - Wholesale Inventories (June-rev):Expecting 0.6%, Flashed 0.6% m/m. This very important item as far as business inventories, and ultimately GDP, are concerned is actually starting to show some life. The series showed an increase of 0.4% in May (after four consecutive months of contraction), and you can see how strong that preliminary June number was. This item is badly out of date, and will not push the marketplace around. It's strictly an economist's series.
10:30 - Oil Inventories (Weekly):API -7.84 million , Last Week -1.5 million barrels.
10:30 - Gasoline Stocks (Weekly):API _+1.53 million, Last Week -2.5 million barrels. Crude actually drifted lower in after-hours trading last night, despite a much larger than expected draw reported for WTI by the American Petroleum Institute. Perhaps that surprise build in the gasoline space had something to do with it. Now, we'll have to sit tight until the EIA releases this data for confirmation.
13:00 - Fed Speaker:Chicago Fed Pres. Charles Evans will speak to a closed group of reporters on economics and monetary policy from Chicago. Evans is a voting member of the FOMC this year, and has recently been outspoken in his concern over the lack of consumer level inflation. With a dovish history behind him, Evans would be a possible dissenter, should the central bank try to raise the fed funds rate before seeing more inflation.
13:00 - Ten Year Note Auction. The U.S. Treasury is set to auction of $23 billion worth of 10-year paper. In the July Auction, the Treasury sold $20 billion worth of this debt at an awarded yield of 2.325% with a bid to cover of 2.45. Indirect bidders took down 64.7% of that issue, which is solid. As of Zero Dark-Thirty, U.S. 10-year paper was yielding 2.243%.
Sarge's Trading Levels
These are my levels to watch today for where I think that the S&P 500, and the Russell 2000 might either pause or turn.
SPX: 2491, 2485, 2477, 2469, 2459, 2449
RUT: 1427, 1421, 1415, 1408, 1400, 1391
Today's Earnings Highlights (Consensus EPS Expectations)
Before the Open: (MYL) - Get Mylan N.V. (MYL) Report ($1.17), (ODP) - Get ODP CORPORATION Report ($0.08), (PLCE) - Get Children's Place, Inc. Report ($0.75), (USFD) - Get US Foods Holding Corp. Report ($0.37), (WEN) - Get Wendy's Company Report ($0.13)
After the Close: (ELF) - Get e.l.f. Beauty, Inc. Report ($0.04), (LYV) - Get Live Nation Entertainment, Inc. (LYV) Report ($0.19), (PLNT) - Get Planet Fitness, Inc. Class A Report ($0.19)
Get Morning Recon delivered directly to your inbox each market day. Click here to sign up for e-mail delivery of Stephen "Sarge" Guilfoyle's Morning Recon, Jim Cramer's Daily Booyah! or other great free newsletters from TheStreet.
More of What's Trending on TheStreet:
At the time of publication, Stephen Guilfoyle had no positions in the stocks mentioned.