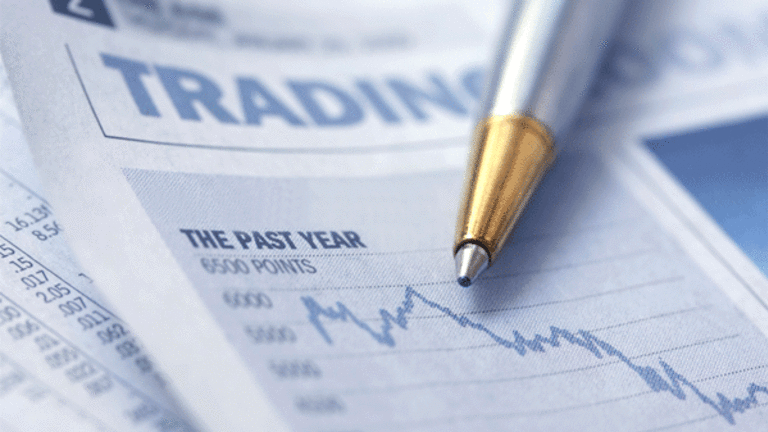 Funds Look Overseas For Yield
Here are some funds that offer investors exposure to overseas companies that pay attractive dividends.
NEW YORK (TheStreet) -Macroeconomic issues plaguing the U.S. have made for jittery market conditions that continue to test the minds and stomachs of investors.
Given the qualities which have shaped the domestic investing environment, it is understandable that income and international investing strategies have come into vogue in 2010.
As seen from the most recent flow data compiled by the National Stock Exchange, ETF investors have developed an insatiable thirst for emerging markets and yield-bearing equities.
Funds such as the
Vanguard Emerging Market ETF
(VWO) - Get Vanguard FTSE Emerging Markets ETF Report
,
SPDR S&P Dividend Achievers ETF
(SDY) - Get SPDR S&P Dividend ETF Report
,
iShares MSCI Brazil Index Fund
(EWZ) - Get iShares MSCI Brazil ETF Report
and
iShares Dow Jones Select Dividend Index Fund
(DVY) - Get iShares Select Dividend ETF Report
saw some of the largest inflows across the entire ETF industry.
While it is possible to use funds such as SDY and VWO to take advantage of the benefits of international- and dividend-oriented investing strategy on an individual basis, there are also a number of products which investors can use to take advantage of both of these strategies at once.
The
iShares Dow Jones International Dividend Index Fund
(IDV) - Get iShares International Select Dividend ETF Report
,
PowerShares International Dividend Achievers Portfolio
(PID) - Get Invesco International Dividend Achievers ETF Report
, the
Federated International Strategic Value Dividend Fund
(IVFCX) - Get Federated Hermes Intl StratValDiv C Report
, and the
WisdomTree Emerging Market Equity Income Fund
(DEM) - Get WisdomTree Emerging Markets High Dividend Fund Report
are four liquid products which seek to expose investors to a bevy of internationally-based companies which are dedicated to paying out comfortable dividends to investors.
Investors holding these funds have enjoyed strong yields ranging from 3% to 4%.
Aside from their attractive distributions, over the past six months, all four of these funds have managed to outperform the broad U.S. markets, as indicated by their performance against the
SPDR S&P 500 ETF
(SPY) - Get SPDR S&P 500 ETF Trust Report
.
In the case of IDV, PID and IVFCX, these funds avoid getting too carried away with emerging market exposure. Although they have proven to be strong in recent months, the markets of nations such as Brazil, Indonesia and Vietnam remain volatile and therefore may not be suited for conservative investors fearful of market swings.
Instead, IDV, PID, and IVFCX appear more dedicated to providing investors with stable returns over the long term. For instance, the funds center the largest percentages of their portfolios on nations considered part of the developed world.
Geographically, countries like the United Kingdom are the major drivers of the funds' performance with13% of IDV, 22% of PID and 27% of IVFCX dedicated to its marketplace. Australia and Canada are two other influential global players representing substantial geographic chunks of each of these three funds.
This may not sit well with aggressive investors looking specifically for dividend-paying emerging market companies. However, they are not out of luck. Using a product like DEM, investors can gain access to yield-bearing companies hailing from some of the hottest corners of the globe.
This fund's geographic breakdown is a who's who among emerging markets. Brazil, Taiwan, Turkey, and South Africa represent the largest chunks of the fund's index.
As we have seen over the past few years, the path to economic recovery is not a smoothly paved road. Rather, as we progress further, we are sure to run into new hurdles and storms.
Dividends and international investing strategies have paid off well and will continue to do so in the near future. Investors can take advantage of both techniques using IDV, PID, IVFCX, and DEM.
Written by Don Dion in Williamstown, Mass.
Readers Also Like:
>>10 Most Volatile Large-Cap Stocks
At the time of publication, Dion Money Management owns iShares Dow Jones Select Dividend Index Fund and Federated International Strategic Value Dividend Fund.
Don Dion is president and founder of
, a fee-based investment advisory firm to affluent individuals, families and nonprofit organizations, where he is responsible for setting investment policy, creating custom portfolios and overseeing the performance of client accounts. Founded in 1996 and based in Williamstown, Mass., Dion Money Management manages assets for clients in 49 states and 11 countries. Dion is a licensed attorney in Massachusetts and Maine and has more than 25 years' experience working in the financial markets, having founded and run two publicly traded companies before establishing Dion Money Management.
Dion also is publisher of the Fidelity Independent Adviser family of newsletters, which provides to a broad range of investors his commentary on the financial markets, with a specific emphasis on mutual funds and exchange-traded funds. With more than 100,000 subscribers in the U.S. and 29 other countries, Fidelity Independent Adviser publishes six monthly newsletters and three weekly newsletters. Its flagship publication, Fidelity Independent Adviser, has been published monthly for 11 years and reaches 40,000 subscribers.