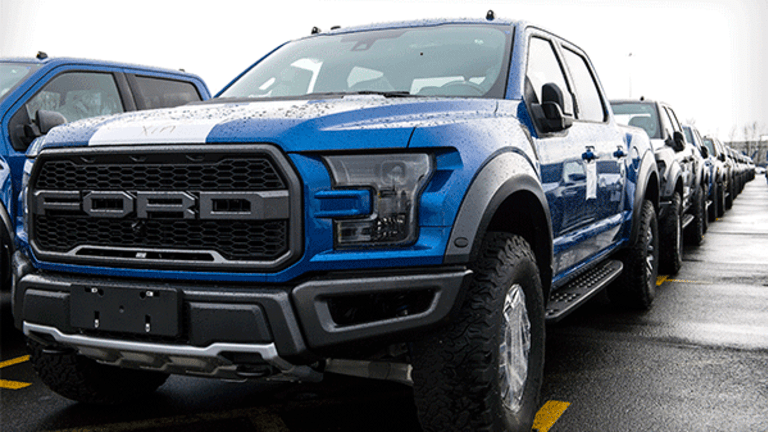 Take a Look at the Ford Raptor -- It's a 450 Horsepower Pickup Truck About to Take China by Storm
The upscale version of Ford's pickup truck will be a hit with dealers in a country that's never seen anything quite like it.
Chairman Mao Tse Tung, the Communist revolutionary founder of the People's Republic of China, in his wildest dreams couldn't imagine Ford's (F) - Get Ford Motor Company Report Raptor pickup truck, much less a day when his country would import them.
After all, private property in Mao's world was a no-no. The full-size pickup truck embodies Western-style capitalism, with its excesses and exaggerations, as gloriously as any product. Within the world of pickups, Raptor reflects the extremes of power, agility and in-your-face individual style.
Chinese consumers are just weeks away from being able to buy a Raptor, the 2017 models of which are being shipped to the country, now the world's largest automotive market.
In the U.S., Raptor starts at about $50,000. The truck's 3.5-liter V6 engine generates 450 horsepower, with a towing capability of 6,000 to 8,000 pounds. Enthusiasts use them to barrel across rugged terrain like the Baja peninsula or just to show off.
What distinguishes Raptor from other pickups -- and from just about everything else on the road in China -- is the foot or so extra ground clearance, the heavy-duty suspension and handling package, the super-wide body cladding and ferocious graphics, paint and other optics meant to make the vehicle look fearsome. Come to think of it, Raptor looks like one of those dragons seen during Chinese New Year celebrations.
"Raptor's unique looks and capability have generated amazing buzz at every auto show we've brought it to around China," said David Schoch, Ford group vice president and president, Ford Asia Pacific.
For now the U.S. is the only market in the world where full-size pickups sell in substantial number. U.S. auto executives can only dream of a day when Chinese consumers buy them for transportation or commercial use. In the meantime, General Motors (GM) - Get General Motors Company Report has announced it will export its Chevrolet Silverado pickup to China, hoping perhaps to ignite a trend.
Ford's stylized Raptor is the automaker's latest to reach Chinese shores, joining a full lineup of Ford models, including Taurus and five SUV models, plus the company's Lincoln luxury cars. In 2016, Ford sold a record 1.27 million vehicles in the country, up 14% from a year earlier.
Ford builds locally all but a small number of the car, crossover and SUV models it sells in China. Manufacturing is in partnership with two Chinese automakers, Changan and Jiangling, and in accordance with China's rules that subject imports to a stiff tariff. Raptor will be subject to a 25% surcharge and thus could be a costly purchase, perhaps the equivalent of $150,000 or more.
More likely, the new truck will serve as a clever way for dealers to attract mainstream consumers. As in the U.S., shoppers will go to showrooms to ogle Raptor -- and they may drive home in a Fusion or an Escape.
Raptor exports from the U.S. could also represent a ray of good news for the Trump administration, which has been threatening protective tariffs to redress the imbalance of trade between the U.S. and partners such as China and Mexico.
Doron Levin is the host of "In the Driver Seat," broadcast on SiriusXM Insight 121, Saturday at noon, encore Sunday at 9 a.m.
This article is commentary by an independent contributor. At the time of publication, the author held no positions in the stocks mentioned.