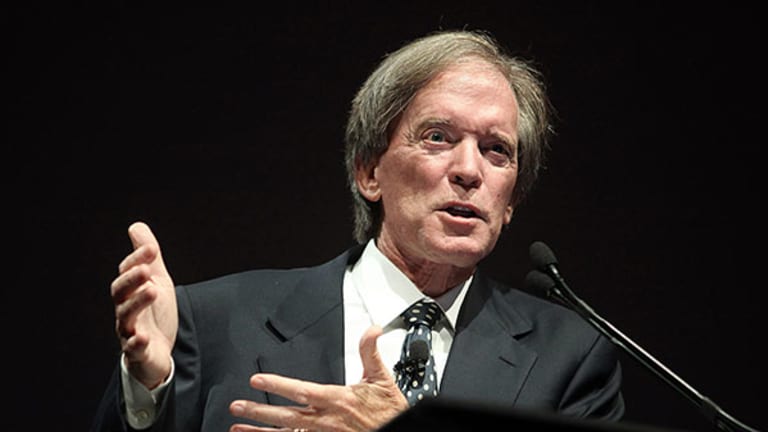 Bill Gross Says 'Impotent' Fed's Rate Elixir Has Lost Its Mojo
Unfazed by Donald Trump's vision of a 'Great America,' Bill Gross says the DNA of the Federal Reserve and its peers makes it hard to cope with real-world challenges.
UPDATE: This article, originally published at 10:51 a.m. on Wednesday, Feb. 3, 2015, has been updated with investor commentary and market data.
Several months ago, Bill Gross got a phone call from a former classmate, a football star who fell on hard times after high school and wanted advice on how to invest an inheritance from his mother.
Like other high-school archetypes, from prom queens to the honor roll crowd, the man seemed in some ways to have been trapped by his makeup, struggling to advance beyond an innate skill set that worked extremely well in one environment but didn't adapt to others. It was a chance encounter that would remind some people of Varsity Blues or Romy & Michelle's High School Reunion.
Not Gross. Instead, the Pimco co-founder whose investing prowess earned him the nickname of "Bond King" before moving to Janus Capital in 2014 was reminded of the Federal Reserve and Michael Lewis's The Big Short. His subsequent reflections made him question whether the Fed and its global peers, like some of his high school classmates, were trapped by their chromosomes and their histories, continually -- and unsuccessfully -- trying to revive the global economy with low interest rates.
Their genetic makeup "seems to have been determined at origin and has since been centered on changes in the policy rate and the observation that higher short rates slow economic growth and temper inflation, and that low or negative interest rates do just the opposite," Gross wrote in his investment outlook for February. The central banks, he said, have fixated "on statistical modeling to influence monetary policy, as opposed to common sense and financial regulation,"  which should give investors pause. 
Gross has been a longtime advocate for raising interest rates in the U.S., which were cut to almost zero during the financial crisis of 2008 and kept there until the Fed raised them 25 basis points in December. The Fed blinked afterward, however, keeping rates steady amid sliding oil prices and turmoil in global financial markets that have dragged the S&P 500 down 7.8% this year.
The Bank of Japan, meanwhile, set a negative interest rate in late January: The central bank said it would separate finance companies' accounts into three tiers, paying a positive or zero rate to some and applying a rate of minus 0.1% to others. At the same time, the European Central Bank maintained low and negative rates set in December, with President Mario Draghi asserting there were "no limits" to how far the bank would go, within its authority, to reach its economic goals.
"They all seem to believe that there is an interest rate SO LOW that resultant financial market wealth will ultimately spill over into the real economy," Gross said. It's logic he has disputed, arguing that keeping interest rates too low for too long prompts people to seek returns in high-risk securities that may fail. It also lowers returns on traditional savings accounts and retirement plans, leaving many consumers ill prepared for the eventual inflation.
"Why after several decades of 0% rates has the Japanese economy failed to respond?" he asked. "Why has the U.S. only averaged 2% real growth since the end of the Great Recession? 'How's it workin' for ya?' would be a curt, logical summary of the impotency of low interest rates to generate acceptable economic growth worldwide. The fact is that global markets and individual economies are increasingly addled."
As examples, Gross cited Puerto Rico, where low global rates have cut returns on investments and left it unable to cope with overspending; Japan, where government debt is more than triple gross domestic product; and China, where opaque government maneuvers have failed to mask a slowdown in economic growth that London money manager Schroders now pegs at 3% to 4%, far below the government's last report of 6.8%.
Is the U.S., where consumer spending drives an economy comprising 85% internal growth, as impervious as economists say? Gross has his doubts, unconvinced by the assurances from polls and GOP presidential candidate Donald Trump that "the prospects for the USA becoming great again are looking skyward."
So does the Fed, apparently. While the central bank didn't rule out an interest-rate increase next month, it also signaled caution, noting that its monetary policy committee is "closely monitoring global economic and financial developments" and weighing their potential effects in the U.S. While employment has climbed and the housing market has grown moderately, inflation is below the Fed's 2% target and is likely to remain so in the near future because of further energy-price drops, the committee said in a statement.
Economic growth will probably "warrant only gradual increases" in interest rates, which may "remain, for some time, below levels that are expected to prevail in the long run," the committee said. 
Despite the central bank's previous suggestion that it might raise rates as many as four times this year, more than half the fund managers responding to a Bank of America survey in January predicted only two hikes. The sample included 200 participants supervising $610 billion of assets. Blackstone Vice Chairman Byron Wien, a former economic strategist for both Pequot Capital and investment bank Morgan Stanley, expects even fewer.
That's exactly what worries Gross. "Our finance-based global economy is transitioning due to the impotence of monetary policy which has always, and is now increasingly, focused on the elixir of low/negative interest rates," he wrote. "Don't go near high-risk markets, stay safe and plain vanilla. It's not predetermined or guaranteed, but a more prosperous outcome should be somewhere around the corner if you do."