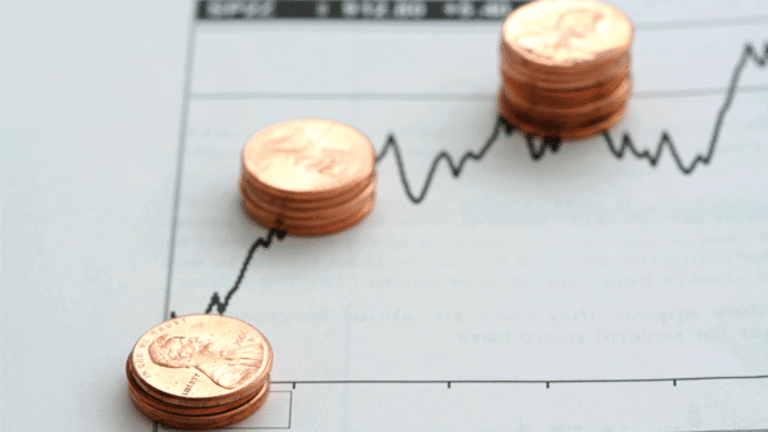 Food Prices Fuel Egypt Unrest
Rising food prices played a major part in the buildup to the civil and political unrest in Egypt last week.
Rising food prices played a major part in the buildup to the civil and political unrest in Egypt last week.
NEW YORK (TheStreet) -- Rising food prices not only helped ignite civil unrest in Egypt, Tunisia, Yemen and other developing nations in recent weeks, but threaten to curb global business operations by pressuring margins and disrupting the world's oil supplies.


Tensions may have eased Tuesday amid hopes for a peaceful resolution to the crisis and an expected
end to President Hosni Mubarak's 30-year rule, but food inflation -- a major catalyst to the region's instability and call for change -- is unlikely to go away anytime soon.
The United Nations' Food and Agriculture Organization (FAO) said its index of global food prices was at record highs, spiking 25% internationally in 2010, higher even than where the index was in 2007-8 during the last food-price inflation crisis. The trend was a major topic of debate and concern among the global economists, political leaders and corporate executives who assembled in Davos last week for their annual meeting of minds.
Rising food prices "can topple regimes, as we have seen in the Middle East," said New York University economics professor Nouriel Roubini, participating in a panel discussion in Davos.
The gap between rich and poor in Egypt continued to widen, just as in other nations -- both developing and developed -- around the world. "With the county's history of a more even income distribution and the recent rise in food prices, this rising income inequality may be becoming more of an issue," wrote
The Oil Drum
, an energy, peak oil and sustainability think tank facilitated by the nonprofit Institute for the Study of Energy and Our Future.
"The most important issue from the current Middle East tensions is what it means for oil prices," Nicholas Colas, ConvergEx Group's chief market strategist, told
TheStreet
.
World oil production remains essentially flat, leading oil prices higher, which in turn means the cost of producing, storing and transporting food is on the rise.
"Companies need to consider what an oil shock would do to their business and create a contingency plan for that event. It may not happen, but at this point a company that didn't plan ahead would look pretty negligent if something did happen," Colas said.
Doug Roberts, chief investment strategist for Channel Capital Research, shared a similar sentiment. He told
TheStreet
that a disruption of the Suez Canal, a narrow passage where millions of barrels of crude oil pass every day each year, would lead to spiking oil prices and significantly higher costs for companies with global operations.
Businesses around the world that rely on oil and goods shipped through the Suez Canal would either need to look for alternative suppliers that do not travel through the passageway, or for alternate, more expensive shipping routes such as heading south and circling around South Africa.
Oil tanker shares like
General Maritime
(GMR)
,
Frontline
(FRO) - Get Report
,
Overseas Shipholding
(OSG) - Get Report
and even
DryShips
(DRYS) - Get Report
, which operates dry-bulk ships but also operates a small fleet of oil-exploration ships, soared last week as the political turmoil in Egypt triggered
speculation that the Suez Canal might be shut down. This week,
big shipping stocks fell back as fears of a Suez closure eased.
Transocean shippers get paid by the mile, so longer shipping routes would prove lucrative as the group could charge higher rates. But consumer goods and food products companies which hire the shippers will have to pay more for the transportation of their raw materials and other goods.
That means that global companies "will either have to raise prices or see lower profit margins," Colas said. "Since consumer fundamentals are still weak, they may not be able to pass along price increases."
Colas said firms that produce "high-ticket consumer goods" like cars and major appliances would suffer the most adverse effects, firms such as
Toyota Motor
(TM) - Get Report
,
Apple
(AAPL) - Get Report
,
Sony
(SNE) - Get Report
and
Whirlpool
(WHR) - Get Report
, for example.
Food producers, too, would suffer margin compression amid higher oil prices, and that in turn would lead to greater food inflation.
The quick rise in food inflation started around seven months ago, Colas pointed out, building off long-term trends like the growing middle class in China and India, where demand for beef and vegetable-based proteins grew disproportionately to demand for grain-based diets. Converting soft commodities like corn and wheat into protein -- think cows and poultry -- is inefficient, costly and time-consuming.
Food inflation in China is roughly 9.6% and in India, 18%,
CNNMoney
reported.
Rising food prices signal that producers should produce more, Colas said, but "you can't just turn a switch." It takes time to plant the corn, it must be the right time of year, and it takes time for the crop to grow.
Increased demand for biofuels like ethanol and ethanol sugar also eat up capacity, Roberts added. Commodity speculation drives prices even higher in the futures markets. "One reinforces the other," he said.
-- Written by Miriam Marcus Reimer in New York.
>To contact the writer of this article, click here:
Miriam Reimer
.
>To follow the writer on Twitter, go to
http://twitter.com/miriamsmarket
.
>To submit a news tip, send an email to:
.
READERS ALSO LIKE:
>> 10 Top Dividend Stocks for 2011
>> 10 Top Buy-Rated Real Estate Stocks for 2011
>> Education Stocks: 2011 Outlook
>>See our new stock quote page.
Get more stock ideas and investing advice on our sister site,
Disclosure: TheStreet's editorial policy prohibits staff editors and reporters from holding positions in any individual stocks.