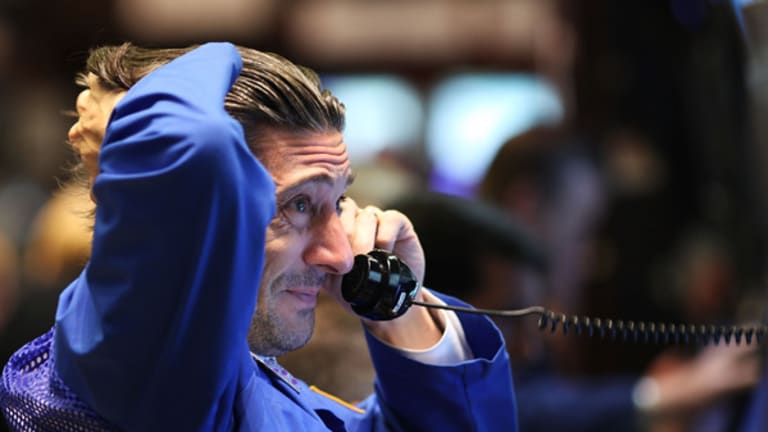 Publish date:
Five ETFs to Watch This Week
Here are some funds to keep close tabs on at the start of the year.
Here are some funds to keep close tabs on at the start of the year.
NEW YORK (TheStreet) -- Here are five ETFs to watch this week.
First Trust Dow Jones Internet Index Fund
(FDN) - Get Report
Last week, as investors returned from the holiday weekend, they were greeted to some encouraging news regarding online retail habits. According to comScore (SCOR), online spending jumped 15% from the year previous.
While the rapid expansion of e-commerce has been well noted, mobile commerce, or "m-commerce," is becoming increasingly prevalent as well.
IBM
(IBM) - Get Report
reported at the start of last week that iPads, iPhones, and Androids accounted for 7%, 6.4%, and 5% of all online purchases made on Dec. 25, respectively.
In 2012, investors can expect the popularity of e- and m-commerce to continue to grow. With ample exposure to household names hailing from these corners of the retail industry FDN is a fund to keep an eye on.
iShares MSCI BRIC Index Fund
(BKF) - Get Report
European sovereign debt woes and lingering growth concerns sent investors fleeing from the emerging markets in 2011. Now, as we take our first steps in the New Year, it will be interesting to see if these nations can find some footing.
Although they are often the first names that come to mind when considering a venture into the developing world, the BRICs may not be the best options for those looking to ring in 2012 on a strong note. A recent
Bloomberg
report casts doubts over this foursome, with the acronym's originator, Goldman Sachs, warning that the growth potential for the nations may have already peaked.
When it comes to navigating the emerging market landscape in months ahead, investors may want to take on a more tactical strategy. Cherry picking strong names will likely bode better than diving into the largest and most recognizable countries. In the past I have pointed to ETFs like
iShares MSCI Mexico Investable Market Index Fund
(EWW) - Get Report
and
Market Vectors Indonesia ETF
(IDX) - Get Report
as potentially promising options.
Market Vectors Agribusiness ETF
(MOO) - Get Report
Next Monday,
Alcoa
(AA) - Get Report
will kick off earnings season when it reports its earnings and outlook. In the days leading up to the report, however, other names are on the docket. For ag-enthusiastic ETF investors,
Monsanto
(MON)
warrants attention.
The seed giant sits at the top of MOO's index, representing over 8% of the fund's total assets. Fellow household names hailing from the farming industry, including
Potash of Saskatchewan
(POT)
,
Deere
(DE) - Get Report
and
Archer-Daniels-Midland
(ADM) - Get Report
can also be found among the fund's top holdings.
MOO saw rocky action during the latter half of 2011. The fund's success in the opening weeks of 2012 will likely depend on whether troubled global regions can work out their macroeconomic issues.
SPDR S&P EURO STOXX 50 ETF
(FEZ) - Get Report
The global markets do not reset with the start of a new calendar year. The patience and level-headedness required to navigate choppy waters in 2011 will again be needed in the months ahead.
While I encourage investors looking to construct an international portfolio to remain hesitant towards the troubled European continent, funds like FEZ and
iShares S&P Europe 350 Index Fund
(IEV) - Get Report
are still worth keeping an eye on.
ETFS Physical Palladium Shares
(PALL) - Get Report
The auto and truck sales reports slated to come through the pipeline on Wednesday will likely impact the performance of ETFs linked to the platinum group of metals. Palladium and platinum are used extensively in the production of catalytic converters, and therefore benefit as more cars drive off the lot.
Other components of the precious metals spectrum will be interesting to watch as well. Given its challenges during the final weeks of 2011, gold will likely be on the minds of many.
Written by Don Dion in Williamstown, Mass.
RELATED ARTICLES:
At the time of publication, Dion Money Management owned the First Trust Dow Jones Internet Index Fund, iShares MSCI Mexico Investable Market Index Fund and Market Vectors Indonesia ETF.