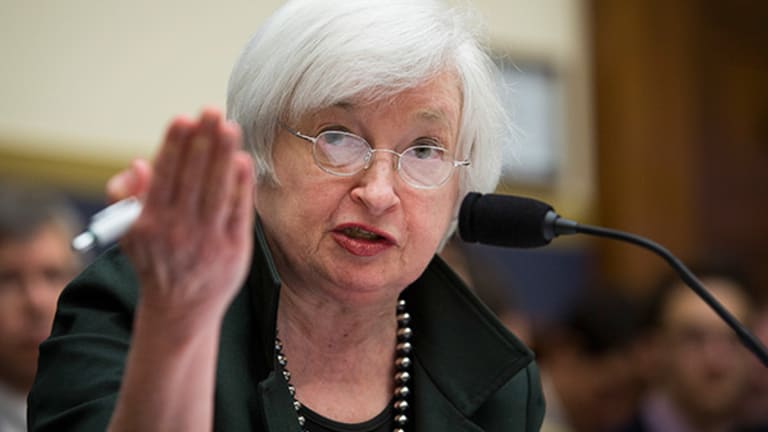 Fed Raises Interest Rates for First Time in Nearly 10 Years
The rate hike shows the Federal Reserve believes the U.S. economy has recovered enough from the 2008 financial crisis to start moving interest rates back to 'normal' levels.
The wait is finally over.
After months of keeping financial markets on edge, the Federal Reserve raised interest rates on Wednesday for the first time in nearly a decade.
The quarter-point hike in the federal funds rate still leaves interest rates only slightly above near-zero levels. But the move shows the central bank believes the U.S. economy has recovered enough from the 2008 financial crisis to start moving rates back to "normal" levels.
The Fed had been signaling a rate increase for months, only to hold off until the economic outlook was clearer. That hesitation has confused and rattled financial markets, which hate nothing more than uncertainty. 
Now that rates are finally rising again, the main question is whether the Fed does nothing more next year -- the "one and done" scenario -- or signals further rate hikes in the coming months.
In its policy statement, released at 2 pm Eastern time, the Fed took a cautious note, saying future increases will be "gradual" and depend on the strength of the economy. Here's the exact wording:
The Committee expects that economic conditions will evolve in a manner that will warrant only gradual increases in the federal funds rate; the federal funds rate is likely to remain, for some time, below levels that are expected to prevail in the longer run. However, the actual path of the federal fundsrate will depend on the economic outlook as informed by incoming data.
In her press conference after the decision, Fed Chair Janet Yellen tried to play down the rate increase.
"I think it's important not to overblow the significance of this first move," she said.
Even so, the markets saw this as an important step for the U.S. economy as it moves back toward normalcy. After hesitating at first, stocks posted strong gains.
The Fed's decision was certainly a long time coming. Many thought Yellen would begin raising rates in September.
But then the turmoil in China's markets, which spread around the globe, prompted the Fed to hold off. It delayed again at the October meeting because of uncertainty over the strength of the U.S. economy and continued weakness in China and Europe.
It wasn't until a blockbuster U.S. employment report came out in early November that the stage finally seemed set for the Fed to act. Many observers said the central bank had to raise rates now to restore its credibility with the markets.

Now that rates are finally moving higher, here are some recent articles to help you through the aftermath of the Fed's decision.
Other Rising Rates Stories
This article was written by a staff member of TheStreet.