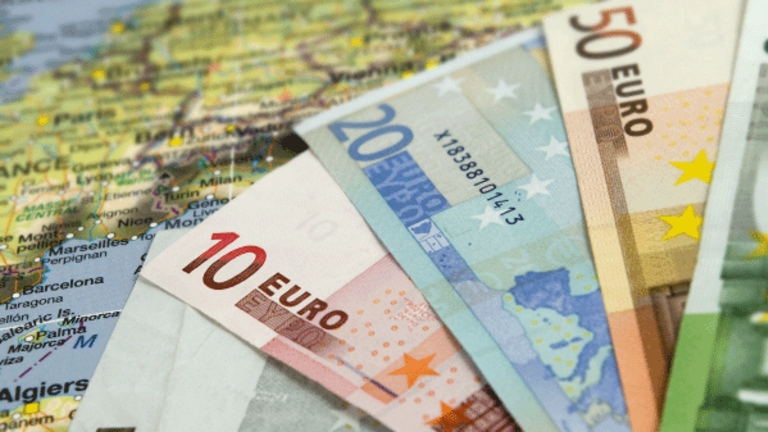 European Stocks Add Modest Gains; Dollar Rally Stalls
European stocks rose modestly Monday but volumes are beginning to thin ahead of the holiday break.
European stocks traded modestly higher Monday as investors kicked off the final four trading days before the seasonal holiday break amid a pull-back in the U.S. dollar rally and the drive to take the Dow past 20,000.
Britain's FTSE 100 added around 25 points by 11:30 GMT, taking it past the 7,000 barrier in thin trading volumes. Germany's DAX index rose 27 points, or 0.21%, in Frankfurt while France's CAC-40 edged 2.4 points higher as the benchmark was held down by a 2.7% fall in shares of Danone SA (DANOY)  .
Shares in the world's biggest yogurt maker fell during early trading to change hands at €59.52 each after it said full-year sales would likely fall short of its previously estimated 3% to 5% growth range owing to a weaker-than-expected fourth quarter performance in its dairy business.
The Stoxx Europe 600 Index, the region's broadest measure of share performance, fell 0.10% to 359.66 by 11:30 GMT.
Eurozone government bond yields fell across the board Monday, led by a 6 basis point decline for benchmark 10-year Italian debt -- to 1.86% -- as investors bet on a successful capital increase from Banca Monte dei Paschi di Sienna (BMDPY) , the country's third largest lender. Ten-year German bunds, the European borrowing benchmark, were little changed at 0.32% while 10-year U.S. Treasuries were 2 basis points lower at 2.57%
Overnight in Asia trading, Japan's Nikkei 225 slipped around 0.05% at the close to end the session at 19,391.6, although volumes were thin as the Bank of Japan kicked-off its final two-day policy meeting of the year and the yen added about 0.7% against the dollar to trade at around 117.30.
Australia's S&P/ASX index added around 0.5% to close at 5,562.10 while South Korea's KOSPI dipped 3.85 points on the session to end at 2,038 points.
The U.S. dollar eased overnight to trade at 102.61 against a basket of six global currencies, but the decline is modest when set against the greenback's advance since the November Presidential elections and traders bid the index higher - at 102.82 - by late morning in London.
That said, the dip allowed oil prices to add modest gains in thin trading, both in Asia and in Europe, taking WTI February futures prices up 0.15% to $53.18 per barrel while Brent crude futures for the same month traded 0.2% higher at $55.42.
Friday's 'Quadruple Witching Hour' trading -- one of four days of the year in which futures and options contracts expire simultaneously -- saw the Dow Jones Industrial Average managed to eke out another week of gains even as stocks concluded an unsettled day of trading in the red.
The S&P 500 was down 0.18%, the Dow fell 0.05%, and the Nasdaq slid 0.36%. The Dow climbed 0.3% higher over the past five days, its sixth week of gains in a row.
Early indications from futures prices suggest the Dow could make a final run towards 20,000 into the Christmas break as the benchmark is expected to add around 35.5 points at the opening bell. The S&P 500 is called 4 points higher while the Nasdaq is called 7.5 points higher.