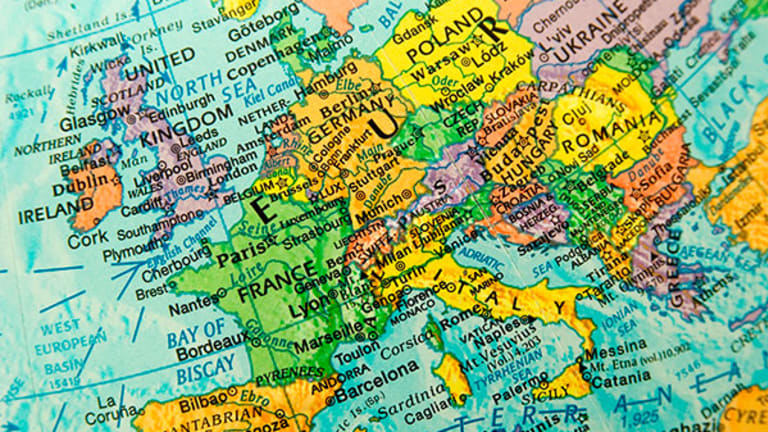 European, Japanese Economies Pick Up Steam as U.S. Takes a Breather
American investors who want better ROI should start looking abroad, because U.S. economic growth is pausing while Europe and Japan accelerate, says Martin Schulz of PNC Capital Advisors.
NEW YORK (TheStreet) -- American investors better start looking abroad, because the U.S. economy is pausing while Europe and Japan are picking up the pace, says Martin Schulz, portfolio manager for PNC Capital Advisors' International Equity Fund.
"If you look at valuations and economic cycles, then Europe and Japan are on the way up while the U.S. is taking a momentary breather," said Schulz, adding that both areas will be huge beneficiaries of lower energy prices.
Schulz cites wage pressure, potential rate hikes by the Federal Reserve, and a strengthening dollar as headwinds that will impede both the U.S. economy and equity markets.
Schulz's International Equity Fund, which earned a four-star rating from mutual fund tracker Morningstar, is up nearly 9% year-to-date, putting it in the 11th percentile of funds in the foreign large-blend category. By comparison, the S&P 500, which only holds U.S.-based stocks, is down about 1% over the same period.
As for which European countries are the best bets, Schulz is bullish on Spain, Ireland and especially Germany, where he says exporters are gaining huge traction due to the weakening euro. The euro has fallen almost 11% relative to the dollar since the start of the year.
Schulz biggest worry about the European economy is brewing nationalism in Greece and its potential spillover into the country's debt negotiations with Germany. Still, he sees the risk of a Greek exit from the European Union as limited.
Simiarly, Schulz sees limited downside in Japanese stocks in the wake of Prime Minister Shinzo Abe's economic reforms and the Bank of Japan's determination to weaken the yen. And while the Japanese currency has had a difficult time sinking beyond the 120 yen per dollar level, Schulz believes it will pierce the 125 mark in the next 12 to 18 months.
"A quick look at the chart and you will see that the yen has fallen in stages and it is on the right trajectory," says Schulz, who also pointed out that the crumbling currency is not just a boost to Japanese exporters, but to domestic tourism and high-end retail as well.
When it comes to emerging markets stocks, however, Schulz is more discerning, saying investors need to break-up their BRIC exposure.
"Brazil and Russia are tough places to invest because of low energy prices and current account deficits, yet we are constructive, yet selective, on Indian and Chinese equities because of reforms taking place in those countries," said Schulz.
Disclosure: TheStreet's editorial policy prohibits staff editors and reporters from holding positions in any individual stocks.