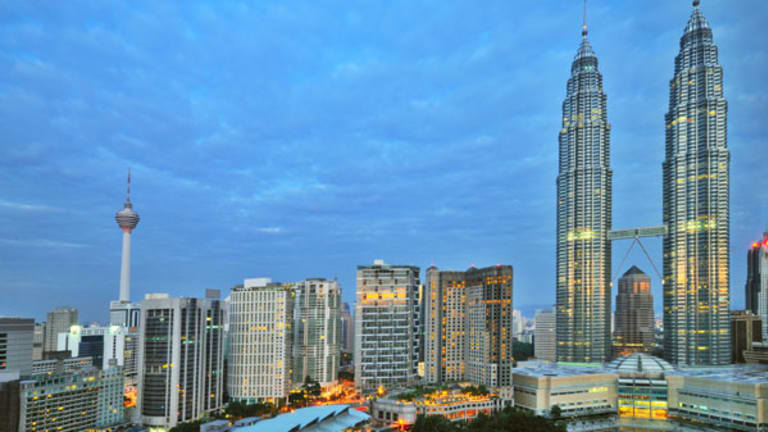 ETFs Let You Invest With Your Head, Not Your Heart
When things go wrong you have to cut underperformers, even your favorites, and invest in something else.
When things go wrong you have to cut underperformers, even your favorites, and invest in something else.
NEW YORK (ETF Expert) -- If anyone would have told me in 2011 that the "China neighbor" theme would struggle for as long as it has, I would have dismissed the argument outright. I had lived in places like Taiwan, Thailand and Hong Kong. I had visited a stock exchange in the Philippines, insurance institutions in Singapore as well as a textile facility in Indonesia. I had experienced the indomitable work ethic throughout Southeast Asia firsthand. 
Simply put, it would have been impossible for me to accept a notion that a slowdown in China might reverberate for multiple years across the region.
Fortunately, I invest with my head rather than my heart. The best example that I have is my largest 2010 holding, iShares MSCI Malaysia (EWM) - Get Report. Not only did this exchange-traded fund triple the performance of the S&P 500, but it did so with less beta risk.
I expressed enormous enthusiasm for Malaysia throughout 2009 and 2010. In August 2009, I highlighted Malaysia's #1 ranking in the world for access to credit in Malaysia ETF Offers A Different Slice of the Emerging Market Pie. In November 2009, I discussed why emerging market investors could improve their diversification and performance by steering away from the natural resources powerhouses (e.g., Russia, Brazil, etc.) in Malaysia ETF: Don't Overlook This Niche Player. Throughout 2010, I pointed to the attractive valuation, technical uptrend, relative strength, low beta risk and dividend yield of EWM.
For the better part of two years EWM remained one of my top choices for clients. Moreover, as a strong advocate of investing in regional partners to take advantage of China's growth as well as Japan's economic needs, I believed strongly in Malaysia's positioning.

Then came the U.S. debt downgrade. After that, the eurozone appeared to teeter on the brink of survival. All of a sudden, stock exposure to "emergers" had become a liability.
Perhaps obviously, my heart still felt that Malaysia, through EWM, was a strong contender for emerging market exposure. Yet, I am not, nor have I ever been, a buy-n-holder. So when EWM fell below and stayed below its 200-day moving average -- when it simultaneously hit stop-limit loss orders -- it was time to let go. My approach to risk management for the past quarter century has always been to control the outcome of every investment by securing a big gain, small gain or small loss; I actively manage against experiencing a big loss.
It is not that I predicted Malaysia's struggles in the years that followed. My heart believed that Southeast Asia offered compelling opportunity. However, my head has always held firm to an investing principal of controlling what can be controlled. Keep costs low, mind the cash flow (yield) and celebrate liquidity. ETFs make it possible to do all of these things.
EWM has still not reappeared on my "wish list screen." By unemotionally selling EWM in August 2011, I had the world of different ETF assets to consider buying as well as an opportunity to ride out the euro-zone crisis with a heavy dose of cash. My heart might have wanted to see all of the ducks line up again for Malaysia in the years since - technical uptrend, relative strength, economic growth, fundamental value - but they have not. (At least not yet.)
The questions many may have at this moment are, "So what are you currently invested in?" and "What's on your wish list?" Some of those answers can be found in the feature, Positioning Your Portfolio For 2014.
Nevertheless, it's worth noting that since the start of the year, I have added iShares MSCI New Zealand (ENZL) - Get Reportto a number of client accounts for a combination of factors including, but not limited to: (a) improved economic growth, (b) yen carry trade beneficiary, (c) 4% annualized yield, (d) technical uptrend and (e) sector diversification.
Similarly, there are a number of yield-oriented income investments in the muni and corporate credit space that I have added to a variety of portfolios here in 2014, including BlackRock Muni Assets (MUA) - Get Report and Guggenheim BulletShares 2020 High Yield (BSJK) - Get Report. Bear in mind, the "rates can only go up" argument has been largely one-sided.
This article represents the opinion of a contributor and not necessarily that of TheStreet or its editorial staff.
Certified Financial Planner Gary A. Gordon, MS, is the president of
, an SEC-registered investment adviser in California. He has more than 23 years of experience as a personal coach in ¿money matters,¿ including risk assessment, small-business development and portfolio management, and has taught finance in Mexico, Singapore, Hong Kong, Taiwan and the U.S. He wrote the draft copy for ¿Maverick Investing,¿ a McGraw-Hill publication, and writes commentary for Seeking Alpha in addition to ETF Expert, for which he also hosts the