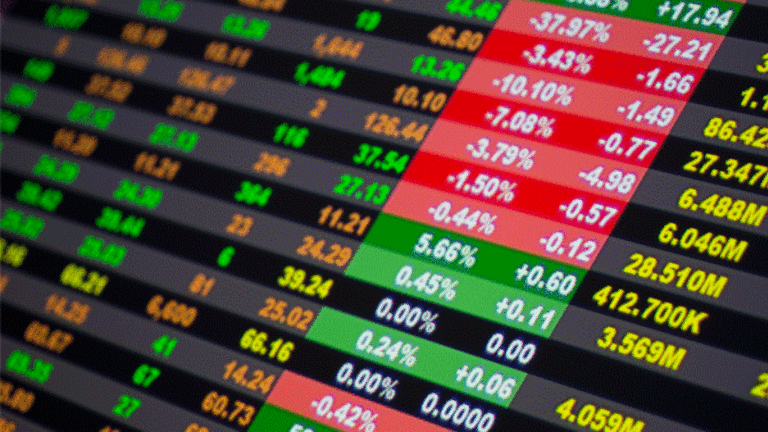 ETFs: July Report Card
Investors continue to move money into ETFs with fixed income performing the best.
NEW YORK (TheStreet) -- In July, the total volume of ETF transactions returned to levels seen in the first four months of the year, before the volatile market period of May and June. However, traders appear to have lost their appetite for frequent trading in the most volatile leveraged ETFs.
Investors continued to move money into ETFs in July, with fixed income barely edging out global and international equity ETFs to claim the largest share of inflows. Investors bought $4.59 billion worth of fixed income ETFs, as compared with $4.51 billion of international funds. Domestic equity ETF saw inflows of more than $2.6 billion, while commodities saw hefty outflows of $1.8 billion.
Specific to international and global ETFs, inflows were dominated by two ETFs: the
Vanguard MSCI Emerging Markets
(VWO) - Get Vanguard FTSE Emerging Markets ETF Report
and
iShares MSCI Emerging Markets
(EEM) - Get iShares MSCI Emerging Markets ETF Report
. VWO saw about $500 million more flow into its coffers, a trend that has been ongoing all through 2010. VWO has seen $9 billion in inflows year to date , versus a more modest $100 million for EEM.
At the end of 2009, VWO had $19 billion in assets versus $39 billion in EEM, but at the end of July, this gap has closed to $29 billion versus $39 billion. At this pace, VWO could knock EEM out of its leadership position sometime early next year and claim the title of third largest ETF in the United States.
On the fixed income side,
SPDR Barclays High Yield Bond
(JNK) - Get SPDR Bloomberg High Yield Bond ETF Report
grabbed the most assets with $583 million. Investors clearly went back into risk assets in July, as the flows indicate. JNK has seen $1.6 billion in net inflows this year, with more than one-third of those assets came last month.
Besides JNK, investors bought another corporate bond fund,
iShares iBoxx High Yield Investment Grade Corporate Bond
(LQD) - Get iShares iBoxx $ Investment Grade Corporate Bond ETF Report
, to the tune of $572 million. It was followed by
iShares iBoxx High Yield Corporate Bond
(HYG) - Get iShares iBoxx $ High Yield Corporate Bond ETF Report
, which saw $468 million in net inflows.
iShares Russell 2000
(IWM) - Get iShares Russell 2000 ETF Report
accounted for the bulk of inflows into domestic equity ETFs, at nearly $2 billion. These flows fit with what we saw in fixed income, as investors moved back into the riskier parts of the market; however, this wasn't a broad move into domestic equities.
As for commodities,
SPDR Gold Shares
(GLD) - Get SPDR Gold Shares Report
saw $1.4 billion in outflows, with
U.S. Oil
(USO) - Get United States Oil Fund LP Report
and
U.S. Natural Gas
(UNG) - Get United States Natural Gas Fund LP Report
well behind, both with less than $200 million in outflows.
The other two gold ETFs,
iShares Comex Gold
(IAU) - Get iShares Gold Trust Report
and
ETFS Physical Gold
(SGOL) - Get abrdn Physical Gold Shares ETF Report
saw respective net inflows of $196 million and $18 million on the month. This was the first full month in which IAU traded post-split and saw its net expense ratio cut from 0.4% to 0.25%, making it the cheapest of the three.
We'll have to wait for a positive month of gold performance to see if IAU can really start competing with GLD for assets. Through August 6, the amounts of gold in GLD and IAU have held steady.
Other notable fund flows include
PowerShares DB U.S. Dollar Index Bullish
(UUP) - Get Invesco DB US Dollar Index Bullish Fund Report
, which saw outflows of $247 million, bringing assets under management to $882 million.
PowerShares DB U.S. Dollar Index Bearish
(UDN) - Get Invesco DB US Dollar Index Bearish Fund Report
saw a small $15 million outflow, reducing assets to $157 million. A sustained U.S. dollar rally versus most major currencies would be needed to reverse the outflows in UUP.
Investors started paying attention to India again and
WisdomTree India Earnings
(EPI) - Get WisdomTree India Earnings Fund Report
saw $217 million in inflows. It saw the largest inflows in July of any single country ETF. The economy has been growing strong and the central bank has raised interest rates to fight inflation.
Net assets have been increasing as investors continue to turn to ETFs for investments, but as volatility has come down, they've been less active in their trading.
By dollar volume, ETFs saw another decline. June saw $1.7 trillion in volume, down from the May level of $2.4 trillion, while July saw volume fall to $1.4 trillion, in line with levels seen between January and April of 2010. Part of this can be accounted for by increasing assets in fixed income, but reduced trading frequency has also plays its part.
Looking at dollar volume against net assets, the turnover for Direxion's 3X leveraged ETFs was at 28 times back in October of 2009, but it was down to 20 times even in May of this year. In July, it fell to 14 times, a little lower than December 2009 levels. However, net assets have moved higher and the firm has not seen net outflows, just as the overall ETF industry has not seen outflows.
-- Written by Don Dion in Williamstown, Mass.
At the time of publication, Dion Money Management was long iShares Comex Gold, iShares iBoxx High Yield Corporate Bond.
Don Dion is president and founder of
, a fee-based investment advisory firm to affluent individuals, families and nonprofit organizations, where he is responsible for setting investment policy, creating custom portfolios and overseeing the performance of client accounts. Founded in 1996 and based in Williamstown, Mass., Dion Money Management manages assets for clients in 49 states and 11 countries. Dion is a licensed attorney in Massachusetts and Maine and has more than 25 years' experience working in the financial markets, having founded and run two publicly traded companies before establishing Dion Money Management.
Dion also is publisher of the Fidelity Independent Adviser family of newsletters, which provides to a broad range of investors his commentary on the financial markets, with a specific emphasis on mutual funds and exchange-traded funds. With more than 100,000 subscribers in the U.S. and 29 other countries, Fidelity Independent Adviser publishes six monthly newsletters and three weekly newsletters. Its flagship publication, Fidelity Independent Adviser, has been published monthly for 11 years and reaches 40,000 subscribers.