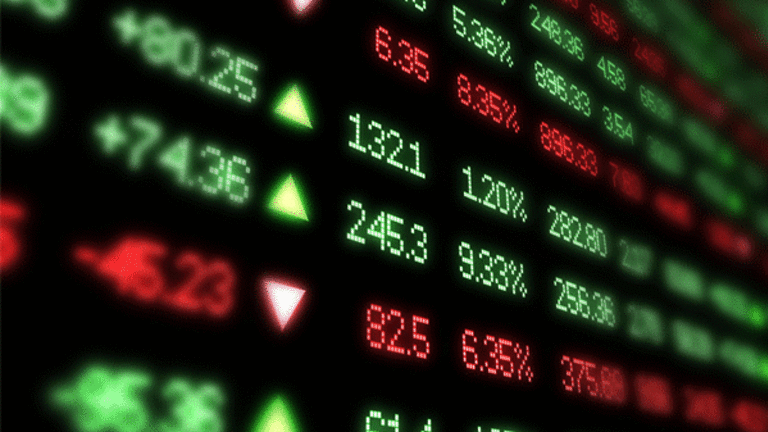 Emerging Markets vs. U.S. Small-Caps: Which Provides Better Reward for the Risk?
Small company overvaluation as well as emerging market undervaluation are beginning to play a part in current market dynamics.
NEW YORK (ETF Expert) -- Downward revisions to economic growth have little to do with the weather in the first few months of the year. Yet, economists are already concluding that gross domestic product in the second, third and fourth quarters will be lower than originally anticipated.
Similarly, the National Retail Federation is blaming the so-called "trajectory" of 12 months of sales on the extreme weather patterns in January and February. This is giving the organization cover for less rosy sales results in the remaining 10 months of 2014.
Naturally, consumer discretionary stocks and retailers have not responded well to the news. SPDR Select Consumer Discretionary (XLY) - Get Free Report remains one of the more dismal participants in the sector field and the XLY:S&P 500 price ratio only amplifies the weakness of the consumer relative to the broader U.S. stock market.
At first blush, it is almost as if the broader market refuses to take notice of the struggling consumer. Are investors genuinely impressed, then, with the 288,000 jobs added by employers in June? Probably not. As many as 523,000 full-time jobs were lost in the same month. One in four Americans are now working part-time. Roughly 40% of year-over-year job creation has come in retail, food services or temporary assignments.
No, if investors liked the idea that GDP growth has been decelerating every year since 2012 -- if they believed the jobs picture offers genuine hope for a renaissance in wage growth -- retail and consumer-oriented equities would be booming rather than flailing.
From my vantage point, the U.S. Federal Reserve will use incoming data as reason to maintain its zero percent interest rate policy longer. All the chatter about a rate hike coming sooner in 2015 rather than later is exactly that -- chatter. The sluggish economy and the cash-strapped consumer will encourage the Fed to stick with its 0% guidance for a longer period than some are talking about, emboldening risk-takers to bid the markets up to new heights.
There are a number of signs, however, that valuation concerns are taking their toll on areas of the U.S. stock market. Extremely overpriced small-caps via iShares Russell 2000 (IWM) - Get Free Report and micro-caps via iShares Russell MicrocapIndex (IWC) - Get Free Report are dramatically underperforming larger company benchmarks. First Trust Technology Dividend (TDIV) - Get Free Report with more attractive fundamentals (e.g., P/E, P/B, etc.) is outpacing the broader technology barometer, SPDR Select Sector Technology (XLK) - Get Free Report .
Meanwhile, geopolitical strife in Ukraine as well as the Middle East has done little to dissuade demand for cheaper emerging markets. The Vanguard Emerging Markets (VWO) - Get Free Report :SPDR S&P 500 Trust (SPY) - Get Free Report price ratio is bumping up against its highest relative strength positioning here in 2014.
The folks at ETF Screen have another method for checking changes in momentum. In particular, Relative Strength Factor incorporates the entire universe of exchange-traded funds, assigning a percentile ranking (0-99.9) that rates a given fund's performance relative to all others. One can then use the RSf tables to visualize improvement or enhancement over desired time periods.
Here are some changes to relative strength factor scores over the last three months:
| | | |
| --- | --- | --- |
| Wither Small Caps, Flourish Emergers? |   |   |
|   | RSf 4/28/14 | RSf 7/23/14 |
| iShares China Large Cap (FXI) | 16.9 | 86.3 |
| iShares MSCI BRIC ETF (BKF) | 22.6 | 81.5 |
| SPDR S&P Emerging Asia Pacific (GMF) | 38.6 | 89.3 |
| Market Vectors Indonesia (IDX) | 42.6 | 82.6 |
| iShares MSCI Brazil (EWZ) | 51 | 87.6 |
|   |   |   |
| RevenueShares Small Cap (RWJ) | 83.9 | 46.4 |
| Guggenheim S&P Small Cap Pure Value (RZV) | 80.9 | 37.9 |
| Schwab International Small Cap (SCHC) | 78.9 | 54 |
| WisdomTree International Small Cap (DLS) | 75.8 | 44.9 |
| First Trust Small Cap Value Alphadex (FYT) | 75.5 | 32.5 |

There is ample evidence to suggest that small company overvaluation as well as emerging market undervaluation is beginning to play a part in current market dynamics. Moreover, with the U.S. economy as well as the consumer showing signs of deceleration, large-caps as well as undervalued emerging market assets may provide more reasonable reward for the risk.Read More:Is the Housing Market Cooling or Maintaining Its Volatility
Follow @etfexpert
This article represents the opinion of a contributor and not necessarily that of TheStreet or its editorial staff.