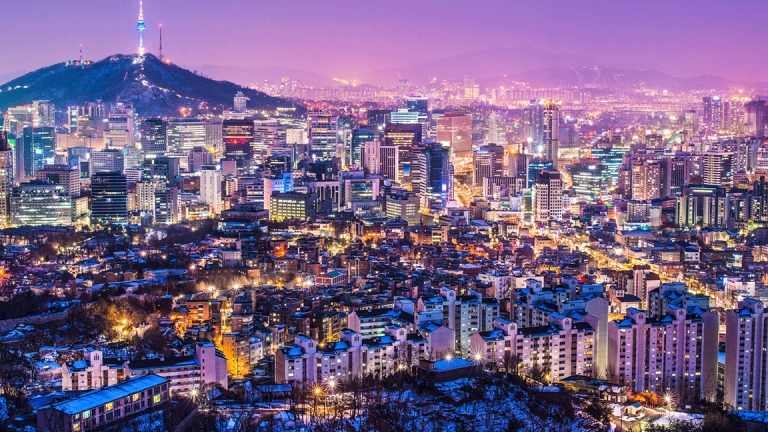 Why One of the Hottest Parts of the Bull Market Won't Die in 2018
Emerging markets equities are on track to continue their strong run for at least another year.
Emerging markets are just getting started.
The impressive rally that's jolted emerging markets well ahead of their developed peers is set to continue well throughout 2018, according to analysts from Goldman Sachs.
The MSCI Emerging Markets Index (EEM) - Get iShares MSCI Emerging Markets ETF Report has shot up 33% since the start of the year, while the MSCI World Index (URTH) - Get iShares MSCI World ETF Report , which tracks developed markets, has gained just 17% in the same time. On Tuesday, Nov. 7, the emerging markets gauge jumped to its highest level since August 2011.
"We agree with the 'macro-consensus' bullish EM equity view and see further upside to the EM equity rally," Goldman analysts Michael Cahill and Zach Pandl said in a note Tuesday. "A continued expansion phase across EM economies suggests MSCI EM could reach 1,250 by end-2018."
Goldman arrived at that assertion by using an earnings per share model incorporating economic expansion, commodity prices and currencies. EPS in emerging markets is on track to expand by 11% through 2018. "A modestly improving growth differential suggests EM equities can re-rate by around 2% versus U.S. equities," Goldman wrote.
The MSCI Emerging Markets Index tracks 24 countries' economies that are not yet fully developed. The Index has 838 constituent equities and covers approximately 85% of the free float-adjusted market cap in each country. 
More of What's Trending on TheStreet: