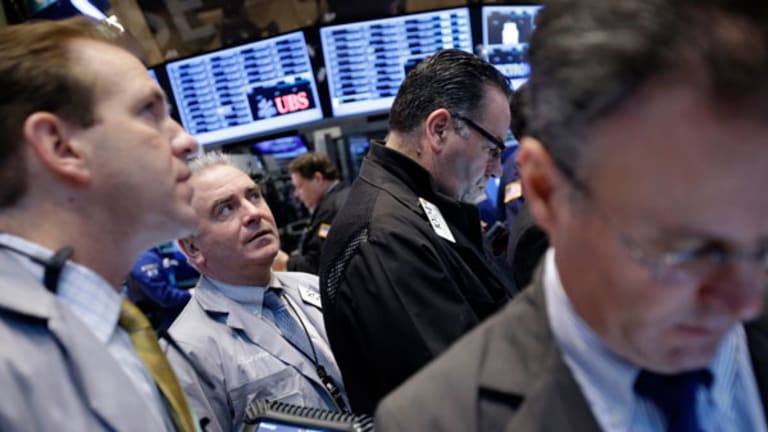 Emerging-Market Funds Are Not the Problem
The <I>Financial Times</I> wrongly blames exchange-traded funds for the decline in emerging-market prices.
NEW YORK (TheStreet) -- Financial Times writer John Authers took a unique stance on emerging markets investing through exchange-traded funds.
Authers notes that the current selloff in emerging markets has been conducted mostly through ETFs. He cites a statistic from Morgan Stanley (MS) - Get Morgan Stanley (MS) Report that ETFs account for roughly 25% of the entire market cap of emerging-market equities. However, ETF.com refutes that number, saying there is $117 billion in emerging-market ETFs.
Authers appears to believe that the ease of trading these markets through ETFs has made them more volatile because it has overwhelmed the volume that these markets would otherwise need to accommodate.
He goes on to say that sentiment of developed market investors should not have such a disproportionately large effect on emerging markets, that investing in this space should be about patience.
There are several instances where Authers misses the mark in his analysis, however. The article as written gives the impression this selloff is a very recent event caused by frenzied ETF trading. In fact, the iShares MSCI Emerging Markets ETF (EEM) - Get iShares MSCI Emerging Markets ETF Report has lagged behind the SPDR S&P 500 (SPY) - Get SPDR S&P 500 ETF Trust Report three years in a row. EEM hit its all-time high in April 2011 and arguably has been in a downtrend since that high.
One way to look at the trading of the last couple of months is that it has been a selling climax in the context of a shallow bear market -- EEM is down 24% from that high of three years ago.
Authers may also be underestimating the impact of the Federal Reserve's asset purchase reduction, the so-called tapering. The general idea is that certain emerging markets that are very dependent on foreign direct investment will see that inflow decrease once investors can again achieve satisfactory yields through simpler holdings in the U.S. bond market. Tapering is viewed as the first step to yield normalization.
it is crucial to remember that the various policies enacted by the Fed and the U.S. Treasury to combat the Great Recession were unprecedented but were the types of things that, according to economics textbooks, should have had extremely negative consequences. Buying debt in the manner the Fed has done it should be inflationary, should undermine the U.S. dollar and send yields rocketing higher while sending people fleeing to precious metals. But, of course, that has not played out in asset prices.

That these things have not occurred could be thought of as unintended consequences -- positive ones. Where the policies are unprecedented it is logical to expect that there could be other unintended consequences, some of which may be positive. But there will also be negative consequences, and the long-term under-performance of emerging market equities could be one of them.
In part, Authers is making a "tail wagging the dog" argument where the smaller thing is moving the bigger thing. However, the asset prices are telling a different and much longer-term story.
Authers is 100% correct that emerging-market investing should be about patience, and the easier tradability of ETFs could be contributing to the short-term volatility -- which is not the same thing as saying ETFs are causing short-term volatility.
However, there seemed to be less concern when the volatility was all to the upside, when EEM rallied by 385% in a four-and-a-half-year period ending in late 2007 and the fund was widely praised for the very thing Authers condemns -- easier access to the space.
Circling back to the idea of patience, investors either have it or they don't. Emerging markets in general have had other multi-year periods where they lagged domestic markets.
In its first five years of trading the Vanguard Emerging Markets Stock Index Fund (VEIEX) - Get Vanguard Emerging Mkts Stk Idx Inv Report was down 2% compared to more than a 150% gain for the S&P 500, according to Yahoo Finance. EEM didn't start trading until 2003, VEIEX serves as a benchmark proxy for periods predating EEM.
The pattern of emerging markets lagging for years then leading for years is likely to continue, which underscores the need for patience.
At the time of publication the author had no position in any of the stocks mentioned.
This article represents the opinion of a contributor and not necessarily that of TheStreet or its editorial staff.