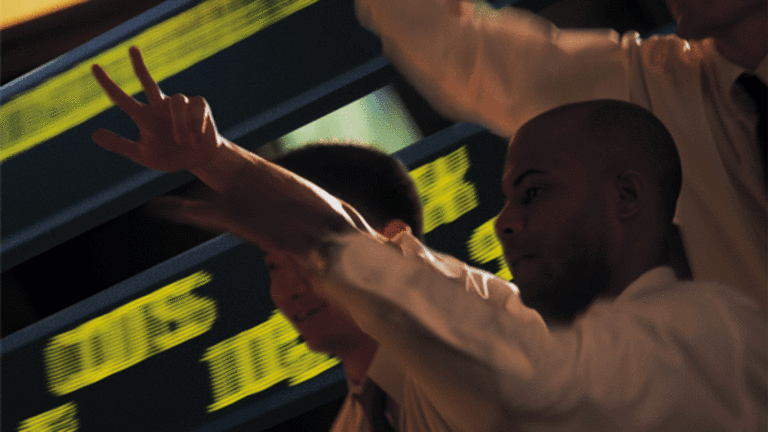 Emerging-Market Bonds Are Closer to 'Risk-Free' Than Treasuries
Here's why investors should consider emerging-market bond funds instead of Treasury ETFs.
NEW YORK (ETF Expert) -- The average debt-to-GDP ratio for developed nations is about 100%. In the U.S., the ratio is close to 105% when one includes debt that is held in government accounts.
The average debt-to-GDP ratio in emerging-market countries? Typically, you're looking at something less than 40%. Without question, from a perspective of country credit, the emergers are far more capable of paying back the money that they borrow.
Of course, fear is quite adept at trumping fact. In the May-June swoon, investors dumped emerging-market assets of all types, opting for the perceived safety of Treasuries and the dollar.
Perhaps sensibly, investors did begin to take a second look at emerging-market assets in the June-July quasi-recovery for risk assets. In fact, they've since pushed emerging-market bond funds with their 5%-plus annual yields to 52-week highs. Following are year-to-date percentage gains of some emerging-market bond ETFs.
PowerShares Emerging Market Sovereign
(PCY)
7.9%
iShares JP Morgan USD Emerging Market
(EMB)
6.7%
SPDR Barclays Emerging Market Local Bond
(EBND)
6.1%
Market Vectors Emerging Market Local Currency
(EMLC)
5.0%
WisdomTree Emerging Market Local Debt
(ELD)
4.3%
Of course, investors may not be as enamored with emerging-market fixed income as they are with the yields they offer. We've seen ETFs for dividend stocks, preferred stocks, high-yield bonds, investment-grade corporates, business development corporations and mortgage REITs ride a similar wave.
It follows that additional flare-ups in the eurozone or China hard landing stories might see Treasury bonds continue to gain and yields continue to log record lows. If that occurs, investors may foolishly sell emerging-market bonds in frenzied trading, even though emerging sovereign debt may be closer to "risk-free" than Treasuries. Following are year-to-date percentage gains for Treasury ETFs.
Vanguard Extended Duration Treasury Bond
(EDV)
13.1%
iShares Barclays 20 Year Treasury Bond Fund
(TLT)
9.0%
iShares Barclays 10-20 Year Treasury Bond
(TLH)
5.7%
PowerShares Laddered 1-30 Treasury
(PLW)
5.1%
iShares 7-10 Year Treasury Bond
(IEF)
4.1%
In sum, U.S. government debt is serving up yields that do not match inflation and don't compensate investors for the level of indebtedness. With the aforementioned 105% debt-to-GDP ratio, the likelihood of more
Fed
easing, and congressional inability to tackle debt reform seriously, the only reason to purchase Treasuries is to "bet" on a worldwide catastrophe. (Note: Even in the case of worldwide calamity, there are no assurances that U.S. Treasury bonds will be seen as safe at these levels.)
Because I do not believe that a 2012 collapse is inevitable, and because I protect all assets with stop-limit orders and/or hedges, I am far more inclined to pursue the risk-reward associated with emerging-market bonds.
To the extent European and China uncertainties exist, I favor dollar-denominated vehicles like PowerShares Emerging Market Sovereign as well as iShares JP Morgan USD Emerging Market. If the Fed goes "all-in" on reflating/currency debasing with a shock-and-awe level QE3, look for outperformance from local currency debt funds like Market Vectors Emerging Market Local Currency.
You can listen to the ETF Expert Radio Show "LIVE", via podcast or on your iPod. You can follow me on Twitter
.
This article is commentary by an independent contributor, separate from TheStreet's regular news coverage.
Disclosure Statement: ETF Expert is a website that makes the world of ETFs easier to understand. Gary Gordon, Pacific Park Financial and/or its clients may hold positions in ETFs, mutual funds and investment assets mentioned. The commentary does not constitute individualized investment advice. The opinions offered are not personalized recommendations to buy, sell or hold securities. At times, issuers of exchange-traded products compensate Pacific Park Financial or its subsidiaries for advertising at the ETF Expert website. ETF Expert content is created independently of any advertising relationships. You may review additional ETF Expert at the site.
Gary Gordon reads:
On Twitter, Gary Gordon follows: