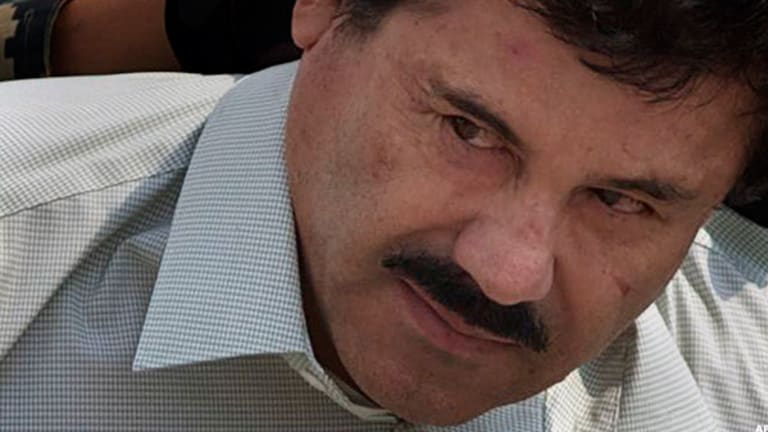 Why 'El Chapo' Should Have Been 'Too Big To Fail'
The Mexican government's bust of Sinaloa cartel chief 'El Chapo' shows why its economy still trails hopelessly behind that of the U.S., which allows JPMorgan Chase and Goldman Sachs free rein.
NEW YORK (TheStreet) -- Among the more than 300 responses to my opinion essay on why the arrest of "El Chapo" was a mistake, more than a few rephrased my argument to state that "El Chapo" was too big to fail.
The connection hadn't occurred to me, but since I have spent some 14 years covering Wall Street it certainly got my attention.
First of all, let's not mince words: The commenters were right on the money in interpreting my remarks. As former U.S. Treasury Secretary Hank Paulson argued in justifying his bailout of the U.S. financial system, including thuggish Wall Street banks like Goldman Sachs (GS) - Get Free Report and JPMorgan Chase  (JPM) - Get Free Report, I was absolutely arguing that a world without "El Chapo" running his drug cartel would be worse than the effect of leaving him in place.
This is not an easy truth to stomach. How can we simply look the other way while a vast criminal enterprise carries out its business unchecked?
One could argue JPMorgan and the other big banks have done the same thing. Such an argument may seem facile to many.
Were the big banks really criminal enterprises? Well, as U.S. Judge Jed Rakoff pointed out earlier this year, the U.S. Financial Crisis Inquiry Commission effectively said they were. Rakoff found that body's final report "uses variants of the word 'fraud' no fewer than 157 times in describing what led to the crisis, concluding that there was a 'systemic breakdown,' not just in accountability, but also in ethical behavior."
And yet, you may argue, mortgage fraud is not the same thing as murder. But, as I quoted drug policy expert Sanho Tree in Monday's article, El Chapo's cartel, the Sinaloa Federation (yes, it is often called that) is not as violent as others, such as the Zetas and the Knights Templar. If the goal is to make Mexican society safer, President Enrique Pena Nieto would have done better to go after them.
But still, how can you not go after an entity like Sinaloa, letting it bribepublicofficialswithimpunity? Oops -- were those links to examples of U.S. officials getting bribed by banks? Obviously those Mexicans don't understand anything about stimulating economic activity.
Related:
For Red Bushes and Blue Clintons, Wall Street's Green is the Warmest Color
Why 'El Chapo' Guzman Bust Was a Mistake
Wall Street Fixer Goes to Washington
Disclosure: TheStreet's editorial policy prohibits staff editors, reporters and analysts from holding positions in any individual stocks.