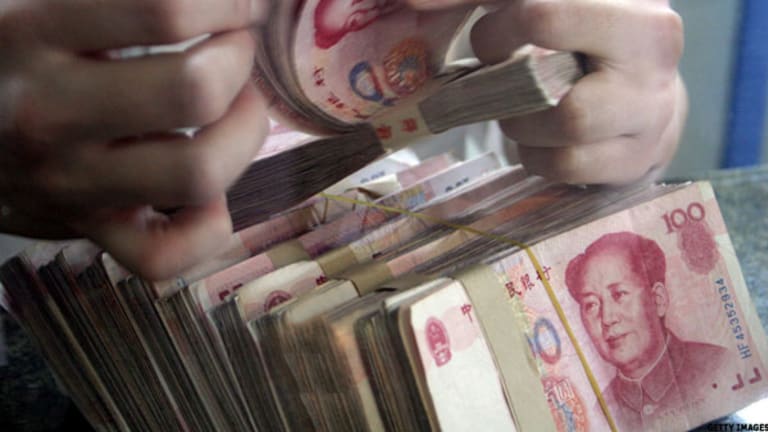 Publish date:
Don't Panic: The BRIC Economies and 'Fragile Five' Are Staying Alive
Great investment opportunities arise from sectors or regions that are cheap, misunderstood and even hated. The BRIC nations and the 'Fragile Five' may fall into this category.
Great investment opportunities arise from sectors or regions that are cheap, misunderstood and even hated. The BRIC nations and the 'Fragile Five' may fall into this category.
NEW YORK (TheStreet) -- Good luck is sometimes defined as the point when opportunity meets preparation. Bad luck may also be looked at in a similar fashion. Preparing for an opportunity that doesn't unfold or speeding down a road that goes the wrong way ... well ... you get the picture.
The so-called BRIC countries -- Brazil, Russia, India and China (and sometimes including South Africa, the newest addition to the group) -- haven't looked very attractive to investors in recent weeks. But according to the Feb. 1 edition of The Economist, there's a new emerging market quintet that also looks overtaken with economic angst.
This time the focus is currency-related.
"The Fragile Five" is a new group that includes BRIC components Brazil and India, but adds Turkey, South Africa and Indonesia.
All five countries saw their currencies plummet. The culprit? Supposedly it was the former head of the Federal Reserve, Ben Bernanke and his surprise statement that the Fed wouldn't keep spending $85 billion per month to buy U.S. Treasury debt and mortgage-backed securities.
Then on Jan. 23, the other shoe dropped when China's manufacturing index fell more than expected. Seemingly overnight, rumors were flying that the second largest economy in the world was experiencing an economic slowdown while attempting to tighten bank lending practices. Markets around the world were quickly spooked.
Yes there's soaring inflation in Argentina and Venezuela, corruption scandals in places like Turkey, and accusations from Brazil that the richest nations are waging some kind of a currency war. So what else is new?
It wasn't long ago we were worried about the PIIGS. Remember them? Portugal, Ireland, Italy, Greece and Spain. The headlines were filled with ominous words like "Euro Zone in Financial Crisis" and predictions that the European Union would soon collapse.
Fast forward to Tuesday, Feb. 4, and the Wall Street Journal had a special report in its exchange-traded funds section titled "How Investors Can Play Europe in 2014." The article begins with three words: "Europe is back." It goes on to suggest that European-focused ETFs might offer more reward than U.S. stocks. My, oh my, how things can change! The crisis of the day may become tomorrow's undervalued opportunity.
The old saw claims that the Chinese symbol for the word "crisis" can also be used for the word "opportunity." Perhaps that's because one leads to another.
It's easy to panic when the headlines are overflowing with hyperbolic suggestions that there's a "shadow banking system" in China and the government may have decided to bail out an inauspicious lender to two. Imagine that, America!
Wasn't it less than 6 years ago our government had to rescue the world's largest insurance company and bail out one of its biggest auto manufacturers, while the Federal Reserve worked overtime to avert a banking meltdown? Look how far the U.S. economy has rebounded while our stock market has nearly tripled.
Is it any wonder that all these stories about the BRIC nations nearing collapse and the woes of "the Fragile Five" quickly produce a kind of international mass amnesia.? It served to let some air out of the major stock market bubbles of the world, yet it seduced many an investor into forgetting that China is still the second largest economy on earth with massive spending power.
I'm not suggesting that concerns about emerging markets and their economic maladies will disappear overnight. What I am saying is that China, perhaps most of all the BRIC countries, is still a tremendous investment, and may be an undervalued opportunity.
Take for example the Global X China Financials ETF (CHIX) - Get Report. The fund invests at least 80% of its total assets in the securities of the underlying index, the Solactive China Financials Index. When you look at the top ten holdings of the ETF, which comprise almost 64% of the fund, you'll see the names of the biggest banks, insurance companies and real estate conglomerates like China Overseas Land & Investment.
In the past three months, this ETF has fallen 20% from its 52-week high of $14.25 to an intraday low on Feb. 5 of $11.41, before rallying to close on Thursday at $11.69. That means this China Financials ETF is down 12.5% since the last trading day of 2013. Will it retest the 52-week low of $10.69, set during the global angst of last June? Certainly that's possible, but when you look at the following one-year chart, it appears that the downside risk is much smaller than the upside potential.
So for China and the BRIC countries, it may be the time to "get ready, get set" -- but not go quite yet. The situation is looking strangely familiar to the passing panics of the past.  When you see how far the stocks of the BRIC nations, as represented by the SPDR S&P BRIC 40 ETF (BIK) , have corrected, you may sense opportunity knocking.
The chart below, like the one above, is what opportunity often looks like. Great investments usually arise from sectors or regions that are hated, cheap and misunderstood. Soon that may define the BRIC countries. Get ready.
BIK data by YCharts
At the time of publication the author had positions in CHIX and BIK.
This article represents the opinion of a contributor and not necessarily that of TheStreet or its editorial staff.
Marc Courtenay is the founder and owner of Advanced Investor Technologies, LLC, as well as the publisher and editor of www.ChecktheMarkets.com.
Courtenay holds a Master's of Science degree in Psychology from California Polytechnic State University, and is a former senior vice-president of Investments for two major brokerage firms. He's been a fiercely independent investment "investigator" and a consulting contributor to the investment publishing world for over 30 years. In addition to his role as an investment publisher and analyst, he serves as a marketing consultant to the investment media industries.
In his role as a financial writer and editor, he specializes in unique investment strategies, growth with income stocks, overlooked investment themes, tax-advantaged themes, risk management, technologies to capture gains and reduce losses, real estate related opportunities,effective wealth preservation techniques, and the use of ETFs for diversification and asset allocation. He also follows and frequently writes about technology, health sciences, energy and resource companies. Because of his training and background in Clinical Counseling and Psychology, he enjoys writing about investor behavior, the herd mentality, how to turn investment mistakes into investment breakthroughs and the stock market's behavioral trends and patterns.