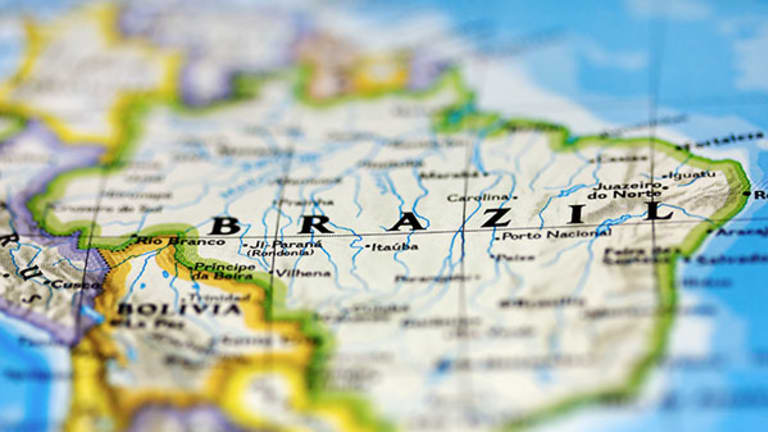 Don't Expect Dramatic Changes in Brazil With Rousseff's Re-election
Brazilian President Dilma Rousseff ekes out a victory, to the dismay of business interests.
NEW YORK (TheStreet) -- Brazil's presidential election was a nail-biter but Dilma Rousseff was re-elected with 51.6% of the votes. 
Despite coming under heavy criticism for inflation and slow economic growth, Rousseff resonates with many of the Brazilian voters, according to Joydeep Mukherji, managing director at Standard & Poor's. Economic growth is slow but the unemployment rate is very low. With so many employed Brazilians, many feel the economic situation isn't so bad. 
Mukherji said there's also been a "large improvement in living standards" over the past 12 years when Rousseff's Workers Party, or PT, has been in control. Brazilians largely credit the PT with the low unemployment rate and the improved living conditions, which is why many felt comfortable re-electing Rousseff as president, Mukherji added. 
Financial markets were hoping the more pro-business Aecio Neves would be elected president, which explains why the iShares MSCI Brazil Capped ETF (EWZ) - Get iShares MSCI Brazil ETF Report dropped 5.4% on Monday. The exchange-traded fund is off 15.4% in the past month and 21.7% in the past year.

iShares MSCI Brazil Capped ETF EWZ data by YCharts
So should investors expect change in fiscal policies? Some changes should be expected, Mukherji explained, but "don't expect any dramatic changes." 
The Congress is "very powerful" in Brazil, he said, adding that "it's more divided than ever before." Even though the PT has a powerful presence in Congress it will still take a long time to make any radical changes.
Standard & Poor's downgraded Brazil to BBB- in March of this year, which is the "lowest rung" of what is still considered investment grade, Mukherji said. The firm has a "stable" outlook on the country, meaning it has already factored in the high inflation, possible political issues and slow growth, with GDP expected to only grow 1% in 2014, he concluded. 
-- Written by Bret Kenwell