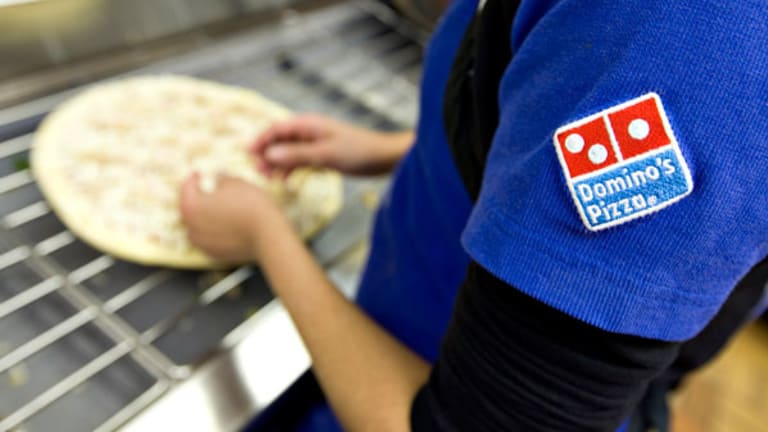 Domino's Pizza Goes Bold With Its New Chicken Menu Offering
Domino's Pizza is hoping the addition of chicken helps fund a huge remodel project.
Domino's Pizza is hoping the addition of chicken helps fund a huge remodel project.
NEW YORK (TheStreet) -- Domino's Pizza (DPZ) - Get Report has been a darling on Wall Street. Shares rose 53% in 2013, as the takeout pizza chain continued to increase its market share and same-store sales. The company also offers investors a way to play emerging markets via its more than 5,000 stores abroad. Domino's latest growth for investors comes from its expansion into chicken.
Now Domino's has announced new specialty chicken on its menu. The boneless chicken offering is a combination of wings and pizza. It's the first large new product offering for the company since September 2012.
Domino's will offer four flavors of sauce for its chicken: crispy bacon and tomato, spicy jalapeno pineapple, classic hot buffalo and sweet barbecue bacon. The new meals come with 12 boneless pieces of chicken covered in layers of cheese and sauces.
The specialty chicken will enhance Domino's popular $5.99 mix-and-match meal, which includes pastas, sandwiches and medium two-topping pizzas. A national television campaign will center around "failure is an option," as Domino's shows off how it developed the new product, including its mistakes along the way.
[Read: Lions Gate Sitting on Some Hot Properties]
Domino's continues its shift from limited-time offers to longer-term new menu creations. It hopes the shift will drive same store sales. More important to franchisees, Domino's hopes the new menu will boost sales and help fund store remodels.
By adding the sauces and cheeses and created a wing-style pizza, Domino's is differentiating itself from other chains. (Rival Pizza Hut, a unit of Yum! Brands (YUM) - Get Report, also sells flavored chicken wings via its Wing Street brand.) Domino's is hoping to upsell the chicken and attract customers with its unusual flavors and its wing pizza. 
As it announced in January, Domino's will see all of its stores remodeled into "Pizza Theaters." The remodels, which will cost between $40,000 and $55,000 for each store, will be paid by franchisees. Domino's has not done a lot of remodels, and this one is expensive.
[Read: Disney's Smallest Unit Shows Outsized Growth]
With more than 1,000 franchisees in the United States and hundreds more overseas, Domino's needs to generate increased sales from the remodels and menu in order to not upset its relations with franchisees and customers.
The new remodels are all expected to be completed by 2017. Domino's cites the store remodels as a catalyst to drive long-term same-store sales growth. The new design allows customers to see more of the pizza-making process and allows a small area of seating for dine-in customers or for customers to sit and wait for their orders.
There are more than 5,000 Domino's Pizza locations in the U.S. and an additional 5,500 stores in 70 countries internationally. The company opened a record 573 international stores in the last fiscal year. There were also 58 new U.S. stores opened, the first major American net expansion since 1997.
Earlier this week, Domino's Pizza announced a new deal with Taste Holdings to bring the Domino's brand to seven countries located in southern Africa. The 15-year deal also includes provisions to add stores to two additional countries in the region, bringing the total to nine, and bumping Domino's global footprint to include 80 countries. To get things started, Taste Holdings will convert 125 current pizza stores under other brands to the Domino's name and begin rapidly opening stores throughout the region.
Fiscal 2013 revenue increased 7.4% to $1.8 billion. Same-store sales increased 5.4% in the United States and 6.2% in international markets. Same-store sales continue to increase for Domino's. The fourth quarter marked the 20th consecutive quarter of same store sales growth. Store remodels and new product offerings continue to contribute to these increases.
[Read: Student Loans Lead Consumer Debt -- Surprise]
Shares of Domino's had an impressive 2013, with an increase of over 50%. To date in 2014, shares are up only 7%. With the store remodels and new product offerings set to drive net sales and same-store sales, investors would be wise to start accumulating shares now.
Domino's is the best in the pizza industry and continues to win market share and dominate takeout market.
At the time of publication, the author held no positions in any of the stocks mentioned.
This article represents the opinion of a contributor and not necessarily that of TheStreet or its editorial staff.