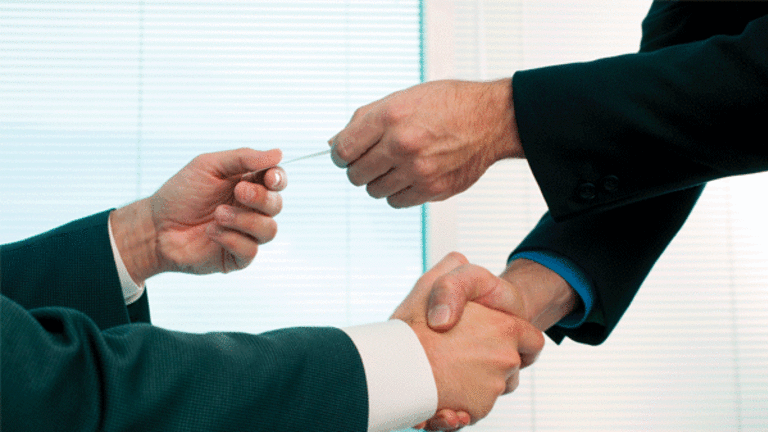 Dion's Weekly ETF Blog Wrap
Find out what Don Dion was blogging about this past week on <I>RealMoney.</I>
NEW YORK (
) -- Don Dion posts his current insights on the stock, bond, commodity and currency markets in his
RealMoney
blog, anticipating which ETFs will be in play next.
Here are three of his blog posts from the past week:
Vietnam ETF Shows a Strange Divergence
Published 5/26/2011 4:46 p.m. EDT
Time differences and trading hours often affect the performance of international equity ETFs, in which the underlying components are traded in markets overseas. But when it comes to the
Market Vectors Vietnam ETF
(VNM) - Get Free Report
, the dislocation between the ETF's market price and underlying value is cause for concern. Why has VNM skipped the rails? What is so unusual about its current composition?
Yesterday afternoon, I first noticed that VNM was trading at a premium, and I have kept a close eye on the fund since. Today, VNM closed 4.56% higher and had an unusually high average daily trading volume of 410,000 shares. VNM's three-month average daily trading volume is 200,000. More importantly, VNM's underlying value, or NAV, advanced just 2.4%.
> > Bull or Bear? Vote in Our Poll
As I mentioned before, the market price of international ETFs will often drift away from underlying value, but the gap between VNM's market price and the net asset value of its components is highly unusual in a fund with this much liquidity. I began to look for news and then looked at the fund's holdings. Here's the biggest thing that stood out: VNM's sixth-largest holding is listed as "other assets/cash." According to Van Eck's information, "other assets/cash" constituted more than 5% of the fund's portfolio.
All funds have some portion of the portfolio in cash, but VNM's high cash percentage is a red flag. It likely indicates that there have been some unanticipated restrictions in creating new shares of VNM or that a component has been removed unexpectedly. In the financial news, several stories note that Vietnam's bonds have been making significant gains due to speculation.
It looks like speculators are pouring into VNM as well, and that they don't seem to mind paying a premium for access to Vietnamese equities. The influx of funds seems to be big enough that VNM managers have not invested all the new cash yet, so it is sitting in the portfolio marked as cash.
While I don't suggest chasing VNM, it should be an interesting fund to keep an eye on in the days ahead. There certainly seems to be something strange going on with this fund, and the heightened investor interest could be indicative of a larger market trend. I will update readers when I learn more.
At the time of publication, Dion Money Management had no positions in stocks mentioned.
Time for Uranium?
Published 5/24/2011 1:01 p.m. EDT
The
Global X Uranium ETF
(URA) - Get Free Report
is on the comeback trail today, as investors finally begin to believe China's lust for energy is beginning to eclipse the Japanese nuclear disaster. After taking a huge hit in the wake of recent natural disasters abroad, the global uranium firms that back URA have helped the ETF to gain nearly 2% today.
Several media pieces, including an article on
Bloomberg.com
yesterday, have made the argument that rock-bottom uranium trading has actually fueled China's desire to keep expanding the use of nuclear energy. According to the
, "The biggest drop in prices of uranium in two years may be ending as China and India plan atomic power developments that will more than double global production..."
Obviously, it's not just uranium prices that took a hit. Year to date, URA and the
Market Vectors Uranium and Nuclear Energy ETF
(NLR) - Get Free Report
have dropped 37% and 13.5%, respectively. URA's massive tumble can be attributed, in part, to the fund's top-heavy structure. Investors are hardly eliminating security-specific risk when they bank on a fund in which the top two components --
Cameco
(CCJ) - Get Free Report
and Uranium One -- make up 20% and 15% of the underlying portfolio, respectively.
NLR, a nuclear-themed fund with a better-balanced portfolio is probably the better bet if you want to get bullish on nuclear. Launched more than three years before URA, NLR is the "original" nuclear industry ETF, and its portfolio construction is better suited for longer-term investment.
At the time of publication, Dion Money Management held no positions in any securities mentioned.
Banking on Canada
Published 5/23/2011 12:53 p.m. EDT
As Canadians take a break for Victory Day today, U.S. investors are growing increasingly nervous about debt problems overseas. European downgrades and fears are once again dominating the headlines, causing many investors to stick to the sidelines.
Today's a good day to look abroad, however, and to not limit your sights to Europe. Our neighbors to the North might be kicking back today, but upcoming Canadian earnings and ongoing Canadian strength continue to make the
iShares MSCI Canada Index Fund
(EWC) - Get Free Report
a potentially potent investment.
EWC, one of the largest and most well-known Canada-based equity ETFs, gained more than 1.5% last week, while the
SPDR S&P 500 ETF Trust
(SPY) - Get Free Report
finished the same period in negative territory. While most readers are already aware of Canada's abundant natural resources, another plus for short-term EWC buyers is the fund's exposure to the Canadian financial sector.
In the next two weeks, Canada's six largest banks --
Royal Bank of Canada
(RY) - Get Free Report
,
Toronto-Dominion
(TD) - Get Free Report
,
Canadian Imperial Bank of Commerce
(CM) - Get Free Report
,
Bank of Montreal
(BMO) - Get Free Report
,
National Bank of Canada
and
Bank of Nova Scotia
(BNS) - Get Free Report
-- will be reporting earnings. All six of the aforementioned banks are included in EWC's underlying portfolio.
The recent appreciation of the Canadian dollar has certainly helped matters from the standpoint of EWC methodology. (EWC's currency exposure is unhedged.)
As our neighbors to the north celebrate the birthday of one of their most memorable queens, consider scooping up shares of EWC today as the fund gets dragged down, pinned to U.S. markets and projection. As Queen Victoria herself famously noted: "We are not interested in the possibilities of defeat. They do not exist."
At the time of publication, Dion Money Management had no positions in the stocks mentioned.
At the time of publication, Dion Money Management held no positions in the equities mentioned.