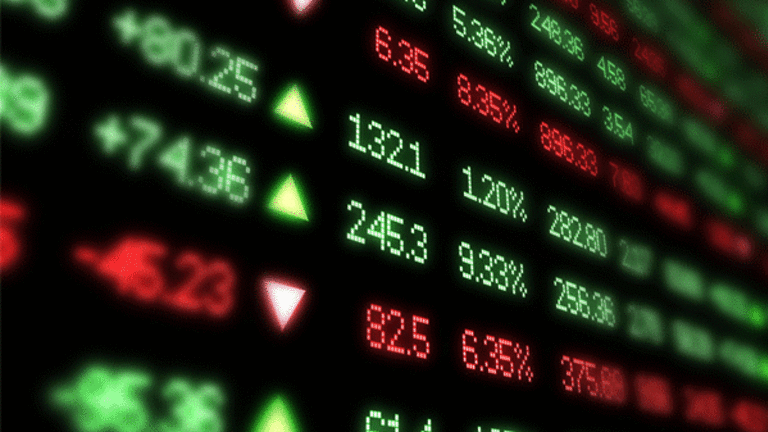 Dion's Weekly ETF Blog Wrap
Find out what Don Dion was blogging about this past week on <I>RealMoney</I>.
NEW YORK (
) -- Don Dion posts his current insights on the stock, bond, commodity and currency markets in his
RealMoney
blog, anticipating which ETFs will be in play next.
Here are three of his blog posts from the past week:
The Future of Solar
Published 11/09/2010 2:57 p.m. EST
As part of my morning routine, I skim through the list of the "most active" stocks on Nasdaq.com, which helps to paint a picture of what investors are tuned in to on that particular exchange. While there are sometimes firms I've never heard of (small-cap tech or pharma, mostly), one subsector keeps showing up: solar energy.
I've used this blog before to discuss how solar energy firms can be
difficult to predict and very volatile, which is all the more reason that bullish investors should use an ETF to capture this sector's momentum. While firms like
First Solar
(FSLR)
and
JA Solar
(JASO)
are no strangers to the list of biggest
Nasdaq
gainers, you'll also spot them on the biggest losers list from time to time.
LDK Solar
(LDK)
, which reported Q3 results after the bell yesterday, is certainly helping to fuel the performance of the
Claymore/MAC Global Solar Energy ETF
(TAN)
today. Although the fund itself is beginning to slip lower in afternoon trading, LDK's outperformance last quarter helped TAN to get off to a good start this morning.
> > Bull or Bear? Vote in Our Poll
Also boosting TAN are JA Solar and
Solarfun
undefined
, which both beat estimates this morning when reporting Q3 results.
Even if you missed the run-up in TAN ahead of the slew of solar reports this morning, it's not too late to profit from this unique energy ETF. TAN may be fading in the short term, but investors with a longer time horizon should consider outlook, not just earnings. LDK, JASO and SOLF all reported that business was shaping up to be even better in the months ahead and that consumer demand was strong.
Looking forward, investors should consider building TAN into a well-balanced energy portfolio. While the volatility of individual solar firms might cause your blood pressure to spike, TAN helps to reduce security-specific risk and the impact of any single component's volatility. The future of solar energy is looking bright, and TAN is a good way to get exposure.
At the time of publication, Dion Money Management had no positions in the stocks mentioned.
Touring With Obama: Indonesia
Published 11/09/2010 7:03 a.m. EST
After a hectic few days in Delhi, India, President Obama left for the second leg of his Asia tour -- a quick stop in Indonesia. As I mentioned in a post Monday about
, this blog will be following the president as he makes his rounds abroad, assessing investment options for exchange-traded investors at each stop he makes.
When it comes to exposure to Indonesia, there's really only one choice for serious investors in the ETF industry, so it's good that the
Market Vectors Indonesia ETF
undefined
is a strong fund. Launched in January 2009, IDX was the first U.S.-listed ETF to offer Indonesia-specific exposure, so it is also -- unsurprisingly -- the largest and most liquid.
IDX's top three holdings --
Astra International
,
Bank Central Asia
, and
Bank Rakyat Indonesia
-- comprise a reasonable 7.66%, 7.32% and 7.25% of underlying assets, respectively. It is perhaps this well crafted balance, along with IDX's longer track record, that gives this Market Vectors fund a leg up on newcomer
iShares MSCI Indonesia Invstable Market ETF
(EIDO)
.
Launched in May, EIDO has already attracted an impressive following. By slightly lowering expense ratios and employing a more traditional cap-weighted strategy, it is already nearly half the size of IDX. One reason to hesitate, however, is a higher concentration amongst top components. EIDO's top three holdings --
Astra International
,
Telekomunikasi
and
Bank Central Asia
-- respectively make up a hefty 12.87%, 10.17% and 9.70% of the underlying portfolio.
When IDX first launched, trading was a bit erratic at first. Investors were slow to flock to the fund and volume was stop-and-go throughout the first months. While EIDO seems to be relatively steady, I believe that IDX's longer track record is an advantage in the case of this emerging market.
Indonesia makes up a rather small part of larger emerging-markets picks, such as the
iShares Emerging Market ETF
(EEM)
and the
Vanguard Emerging Markets ETF
(VWO)
with Indonesian firms comprising about 2% of holdings in both EEM and VWO. Thus, investors bullish on this particular play are better off adding IDX to a balanced emerging-markets portfolio, rather than trying to gain exposure through combinations elsewhere.
As Obama visits Indonesia Tuesday, I wouldn't be surprised to see a short-term pop in IDX, which already has had an impressive performance in 2010. IDX has climbed nearly 47% year to date, even though growth has slowed slightly in the past few months.
A young population, a government plan for stimulus, plentiful natural resources and relatively healthy finances all make Indonesia an attractive emerging market. While Obama may only be spending a short stint in Indonesia, investors should consider longer-term exposure using IDX.
At the time of publication, Dion Money Management owned none of the securities mentioned.
Another Shot at Norway
Published 11/12/2010 2:10 p.m. EST
Emerging markets have been all the rage this year, and who can blame investors? With economic turmoil raging in developed regions of the globe, the growth outlooks from nations such as China, India and Brazil are looking more and more attractive. Reflecting the desire for emerging over developed, ETF providers have largely turned their attention away from Europe and the U.S., instead opting to slice emerging markets into thinner and more specialized slices.
In an interesting deviation from this trend, Global X opted this week to launch the
Global X FTSE Norway 30 Index Fund
(NORW)
, the first fund to solely track the performance of Norway's markets, providing investors with a new opportunity to track the developed world.
Interestingly, NORW is actually Global X's second try at the Nordic region. One of the firm's first products, the
Global X FTSE Nordic 25 Index Fund
(GXF)
sets aside nearly 18% of its portfolio for the nation. Although it has been available for a while, GXF has struggled to gain a following, seeing less than 10,000 shares trade on average each day.
Although economic storms are raging in Europe, I see Norway as a region of strength. NORW is still new, and therefore will require some time to gain a substantial following but the fund could join the
iShares MSCI Germany Index Fund
(EWG)
and
iShares MSCI Netherlands Investable Market Index Fund
(EWN)
in being ETFs for European strength.
Looking at the fund's breakdown, it is apparent how heavily influenced Norway's economy is by the energy markets. Top holding
Statoil
represents 18% of the fund's total portfolio. The gas and oil sector as a whole commands 40% of its index. As developed markets recover and emerging markets continue to expand, the need for energy will only increase and Norway appears well prepared.
Additionally, by not adopting the euro, Norway is shielded from the debt issues that continue to plague troubled regions of Europe including Spain, Ireland, Portugal, and Greece.
Although Global X's first Nordic region fund has struggled from the start, its new Norway ETF appears promising. However, like any new fund, before jumping in, investors should give NORW some time to gain traction.
At the time of publication, Dion Money Management had no positions in the stocks mentioned.
Don Dion is president and founder of
, a fee-based investment advisory firm to affluent individuals, families and nonprofit organizations, where he is responsible for setting investment policy, creating custom portfolios and overseeing the performance of client accounts. Founded in 1996 and based in Williamstown, Mass., Dion Money Management manages assets for clients in 49 states and 11 countries. Dion is a licensed attorney in Massachusetts and Maine and has more than 25 years' experience working in the financial markets, having founded and run two publicly traded companies before establishing Dion Money Management.
Dion also is publisher of the Fidelity Independent Adviser family of newsletters, which provides to a broad range of investors his commentary on the financial markets, with a specific emphasis on mutual funds and exchange-traded funds. With more than 100,000 subscribers in the U.S. and 29 other countries, Fidelity Independent Adviser publishes six monthly newsletters and three weekly newsletters. Its flagship publication, Fidelity Independent Adviser, has been published monthly for 11 years and reaches 40,000 subscribers.