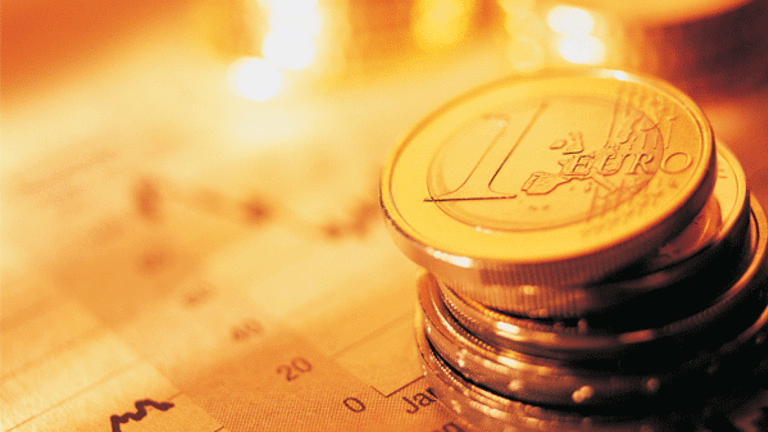 Dion's Weekly ETF Blog Wrap
Find out what Don Dion was blogging about this past week on <I>RealMoney</I>.
NEW YORK (
) -- Don Dion posts his current insights on the stock, bond, commodity and currency markets in his
RealMoney
blog, anticipating which ETFs will be in play next.
Here are three of his blog posts from the past week:
Election Fires Up Coal
Published 11/04/2010 11:56 a.m. EDT
The U.S. coal industry has faced challenge after regulatory challenge in the past couple years, but the new political gridlock could make the already-appealing
Market Vectors Coal ETF
(KOL) - Get Report
an even stronger investment option going forward.
KOL tracks a group of domestic and international coal companies, and the fund has been picking up speed in the last few months as the global demand for coal continues to climb. Investors who tuned in to
Peabody Energy's
(BTU) - Get Report
third-quarter earnings report in late October learned that much of the stellar gains could be attributed to demand abroad, which was outpacing demand in the U.S.
Peabody Energy, KOL's third-largest component at 8.61%, keeps pushing higher today: It's up a breathtaking 5.5% as of this writing. Many investors may remember that Peabody beat estimates back at the end of October, but a look between the lines of the Peabody report is even more promising. Peabody execs reported that the biggest driver behind Peabody's results was Australia, with margins expanding to $44 per ton, helping the firm to have the third-best quarter on record. These numbers certainly bode well for Australian production going forward, with costs so well under control.
> > Bull or Bear? Vote in Our Poll
The performance of Peabody, along with other top domestic and international holdings such as China Shenhua Energy,
Joy Global
(JOYG)
,
Consol Energy
(CNX) - Get Report
,
Walter Energy
(WLT)
and
Arch Coal
(ACI) - Get Report
have helped KOL to soar more than nearly 16% in the one-month period ending Nov. 3. Year to date, KOL has advanced 12.24%.
The new U.S. political gridlock could help these firms even more in the months ahead. Cap-and-trade was one of the primary issues under attack from both parties during the election, and I wouldn't be the least bit surprised to see a repeal of the bill or significant changes with new leadership in the months ahead. Another pair of bills that attack the emission of mercury, nitrous (nitrogen) oxides and sulfuric oxides (MNS) have also been on the table in recent months, but again, I could see these pieces of legislation (the Carper-Alexander Bill, and the Clean Air Transport Rule (CATR)) getting finessed or placed on the back burner.
All in all, coal companies, and the KOL ETF, look like promising picks for the months ahead. Globally, coal has been a great business for a long time. Changes in domestic policy could help to further lift this group and KOL moving forward.
At the time of publication, Dion Money Management had no positions in stocks mentioned.
Commodities ETF Overload?
Published 11/03/2010 12:13 p.m. EDT
It's important to remember that ETF issuers are always one step behind investor trends. When a particular investment (such as gold), a particular emerging market or master limited partnerships become incredibly popular, ETF issuers will race to convert these trends into the latest ETF product and launch it into the market as soon as possible.
In other words, ETF product launches are generally reactionary processes, and there's a chance that the underlying trends (the reasons the products were launched in the first place) could be all but dead by the time ETF issuers actually get around to presenting the public with an approved, viable product.
With all of the talk about commodities in recent months, it shouldn't come as a surprise that a raft of equity-based commodity ETFs are still entering the market. This week alone, Global X -- a relatively new ETF issuer -- plans to launch both the
Global X Gold Explorers ETF
(GLDX)
and the
Global X Uranium ETF
(URA) - Get Report
, two equity-backed funds to follow in the footsteps of the
Market Vectors Rare Earth/Strategic Metals ETF
(REMX) - Get Report
, which was launched last week.
While investors may be more familiar with physically-backed precious-metals funds such as
SPDR Gold Shares
(GLD) - Get Report
and
iShares Comex Gold
(IAU) - Get Report
, equity-backed metals funds have also been a hit with investors. The two most notable examples, perhaps, are the
Market Vectors Gold Miners ETF
(GDX) - Get Report
and the
Market Vectors Junior Gold Miners ETF (GDXJ) - Get Report
.
When REMX launched last week, I discussed the sudden surge in a somewhat-skeptical post under the title "
Rare Earth Metal ETF Goes Gangbusters." While REMX had a stunning opening day (more than 1 million shares crossed the tape), trading has cooled off in the days since. Though the average daily trading volume for REMX is still an impressive 200,000 shares, it appears that investors aren't completely captivated.
I believe that the market for equity-backed precious metals ETFs that track miners and junior miners is beginning to get a bit oversaturated. Will GLDX and URA -- scheduled to launch this Thursday and Friday, respectively -- be worth looking into? Let's put it this way: they will certainly be worth watching.
I have my doubts about the ability of GLDX to compete with the established GDXJ, but it's always possible that Global X will put some sort of unique spin on the product. When it comes to the Uranium ETF, Global X has already successfully launched the unique
Global X Lithium ETF
(LIT) - Get Report
last summer, and it still has an impressive average daily trading volume of over 100,000 shares. Since uranium is a lightly-covered commodity in the ETF industry, this fund might really have a chance to make an impression.
As always, investors should allow a few days to pass post launch to determine whether there's enough investor interest to make the fund liquid and tradable. If you watch the fund for a few months, it's also possible to get an idea if the theme is more than just a fad. Keep an eye on the launches of these precious-metal funds and be careful in your selection. Commodities is an exciting investment theme, but ETF investors much choose wisely.
At the time of publication, Dion Money Management was long IAU.
Bet on the Chinese Consumer
Published 11/01/2010 12:48 p.m. EDT
U.S. investors awoke this morning to learn that the Chinese consumer, unlike
, is alive and thriving. Overnight, China's PMI data revealed that domestic consumption had jumped and that demand remained strong. China's PMI rose to a six-month high of 54.7 from 53.8 in September, handily beating estimates of 52.9%, in spite of a seasonal "downside bias."
Rather than cringing a bit about how China's consumer demand seems even more resilient than ours, U.S. investors should use the
Guggenheim China Small Cap ETF
(HAO) - Get Report
to gain exposure to firms that will benefit most from the improvement in consumer demand. HAO is a large, liquid ETF that tracks 155 small-cap China firms that will benefit from the boost in mainland consumption. HAO's underlying components are weighted most heavily toward the industrial and consumer discretionary sectors.
HAO is a departure from popular Chinese funds like the
iShares FTSE/Xinhua China 25 Index
(FXI) - Get Report
in that it's not chock-full of state-owned enterprises. While China is becoming, in many ways, a modern nation and an international economic presence, certain areas, particularly energy, are still full of large firms that are owned by the government. While these firms will certainly reflect growth in China, investors looking to zone in on the Chinese consumer should pick a fund like HAO instead.
Last spring, I
to avoid the state-owned enterprises in FXI's underlying portfolio by investing in HAO to gain exposure to China. Today, HAO is an even more powerful tool for tapping into China's consumer performance. By tracking companies that benefit from mainland consumption, HAO offers unique, liquid exposure to China's consumer both today and going forward. If you're looking to pick up some emerging-market exposure over the next year, consider HAO as a way to tap into China without limiting yourself to government demands.
At the time of publication, Dion Money Management had no positions in stocks mentioned.
A special note from Don: Put simply, I want to help you profit from ETFs.
You don't have to be an expert trader -- there are potential profits for investors at every level. And I think there's no better way to jump into the world of ETFs than through my brand-new service,
TheStreet ETF Action by Don Dion
.
Membership is limited, so click here to get in on the action!
Don Dion is president and founder of
, a fee-based investment advisory firm to affluent individuals, families and nonprofit organizations, where he is responsible for setting investment policy, creating custom portfolios and overseeing the performance of client accounts. Founded in 1996 and based in Williamstown, Mass., Dion Money Management manages assets for clients in 49 states and 11 countries. Dion is a licensed attorney in Massachusetts and Maine and has more than 25 years' experience working in the financial markets, having founded and run two publicly traded companies before establishing Dion Money Management.
Dion also is publisher of the Fidelity Independent Adviser family of newsletters, which provides to a broad range of investors his commentary on the financial markets, with a specific emphasis on mutual funds and exchange-traded funds. With more than 100,000 subscribers in the U.S. and 29 other countries, Fidelity Independent Adviser publishes six monthly newsletters and three weekly newsletters. Its flagship publication, Fidelity Independent Adviser, has been published monthly for 11 years and reaches 40,000 subscribers.