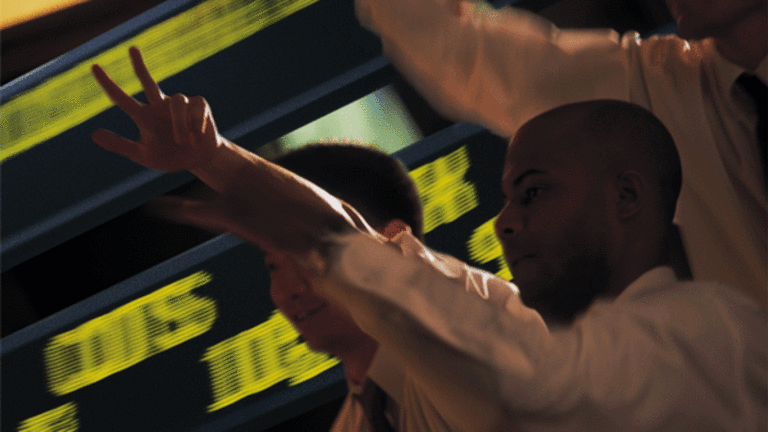 Dion's Weekly ETF Blog Wrap
Find out what Don Dion was blogging about this past week on <I>RealMoney</I>.
NEW YORK (
) -- Don Dion posts his current insights on the stock, bond, commodity and currency markets in his
RealMoney
blog, anticipating which ETFs will be in play next.
Here are three of his blogs from the past week.
Gaming ETF on a Roll
Published 8/27/2010 7:50 a.m. EDT
Casino vacations and gambling are typically more popular in booming economic times, but worries about a global slowdown in economic recovery have surprisingly not weighed on
Market Vectors Gaming ETF
(BJK) - Get VanEck Vectors Gaming ETF Report
: Year to date, BJK is up by about 8%, whereas the
S&P 500
is down by roughly 5%. The fund, despite its somewhat low daily volume, thus represents an interesting way for investors to gain exposure to a unique slice of the consumer discretionary goods and services market.
I credit part of the success of this fund to its globally diversified exposure and, in particular, to its exposure to the casino-filled city of Macau. The city, which has emerged on China's doorstep as a rival to Las Vegas, saw its gambling revenue having increased by 70% in July from a year earlier. Fittingly, casino operators there are posting strong earnings for the first half of this year.
For instance, Wynn Macau, a division of
Wynn Resorts
(WYNN) - Get Wynn Resorts Limited Report
, reported last Friday that its first-half profit had more than doubled. Meanwhile, Sands China, the Macau division of
Las Vegas Sands
(LVS) - Get Las Vegas Sands Corp. Report
, reported yesterday that in the first half of this year, net profit increased to $250.5 million from $58.3 million a year earlier.
> > Bull or Bear? Vote in Our Poll
BJK's total exposure to Wynn Macau, Sands China and their respective parent companies, alone, is 22.46% -- and it has further exposure to Macau via holdings of other companies with operations in the region. Exposure to the U.S. and Las Vegas is still substantial at almost one-third of holdings, meaning investors should have confidence in both hemispheres before diving in.
BJK has thus shown surprising endurance through this year's concerns about stalling worldwide economic growth -- and, indeed, expectations point to a slowdown in most economies after the relatively fast rates of growth seen earlier this year. That may be the case but, barring a double-dip recession, funds that rely on discretionary consumerism such as BJK should continue to surprise.
At the time of publication, Dion Money Management had no positions in the stocks mentioned.
A Play Against the Treasuries
Published 8/25/2010 11:15 a.m. EDT
While I've always discouraged readers from buying short leveraged ETFs for those who are not sophisticated investors -- as well as from holding them longer than a single session (
) -- there's one play that might be worth the risk: the
ProShares Short 20+ Year Treasury
(TBF) - Get ProShares Short 20+ Year Treasury Report
.
As I discussed
, the
iShares Barclays 20+ Year Treasury Bond ETF
(TLT) - Get iShares 20+ Year Treasury Bond ETF Report
has been spiking lately as investors have fled equity markets for the "relative safety" of secured government debt. Whether this has created a bubble is for others to argue but, regardless, it's undeniable that TLT has attracted a lot of attention.
I don't believe this situation -- that is, money pouring into fixed income and treasuries -- is sustainable. In fact, I'm willing to bet we'll see a reversal in the next two to three months, at which point we'll be talking about all of the money exiting these low-yielding treasuries.
So, if you are indeed a sophisticated investor looking to bet on the reversal of the TLT trend over the medium term, I'd recommend TBF despite my misgivings about leveraged ETFs. Make sure, however, that you keep an eye on your portfolio. The TBF -- as with the "ultra" version, the
ProShares UltraShort 20+ Year Treasury
(TBT) - Get PowerShares UltraShort Lehman 20+ Year Treasury ProShares Report
-- is intended to track the inverse of 20+ year treasuries on a daily basis. While this will cause some compounding error over time, TBF will see less disconnection since it's only an "inverse" and not a double-short.
The other option, of course, is to avoid treasuries altogether. I believe we'll be seeing a reversal in the path of TLT, however, and it could be worth finding a way to bet on it.
At the time of publication, Dion Money Management had no positions in the stocks mentioned.
Utilities' Utility
Published 8/23/2010 12:43 p.m. EDT
As the market made an abrupt descent this morning during trading, one group of ETFs glowed green on my monitor: utilities. Broadening my time frame a bit, I discovered that these funds have been on a bit of a tear in the last few months, with the
Utilities Select Sector SPDR
(XLU) - Get Utilities Select Sector SPDR ETF Report
and the
iShares Dow Jones US Utilities
(IDU) - Get iShares U.S. Utilities ETF Report
gaining 8.15% and 7.57%, respectively, during the three-month period ended last Friday.
Investors may view utilities as a simple "defensive" play, but a lot of things have to go right for this thesis to be profitable. If you're bullish on utilities and own a utilities ETF, you probably think that infrastructure will require substantial investment, utilities firms will continue to be efficient capital markets, natural gas prices will stabilize or go up, interest rates will not dramatically increase and electricity demand will grow.
That's a big list of considerations, but they're good things to think about if you want to add a utilities ETF for the long term. All three of the major cap-weighted utilities ETFs -- XLU, IDU, and
Vanguard Utilities
(VPU) - Get Vanguard Utilities ETF Report
-- work well as long-term picks. If you're simply an investor looking to make a short-term trade, you're better off picking an ETF with characteristics best suited for such a time frame.
Of the cap-weighted ETFs, XLU is the most liquid by far. XLU also has the lowest fees out of any fund in the bunch, so this ETF is the best if you're looking for short-term exposure to the utilities sector.
I like utilities as a long-term play, but I can see how it's tempting to chase them today. "Defensive" ETFs generally get a lot of attention in volatile markets. No matter what your time frame is, however, just make sure you pick the right fund.
Don Dion is president and founder of
, a fee-based investment advisory firm to affluent individuals, families and nonprofit organizations, where he is responsible for setting investment policy, creating custom portfolios and overseeing the performance of client accounts. Founded in 1996 and based in Williamstown, Mass., Dion Money Management manages assets for clients in 49 states and 11 countries. Dion is a licensed attorney in Massachusetts and Maine and has more than 25 years' experience working in the financial markets, having founded and run two publicly traded companies before establishing Dion Money Management.
Dion also is publisher of the Fidelity Independent Adviser family of newsletters, which provides to a broad range of investors his commentary on the financial markets, with a specific emphasis on mutual funds and exchange-traded funds. With more than 100,000 subscribers in the U.S. and 29 other countries, Fidelity Independent Adviser publishes six monthly newsletters and three weekly newsletters. Its flagship publication, Fidelity Independent Adviser, has been published monthly for 11 years and reaches 40,000 subscribers.