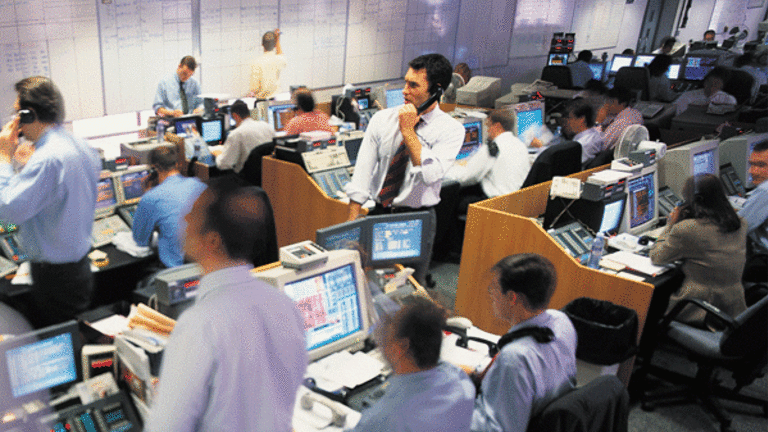 Dion's Weekly ETF Blog Wrap
Find out what Don Dion was blogging about this past week on <I>RealMoney</I>.
NEW YORK (
) -- Don Dion posts his current insights on the stock, bond, commodity and currency markets in his
RealMoney
blog, anticipating which ETFs will be in play next.
Here are three of his blogs from the past week.
Tap the Potential of Southeast Asia
Published 8/18/2010 7:45 AM EDT
Starting today, Vietnam's central bank will be devaluing the country's currency, the dong, by 2.1% against the dollar. These measures -- the announcement of which came yesterday -- are being taken in order to reduce the country's trade deficit, which was twice as large in the first seven months of this year vs. the same period in 2009.
This is not the first recent occasion in which the Vietnamese government has decided to devalue the currency, and it seems unlikely the adjustment will have any lasting positive effect on
Market Vectors Vietnam ETF
(VNM) - Get VanEck Vectors Vietnam ETF Report
. Sudden currency shifts generally cause market uncertainty. Furthermore, the last time the dong was devalued in February, VNM rose 0.5% for the month, but the period was a volatile one.
Many are hoping that Vietnam can replicate China's export-led growth spurt, but right now I don't like the prospects for VNM. Especially given the ETF's 5% loss so far this year, there are much better ETF plays for Southeast Asia at the moment. Markets in Malaysia, for instance, are near two-and-a-half-year highs on earnings optimism, which has helped
iShares MSCI Malaysia
(EWM) - Get iShares MSCI Malaysia ETF Report
to breach its highs for the year in August and to continue to march higher.
> > Bull or Bear? Vote in Our Poll
Year to date, the best-performing Southeast Asia ETF is
Market Vectors Indonesia ETF
undefined
, though it has languished and begun to trend downward. Meanwhile, the second-best year-to-date performer --
iShares Thailand Investable Market Index
(THD) - Get iShares MSCI Thailand ETF Report
-- is moving steadily higher. Markets in Thailand are currently continuing a growth spurt that had been temporarily interrupted earlier this year by demonstrations in capital city Bangkok.
Thus, for aggressive investors seeking a fund capable of harnessing the powerful growth in the Southeast Asia region, I would go with THD or EWM rather than VNM. For less aggressive investors,
iShares MSCI Singapore
(EWS) - Get iShares MSCI Singapore ETF Report
.
At the time of publication, Dion Money Management had no positions in the stocks mentioned.
Scheduled for Execution
Published 8/17/2010 2:53 PM EDT
Four more ETFs are slated for execution. Claymore is preparing to close the
Claymore/Zacks Dividend Rotation
(IRO)
,
Claymore/Zacks Country Rotation
(CRO)
,
Claymore/Beacon Global Exchanges, Brokers & Asset Managers Index
(EXB)
and the
Claymore/Robb Report Global Luxury Index
(ROB)
on Sept. 10.
These funds deserve a special nod since at least one of them seemed like a neat idea. ROB was an ETF I always secretly rooted for, even though the indexing was, well, unconventional. Whether or not you agree with the
Robb Report's
ratings, an ETF that one could use to target luxury retail was crafty. I hope someone else picks up the idea and executes at a lower price point.
Dividend ETFs are plentiful, and I'm partial to the one that I own -- the
iShares Dow Jones Select Dividend Index
(DVY) - Get iShares Select Dividend ETF Report
. Claymore's two options tried to put a different spin on things but just couldn't muster the investor interest to make them viable. This should put things in perspective: DVY has nearly $4.2 billion in assets; IRO has just $12.5 million in assets.
From an investor standpoint, I think that the whole rotation thing turned people off. Here's a tip for picking an ETF that will be popular: People like funds in which they know what to expect. Methodologies that change over time (read this as: lifecycle ETFs) or aren't clear (how about those double-down housing funds?) usually don't have longevity. Even if the rotating was done in an extremely predictable way, I still think people would lean toward a mutual fund on that type of strategy.
So that this doesn't just turn into another
one of my rants on liquidity, here's two practical takeaways:
ETFs with original or innovative ideas don't always make it (even if you're secretly rooting for them). They need a fan base.
If you happen to own one of the four ETFs that Claymore plans to kill, the funds will stop trading on Sept. 10. You're free to sell (or buy) them until then. (A word of caution: If people start unloading, these could trade at deep discounts.) If you don't sell your fund by Sept. 10, your assets will be in lockdown. (I'm now reading that there's exemptions for certain broker/dealer transactions, but it's safe to say that most of us aren't in that category). Anyone left as of Sept. 17, will receive a cash distribution into their brokerage account representing the value of their shares as of that date, which will also include any capital gains and dividends. Not so bad unless the value of the fund drops like a rock between the Sept. 10 and Sept. 17.
At the time of publication, Dion Money Management was long DVY.
ETFs for Preferred Investors
8/18/2010 12:45 PM EDT
The Wall Street Journal
reported today that
General Motors
will include preferred stock as part of its upcoming initial public offering -- a reflection of the passion for yield we've seen lately.
I discussed in yesterday's
closing post some funds that cover high-yield corporate debt, but with all the buzz this morning around GM, it's certainly worth looking at preferred stock.
Investors looking for an ETF that tracks preferred stock have several options.
One such fund is the
iShares S&P U.S. Preferred Stock Index
(PFF) - Get iShares Preferred & Income Securities ETF Report
. This heavily traded ETF is a good choice for investors who want preferred stock to take up relatively small portions of their portfolios and who understand the risks specific to this fund. Nearly 90% of PFF's underlying holdings are dedicated to the financial sector -- a slice that might be too big for some investors to stomach.
Another ETF that tracks preferred stock is the
PowerShares Preferred Portfolio ETF
(PGX) - Get Invesco Preferred ETF Report
. While this fund has about half the average daily trading volume of PFF, it is still liquid enough for nearly every investor. And, although PGX is also weighted heavily toward financials (80% percent), the fund attempts to apply more criteria to portfolio selection than some other ETFs. This is a pick for the slightly-less-risk-averse investor.
If you're intent on owning preferred stock in the financial arena, the
PowerShares Financial Preferred ETF
(PGF) - Get Invesco Financial Preferred ETF Report
could be the right fund for you. But this fund's focus on global financials might be too narrow if you're looking for a long-term pick.
While other preferred-stock ETFs have popped up, they're not worth listing here due to their anemic volume. Performance-wise, PFF, PGX and PGF are up 13.58%, 10.31% and 13.39% respectively. Who knows? Maybe GM's new preferred shares will soon be among the ranks of these ETF's components.
At the time of publication, Dion Money Management held no positions in the stocks mentioned.
Don Dion is president and founder of
, a fee-based investment advisory firm to affluent individuals, families and nonprofit organizations, where he is responsible for setting investment policy, creating custom portfolios and overseeing the performance of client accounts. Founded in 1996 and based in Williamstown, Mass., Dion Money Management manages assets for clients in 49 states and 11 countries. Dion is a licensed attorney in Massachusetts and Maine and has more than 25 years' experience working in the financial markets, having founded and run two publicly traded companies before establishing Dion Money Management.
Dion also is publisher of the Fidelity Independent Adviser family of newsletters, which provides to a broad range of investors his commentary on the financial markets, with a specific emphasis on mutual funds and exchange-traded funds. With more than 100,000 subscribers in the U.S. and 29 other countries, Fidelity Independent Adviser publishes six monthly newsletters and three weekly newsletters. Its flagship publication, Fidelity Independent Adviser, has been published monthly for 11 years and reaches 40,000 subscribers.