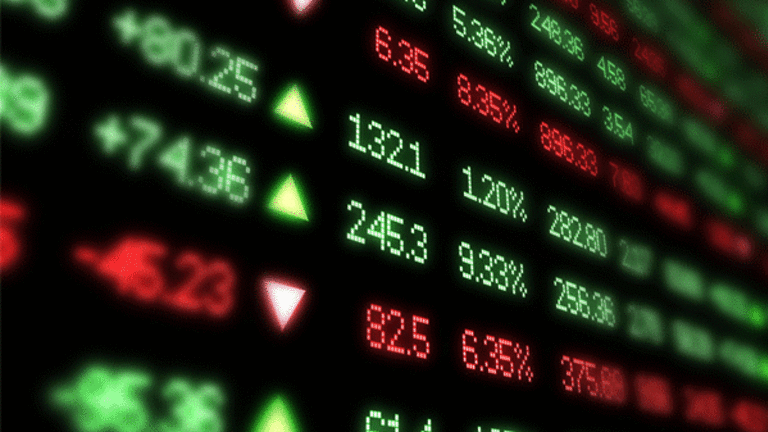 Dion's Weekly ETF Blog Wrap
Find out what Don Dion was blogging about this past week on <I>RealMoney</I>.
NEW YORK (
) -- Don Dion posts his current insights on the stock, bond, commodity and currency markets in his
RealMoney
blog, anticipating which ETFs will be in play next.
Here are three of his blogs from the past week.
You Can Still Play the Bigger Gold Gap
Published 8/12/2010 5:22 p.m. EDT
This morning, I
playing the gap between moves in gold and in the gold miners. Gold-mining shares get pulled lower during stock market selloffs, but when the price of gold holds up or moves higher, it creates a disconnect between the two that is closed in the following trading sessions. A gap opened up over the past two days, and it closed today as
Market Vectors Gold Miners
(GDX) - Get VanEck Gold Miners ETF Report
gained 2.5% and the
S&P 500
lost 0.5%.
This is a nice short-term play to watch for whenever the stock market tanks and gold moves higher, something we've seen a few times this year. There's an even longer-term gap to watch, though.
GDX still has not exceeded its March 2008 high of $56.87, and it sits 13% below that level today. Since gold prices have increased about 20% from their 2008 peak, GDX should be about 30% higher, just to match the gain in gold.
I'm optimistic that stock prices are going to move higher through the end of the year, but it's not going to be a straight line while Europe still casts its shadow. This week's advance in gold was accompanied by a rapidly weakening euro, a sign that Europe still isn't out of the woods with its debt problems. Gold is going to benefit from that volatility, and that is even better news for the gold miners, because when stocks move higher, they start closing that big gap that opened up in 2008.
> > Bull or Bear? Vote in Our Poll
Dive into the small gold gaps to profit from short-term price disconnects, but mind that big gap -- it offers a potentially larger profit.
At the time of publication, Dion Money Management was long GDX.
A Decisive Week for India ETFs
Published 8/12/2010 6:50 a.m. EDT
Despite the report yesterday of a drop in profits last quarter for a large player in India's telecommunications sector,
Bharti Airtel
, investors should stay bullish on the country as the macroeconomic fundamentals still appear strong.
Investors can decide to do this while avoiding the telecommunications sector entirely by using
WisdomTree India Earnings.
(EPI) - Get WisdomTree India Earnings Fund Report
. The other popularly traded ETF option for the country,
PowerShares India
(PIN) - Get Invesco India ETF Report
, allocates 3.5% of its assets to Bharti Airtel, and also allocates 1.7% to
Reliance Telecommunications
, which will be reporting earnings on Friday.
Telecommunications is a highly competitive sector in India and price wars have hurt the profits of service providers in the past. This helps to explain why in the latest quarter, revenue for Bharti Airtel actually increased by 17%, while profits simultaneously fell by 32%. The future may be brighter, though, as Bharti Airtel has stated that price wars have ceased for the time being and the industry is seeing more stability.
Since the statistics and the statement do not match, though, this means that investors should pay close attention on Friday to the report of fellow telecom company Reliance Communications, as it will provide further information about the health of the sector.
As it looks now, though, I would recommend using EPI over PIN, especially for investors planning on long-term exposure to the country.
This is because although the two ETFs have very similar performance for short-spans of time, in the long-term, they tend to diverge. For instance, year-to-date, EPI is up by 4.5%, while PIN has only seen a 0.1% increase.
Although the allocation of PIN to the telecommunications sector overall is only 5.9%, over a long-enough time span, this can explain underperformance when compared to EPI, which only allocates 1.3% of assets to the sector via another company called
Idea Cellular
. The company is also in the holdings of PIN. Therefore, given the somewhat sluggish outlook for telecom in India based on Bharti Airtel's report yesterday, I would advise investors to choose EPI over PIN for exposure to the country unless there is any surprisingly positive news on Friday when Reliance Communications reports earnings.
-- At the time of publication, Dion Money Management had no positions in the stocks mentioned.
An Agricultural Play
Published 8/13/2010 12:45 p.m. EDT
There are still plenty of reasons to pick a fund with exposure to skyrocketing commodities such as wheat. The Russian wheat crisis, which I
discussed on Monday, is still sending wheat futures higher. Today, the U.S. Department of Agriculture said that global wheat output is on pace to hit a three-year-low as a result of Russia's lackluster harvests.
And Russia isn't the only country facing agricultural difficulties. Pakistan's devastating floods have damaged more than a million acres of sugar cane, cotton and rice fields.
Knowing how quickly things can change, and how volatile the market can be, I've always been against betting on the direction of single-commodity futures contracts. In light of that, I believe that investors looking to capture the soaring prices of wheat, sugar, cotton and rice should approach the market though an ETF.
The
PowerShares DB Agriculture ETF
(DBA) - Get Invesco DB Agriculture Fund Report
tracks a basket of agricultural futures contracts rather than providing exposure to a single agricultural commodity. Reshaped to adhere to regulatory limits about a year ago, DBA now tracks 11 different types of agricultural futures contracts, including two types of wheat, sugar, corn and cotton.
While DBA is certainly a fund that you have to keep an eye on (more specifically, you have to keep an eye on changing regulations), now is the time to place a solid bet on the rising prices of agricultural products.
DBA is a one-stop-shop to gain exposure to many of the same commodities you're hearing about from the media. Moreover, as costs to replace crops continue to mount, there's a chance that DBA could turn into a longer-term bet on the price of recovery.
-- At the time of publication, Dion Money Management was long DBA.
Don Dion is president and founder of
, a fee-based investment advisory firm to affluent individuals, families and nonprofit organizations, where he is responsible for setting investment policy, creating custom portfolios and overseeing the performance of client accounts. Founded in 1996 and based in Williamstown, Mass., Dion Money Management manages assets for clients in 49 states and 11 countries. Dion is a licensed attorney in Massachusetts and Maine and has more than 25 years' experience working in the financial markets, having founded and run two publicly traded companies before establishing Dion Money Management.
Dion also is publisher of the Fidelity Independent Adviser family of newsletters, which provides to a broad range of investors his commentary on the financial markets, with a specific emphasis on mutual funds and exchange-traded funds. With more than 100,000 subscribers in the U.S. and 29 other countries, Fidelity Independent Adviser publishes six monthly newsletters and three weekly newsletters. Its flagship publication, Fidelity Independent Adviser, has been published monthly for 11 years and reaches 40,000 subscribers.