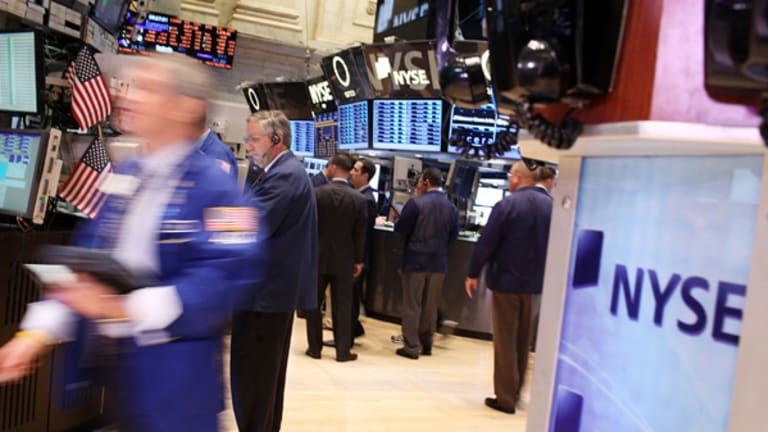 NEW YORK (
) - Here are today's ETF winners and losers.
Winners
Global markets have gotten off to a shaky start as investors, returning from the weekend, are once again greeted to concerning macroeconomic headlines. Europe was among the most closely watched regions following an exciting French election and ignited government turmoil in the Netherlands.
As major U.S. indices continue to hover in negative territory, the fear-tracking VIX benchmark is locking in gains. The index has returned to April highs.
Pockets of strength are few and far between as investors react to disappointing global headlines. Despite this uninspiring action, the natural gas futures-tracking UNG is securing some strength. Monday's strength is encouraging for UNG, which has been stuck trading along a steep, uninterrupted downward path, but investors should continue to steer clear.
As UNG heads higher, fellow futures-tracker, the iPath Dow Jones UBS Natural Gas Subindex Total Return ETN (GAZ) is floundering. This ETN's approximately 100% premium has and will continue to create headaches for investors.
With sellers solidly in control, bulls are heading for higher ground and seeking solace in safe havens like long-term U.S. treasury bonds. TLT has staged an impressive recovery from the doldrums seen at the start of the month. This most recent five-day rally has pushed the fund to its highest level since the start of February.
Losers
European markets are struggling at the start of the week as macroeconomic headlines plague investor sentiment. At the start of the week EWD and the iShares MSCI Italy Index Fund (EWI) are among the biggest decliners.
The day-to-day action seen from Europe is exciting to watch, but conservative long-term investors should stick to the sidelines here.
In the emerging world, India is leading the retreat. Funds including the WisdomTree India Earnings Fund (EPI) and the Market Vectors India Small Cap Index ETF (SCIF) are sitting in solid negative territory.
Market Vectors Solar Energy ETF (KWT) -4.2%
The performance rout we have seen in recent weeks has wreaked havoc on the inherently volatile alternative energy sphere. A four-day downturn has pushed KWT to new lifetime lows. The Guggenheim Solar ETF (TAN) is also venturing into uncharted territory.
It remains in positive territory on a year-to-date basis, but the Global X Uranium ETF (URA) has also taken lumps in this choppy market environment.
Precious metals-related ETFs are taking a hit with the SLV, the Global X Gold Explorers ETF (GLDX), and the Global X Silver Miners ETF (SIL) heading south.
Like the Market Vectors Junior Gold Miners ETF (GDXJ), GLDX tracks a basket of smaller gold producers. The fund, however, is considerably more small cap-focused than GDXJ. This can be seen in comparing the two funds' Morningstar style box placement.
Ample exposure to small caps makes GLDX inherently vulnerable to market shakiness. For long term investors, this fund is best suited for a watch list rather than a portfolio.
All prices as of 2:11 PM DST