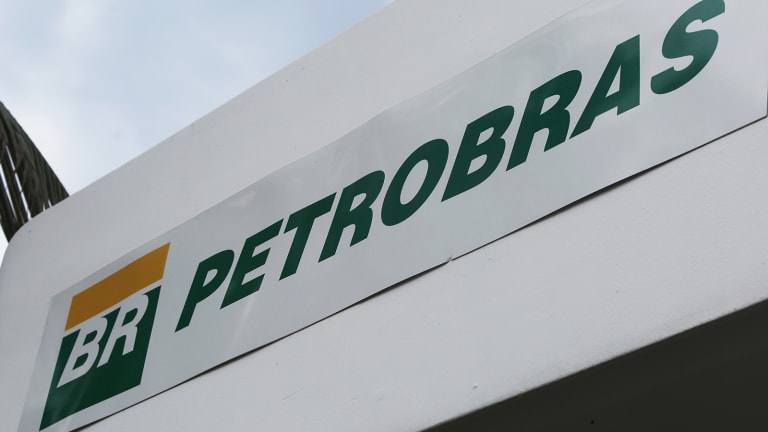 Deutsche Bank Fears Petrobras Will Poison Junk-Bond Market in U.S.
Deutsche Bank can't rule out a restructuring of Brazilian oil producer Petrobras's debt -- and that signals trouble for U.S. junk-bond investors.
NEW YORK (TheStreet) -- The possibility of debt restructuring at Brazilian oil producer Petrobras (PBR) - Get Petroleo Brasileiro SA Sponsored ADR Report will probably drive down prices for high-yield, high-risk bonds in the U.S. in coming months, says Oleg Melentyev, Deutsche Bank's head of U.S. credit strategy. 
So-called junk bonds are yielding 5.86 percentage points over U.S. Treasuries of comparable maturity. That gap probably will widen to about 6.5 percentage points, pushing down prices, Melentyev said in an interview.
Petrobras bonds have tumbled this month after Standard & Poor's slashed the government-controlled company's credit rating to below investment grade, making it the world's biggest junk-grade corporate borrower. The oil producer has so much debt outstanding in international markets -- more than $50 billion -- that it's impossible for U.S. markets to avoid some contagion, Melentyev said. The company's dollar-denominated bonds due in 2024 are trading at 67 cents on the dollar, with a spread over Treasuries of 9.92 percentage points, he said. 
"The issuer is so large that whatever happens to it, it happens to bondholders of that name directly, but it has a secondary impact," Melentyev said. "My prediction is that our markets will not be able to detach themselves until there is some resolution."
With oil prices down 52% in the past year, a debt restructuring for the oil producer can't be ruled out, Melentyev said. The country's political troubles -- President Dilma Rousseff's popularity has plunged and she's facing impeachment -- mean that the government is less likely to come to the company's aid. 
In a statement earlier this month, S&P assigned a "very high" probability of government support for Petrobras. That was lower than the "almost certain" support for Brazilian utility Eletrobras. 
What's more, according to Melentyev, is that Brazilian lenders are unlikely to come to the company's aid either. Their credit ratings, too, were cut after S&P cut the government's own grade to junk earlier in September. 
This week, TheStreet's Jim Cramer, host of CNBC's "Mad Money," called Petrobras "the No. 1 problem in the world right now because it has so much debt.'' 
Six of the top 10 most-actively traded investment-grade bonds on Sept. 22 belonged to Petrobras, according to the Financial Industry Regulatory Authority.
Petrobras needs money to pay off maturing debt as well as to finance cash-flow deficits. The company is unlikely to be welcome in international markets as a seller of new bonds, Melentyev said. What's more, Brazilian banks themselves are trading like junk credits, with rising financing costs that will make it harder for them to bail out Petrobras with new loans. 
The market for global investment-grade corporate dollar-denominated bonds is about $4.12 trillion, while the market for high-yield emerging-market corporate bonds is about $251.7 billion, according to data compiled by Bloomberg.
"If you are a financial institution and your own bonds are trading at five percentage points over Treasuries, how well are you going to play a role as a lender to a struggling company in the economy?" Deutsche Bank's Melentyev said. "You're wondering how you're going to address your own maturities."