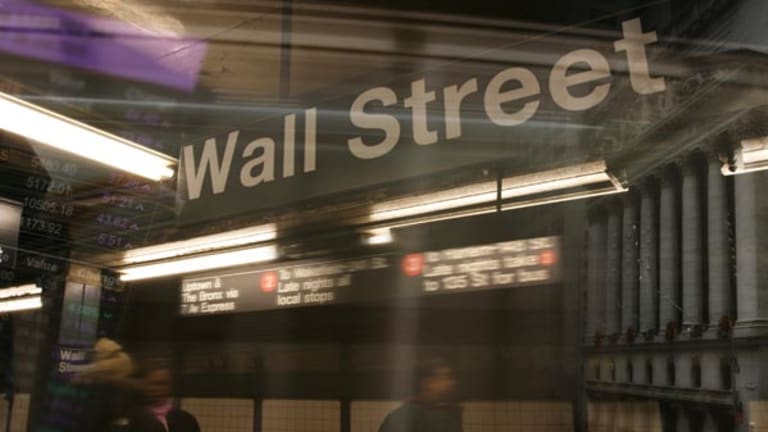 December 26 Premarket Briefing: 10 Things You Should Know
U.S. stock futures rise; markets will likely be thinly traded after the Christmas holiday; FedEx and UPS deal with a package glut; Sony and Microsoft struggle with more hackers.
NEW YORK (TheStreet) -- Here are 10 things you should know for Friday, Dec. 26:
1. -- U.S. stock futures were trading up on Friday for the U.S. indices.
In the last trading session, a short session on Wednesday, the Dow Jones Industrial Average closed at a record high and the S&P 500 closed just about flat. That's after the Dow on Tuesday topped 18,000 for the first time, remaining above that mark Wednesday.
European markets were closed on Friday. Asian shares ended the session mostly higher on low volume. The Hong Kong and Australia exchanges were closed for the holiday.
The Japanese yen hit a seven-year low against the dollar. The euro also declined against the dollar.
2. -- The economic calendar in the U.S. on Friday is quiet.
3. -- U.S. stocks on Wednesday, a short day of trading before the Christmas holiday, were up or flat as the Santa Claus rally calmed down after a big week-long run.
The Dow closed up 0.03% on Wednesday to 18,030.21, while the S&P 500 sank 0.01% to 2,081.88. The Nasdaq rose 0.17% to 4,773.47.
4. -- The U.S. economy has added 2.7 million jobs in 2014, as of November, the greatest jobs growth since 1999. Although there are still major problems in some sectors, the growth is the best in 15 years. And real gross domestic product is rising by an annual rate of 5%, according to Tuesday's Department of Commerce announcement.
These strong economic numbers are some of the best in two decades and indicate significant improvement in the U.S. economy overall. But there is still room for improvement on unemployment, which is at 6.2%, compared to 1999's 4.2%.
Economic data for December will be released by the Department of Labor on Jan. 9.
5. -- After a price slump of 46% this year, oil prices are firming up or slightly rising. The price of oil was above the $60-a-barrel mark in London trading. That's not a huge gain.
Saudi Arabia's government indicated it expected $80-a-barrel oil in 2015, which may be acting as a price support.
6. -- UPS (UPS) - Get United Parcel Service Inc. Report and FedEx (FDX) - Get FedEx Corporation Report resorted to capping some deliveries in an attempt to avoid the late-package problems of last year. Last Christmas around 2 million of their packages were late for the holiday.
Some retailers, like eBay (EBAY) - Get eBay Inc. Report , have commitments with the shipping companies on volume, and UPS and FedEx were holding the companies to the agreed-upon limits.
7. -- Hackers forced the Sony (SNE) - Get Sony Corp. Report PlayStation and Microsoft (MSFT) - Get Microsoft Corporation Report Xbox offline, and both were struggling to come back up on Friday. One group of hackers took the services offline, and another group stepped in to try to expose the initial hackers. Both groups posted frequently on Twitter (TWTR) - Get Twitter Inc. Report about their moves.
Sony also faced a huge cyberattack in November which exposed internal company communications. The company is still sorting out the fallout from the attack, which may have come from North Korea.
8. -- The Russian ruble has risen by 11% over the past five days, after the biggest lurch in 16 years. Russia's central bank is taking measures to aid confidence in the currency. The ruble hit a record low of 80.10 on Dec. 16.
Russian markets will be closed from Dec. 31 through Jan. 4 for the New Year's holiday.
9. -- Japan is historically a nation of savers, but the national savings rate has dropped to a negative 1.3%. That means that Japanese people are spending more than they are saving for the first time since 1955, when the savings rate was first polled. Japanese inflation is also at a 14-month low.
The savings rate drop may indicate that Japan's aging population is drawing down its savings. The change may be a blip or may indicate a new trend.
10. -- Burton Malkiel's A Random Walk Down Wall Street, a classic investing book, is being re-released for its 11th edition.  Malkiel's book looks at individual stock performance and compares that to the overall market. The book, which was first released in 1973, was an early proponent of diversification and indexing. 
Malkiel, who now works for Rebalance IRA, calls for broad diversification and low fees as primary factors in investing success.
-- Written by Nora Morrison
Nora Morrison is an editor, writer and researcher on music, popular culture and business. She is an associate editor at
TheStreet
, and is on Twitter at
.