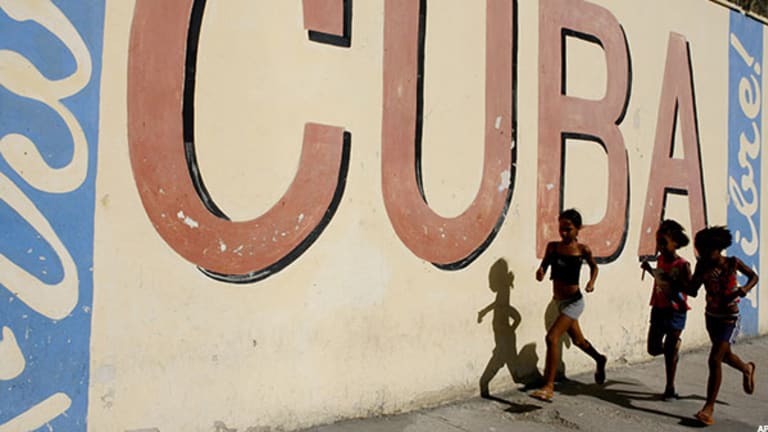 NEW YORK (TheStreet) -- When asked where he would fly Air Force One if he became President at the Republican debate this week, U.S. Senator Marco Rubio said, "I hope that my Air Force One, if I become president, will one day land in a free Cuba, where its people can choose its leaders and its own destiny."
As U.S.-Cuba relations begin to thaw, investors, too, have been eager to land their jets in Havana to initiate new projects in the under-developed island nation of 11 million that sits just 90 miles from Key West, Fla. They might have to wait as long as Rubio -- or longer (if he won in 2016, he would have to wait until January 2017 and, besides, Rubio has opposed the detente). 
While the prospect of normalized relations between Cuba and the U.S. caused some initial hoopla among investors, the process is not as easy as mixing rum and coke. The two nations restored diplomatic relations on July 20 and President Obama has pushed for the end of the U.S. embargo of Cuba since late 2014. Still, plenty of political hurdles remain before there will be a free flow of trade and investment between these Cold War enemies.
On the Cuban side, the Castro regime appears unwilling to allow improved relations with its northern neighbor to threaten its own survival. On this side of the Straits of Florida, it likely will take some time for Congress to embrace lifting the embargo, and it's not even a sure thing.
On the U.S. side, there is great political opposition to normalization while Raul Castro is still in power and there are trade groups waryof deals, too.
Investors got ahead of themselves after President Obama announced in mid-December that Washington and Havana had decided to work toward the normalization of diplomatic relations. Shares of the Herzfeld Caribbean Basin Fund (CUBA) - Get Herzfeld Caribbean Basin Fund Inc Report shot from less than $7 to a high of $14.97 in less than a week on the news but quickly retreated to the mid-$8.00 range by Jan. 7.
Perhaps investors had piled into this closed-end fund thinking that its ticker meant that it invested in Cuba, only to be disappointed to learn that it has no Cuban holdings. It turns out that it invests in shares of companies listed on exchanges in Caribbean Basin countries or that have a majority of assets or revenue in those countries.
Still, the fund might be viewed as an indirect play Cuba's economy, and perhaps the quick fall from the high indicated that investors realized what a long road lies ahead before economic ties are normalized.
Cuba is still under the grip of an authoritarian regime that tightly controls news and information, and international newspapers are hard to find on the island. The secret police continues to threaten and incarcerate dissidents. These are constant reminders that Cuba's government will not abandon its socialist path and centrally planned economy.
Raul Castro, like his brother, repeats almost daily that there won't be a change of regime. He says that there will be improvement of the socialist system with as little participation as possible by the private sector in the economy. The armed forces or former generals so far control more than 2,000 enterprises, including tourism, mining, agriculture and the export of doctors and health care professionals.
"Since the beginning of the revolution the Cuban government has expressed a strong distaste for and a profound suspicion of private owners," said Jorge Duany, director of the Cuban Research Institute at Florida International University.
Private enterprise is limited to such minor operations as barbershops, scissor-sharpening establishments and private restaurants, or "paladares," whose survival depends on political connections or bribery to avoid paying hefty taxes.
On the positive side, Cuba has educated thousands of doctors and researchers in public health. If and when economic relations deepen, Cuba might be able to build a successful medical tourism business targeting Cuban-Americans and other Hispanics residing in the U.S.
And Cuban-Americans could provide business expertise in Cuba, helping the nation transition to a market economy and solve five decades of scarcity of consumer goods.
So far, however, the Cuban government has been unwilling to take the risk of opening the economy further.
This ideological stance led to the confiscation of all foreign and local enterprises during the 1960s. But with the collapse of the Soviet Union in 1989, the government saw itself forced to allow some private enterprises and self-employment, though reluctantly and with great suspicion.
"Clearly they are monitoring, regulating and restricting the expansion of the nonstate sector of the economy," Duany said. "They are concerned that the emergence of an independent class of entrepreneurs could threaten the one-party system and the model of a centrally planned economy."
What's more, Cuba -- along with North Korea, Iran and Burma -- is a member of the select group of nations that either don't allow use of the Internet or heavily censor it. It's unthinkable for an economy to take off economically without the free flow of ideas and information, and the Havana government has yet to take the first steps to relax its tight grip. That could be another headwind in for investors interested in Cuba. 
"Cuba has an educated population but doesn't have the capital to create the infrastructure necessary for the Internet," said Carlos Vassallo, chief innovation officer of Planet M, an Internet portal for entrepreneurs based in New York, and who has worked on several start-up projects in Latin America. "Politics can delay the process of investment and financing. Cuba has yet to enter in the digital era. However, once the government signals its intention to open the doors, for sure you're going [to get an] immediate answer from the private investors."
On the U.S. side, the Obama administration is pushing for democratic changes in Cuba and for an end to the embargo. Although Secretary of State John Kerry did not invite dissidents to the opening of the U.S. Embassy in Cuba on Aug. 14, he held meetings with some of them before returning home.
And the administration has taken executive actions that have economic implications for Cuba.
"President Obama's decision to increase the amount of remittances to Cuba by non-Cuban U.S. citizens from $500 to $2,000 is part of the efforts to support the empowerment of the Cuban people and specifically the growth of private business," said Duany of Florida International University.
But there's opposition from other U.S. politicians. In the U.S., resistance against any improvement of relations gets louder as the presidential elections get closer. This is occurring even as the voices for a relaxing the embargo are also getting louder.
Florida, which is the center of Cuban political power and where 1.2 million Cuban-Americans live, is a must-win state for a Republican presidential nominee. Polls show that a minority (41%) of Cuban-Americans living in Florida support normalized relations with Cuba, so no Republican candidate is going to want to talk about opening up commercial relations between U.S. companies based in Florida and companies controlled by the Cuban government.
One Republican candidate from Florida, Sen. Rubio, has voiced opposition to the White House's push to restore relations. So has Rep. Ileana Ros-Lehtinen (R., Fla.). They're not alone in Congress either. Sen. Robert Menendez (D., N.J.) said the decision to re-establish diplomatic relations was not in America's interest.
But a slim majority of Cuban-Americans all over the U.S. backs the White House's decision to normalize relations with Cuba, and congressional approval to end the embargo may eventually come.
Across the Straits of Florida, the leadership may soften, as well. The truth is that Cuba's biggest benefactors -- China, Russia and Venezuela -- are going through serious economic problems, exacerbated by the drastic fall of oil prices.
Eventually, Castro will have to make a decision if he want to satisfy at least the basic needs of an impoverished and oppressed population.
This article is commentary by an independent contributor. At the time of publication, the author held no positions in the stocks mentioned.