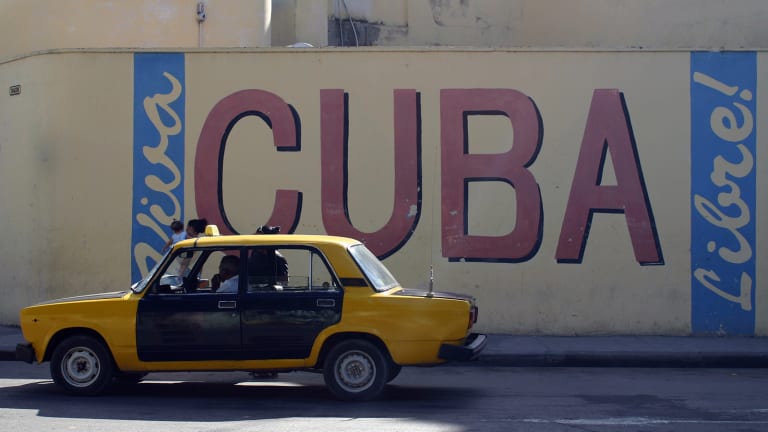 Publish date:
Cuba Investment Anyone? Not So Fast
U.S. tech companies have been sniffing around Cuba for months, but many restrictions to doing business still remain.
U.S. tech companies have been sniffing around Cuba for months, but many restrictions to doing business still remain.
NEW YORK (TheStreet) -- President Obama handed some good news to U.S. tech companies looking to build a business in Cuba: The U.S. is re-opening its embassy in Havana after 54 years.
"This is not merely symbolic," Obama said Wednesday. "With this change, we will be able to substantially increase our contacts with the Cuban people. We will have more personnel at our embassy and our diplomats will have the ability to engage more broadly across the island."
Since the White House announced moves to re-open diplomatic relations with Cuba on Dec. 17, a number of U.S. tech companies have made their own overtures, among them Google (GOOG) - Get Alphabet Inc. Class C Report and Netflix (NFLX) - Get Netflix, Inc. (NFLX) Report.
Still, while businesses looking to open up shop on the shores opposite Key West, Fla., will likely get a boost from reinstated embassies, U.S. companies continue to face formidable barriers to actually doing business there.
"The reestablishment of the embassies has permanence that everything else doesn't," said John Kavulich, president of the New York-based U.S.-Cuba Trade and Economic Council. "The hope is that in re-establishment of diplomatic relations, there will be more transparency, more accountability and more creativity by both governments."
More substantially, that means neither government can lean on a timeworn excuse for refusing to facilitate buying and selling between the two countries, said Kavulich: "We can't do that. We don't have diplomatic relations."
The plan to mutually re-open embassies is the latest loosening of restrictions between the longtime enemies. The Obama Administration has removed Cuba from its list of state sponsors of terrorism and raised the cap on money that U.S. citizens can send to Cuba as well as how much money U.S. tourists can bring if they travel there.
Lifted U.S. restrictions have additionally sought to aid Americans looking to import goods destined for Cuban entrepreneurs. Licensed trips to the island must still fit within 12 pre-existing categories.
Congress must approve any measure to lift the embargo on trade with Cuba. The Republic of Cuba has its own set of restrictions on which transactions with the U.S. are and are not permitted.

But so far there have been few concrete changes requiring the cooperation of the Cuban government in the tech industry. In March, Newark, New Jersey-based telecommunications company IDT Corporation (IDT) - Get IDT Corporation Class B Reportbecame the first U.S. firm in decades to reach an accord for direct international long distance calling with Cuba's state telephone provider. Announcements from Netflix and AirBnB that their services would be available in Cuba have yet to get a go-ahead from the Cuban government.
A year ago, even before the White House trotted out its plans for Cuba in December, Google Chairman Eric Schmidt and other executives at the search giant had already made a visit, advocating open Internet access as a route towards "better education, better business, and a more open, accountable government to Cuba." Company representatives have returned multiple times since, with their most recent trip earlier this month.
Cuba, meanwhile, has made its own halting steps to get more Cubans online. Recently it has cut the price in state-run Internet cafes and pledged to expand WiFi hotspots throughout the country.
But with lots of economic uncertainties regarding everything from Cuba's sovereign and commercial debts to its intellectual property rights -- not to mention the government's willingness to let U.S. companies do business with Cubans -- the investment opportunities in Cuba today still face many stumbling blocks, said Kavulich.
"Cuba shouldn't be oversold and it shouldn't be undersold. It should be sold for what it is," he said.
The next big steps? A presidential visit to Havana before Obama leaves office in January 2017 and the expected end of Cuban President Raul Castro's term in 2018.