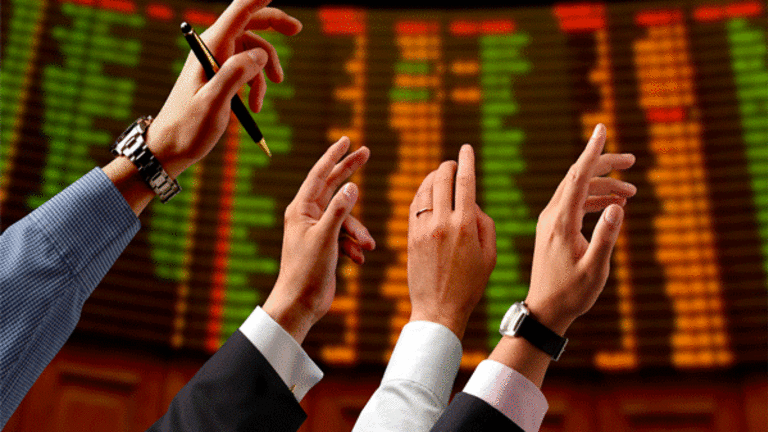 Cotton Prices: Room to Rise Even Higher
Cotton prices have doubled. TheStreet takes a look at some of the biggest drivers of that move, the forecasts and how consumers are being affected.

NEW YORK (TheStreet) -- Cotton prices have nearly doubled over the past 12 months, making it one of the hottest commodities so far this year.
"Maybe cotton prices were just too low for so long," said INTL/FCStone Fibers & Textiles Senior Risk Management Consultant Andy Ryan. "The U.S. overproduced cotton for many years and was the cheap supplier to the world -- and it only takes a couple of bad crop years and low stock levels to get things going on the upside."
"Still," says Ryan, "no one's ever seen these prices before."
For years, mills had successfully bought cotton on call -- meaning that they would agree with merchants on shipping dates and all other details about a sale, but fix the prices later. Mills would then look for dips in the market before executing their buys.
But this year, "this backfired on them," said Mike Stevens, a Mandeville, La.-based independent cotton analyst who's spent more than 40 years in the cotton industry.Why? Because prices have been explosive.
>>Cotton Tales: What Retailers Are Saying About Rising Costs
That said, market research firm IBISWorld predicts that
revenue could grow by more than 80% in 2011. "We don't expect prices to start coming down until 2012, which will help keep industry revenue high," IBISWorld analyst Nikoleta Panteva explained.
IBISWorld projects industry revenue to grow at an average annual rate of 2.1%, riding on the wave of increased production and sustained high global prices, over the five years to 2016.
In 2010, U.S. cotton exports grew by 70%, with a drastic 151% increase in exports to China, according to the firm.
>>Will Cotton Kill Retail? The Cost of Rising Costs
"Cotton," says Ryan, "really is a global crop."
"It's produced in huge amounts in a few countries, but it's grown in a lot of places around the world" and is becoming one of the commodities that are consumed more and more as countries such as China and India move from developing nation to developed nation. "It's textiles, clothes -- they start to put more things in their closet when they become affluent." This part of the cotton price story, says Ryan isn't going away any time soon.
But beyond the China and India growth story, there's also been a complex web of other big stories that have been major forces in determining the direction of cotton prices.
To find out what they are, read on -- and also learn about price forecasts for the coveted crop and how its doubling affects you -- the consumer, at the retail level ...
Harvests, Weather, Competing Crops
The combination of bad weather and competing crops has been a major driver of supply tightness found amongst the major world cotton producers.
Last year, floods in Pakistan killed 30% of its cotton crop -- and Pakistan produces 8% of the world's cotton according to market research firm IBISWorld.
"The floods in Pakistan played a huge role escalating prices," said Ryan from INTL/FCStone Fibers & Textiles."That was probably one of the first catalysts that drove prices higher this year."
Pakistan's economy was devastated by the floods and how long it will be before the country's infrastructure for cotton production is rebuilt and yields return to normal levels is difficult to determine, according to Panteva from IBISWorld.
In neighboring India, floods and severe weather also wreaked havoc on cotton production, leading the country to ban exports as it struggled to meet domestic demand. India produces 21% of the world's cotton, according to IBISWorld. Floods have also destroyed cotton crops in Australia.
Stevens, the independent analyst, said the India ban "really upset the apple cart."
In the U.S., the acreage dedicated to cotton growing has been shrinking over the last five years in favor of more profitable crops such as soybeans and corn, which are mostly being used for biofuel. The U.S. accounts for about 14% of the world's cotton production, according to IBISWorld. In further explaining the shrinking cotton acreage, Ryan said for years, "there was a lot of excess and U.S. stocks basically went to huge levels. There was a massive overproduction and prices fell for quite some time."
From a nearer-term perspective though, Stevens said prices for the new cotton crop are expected to be in the $1.25 to $1.30 a pound range, tilting the farming acreage in favor of cotton over soybean and corn. "But planting cotton and harvesting cotton are two different things," Stevens cautioned.
Panteva says cotton takes about nine to 12 months to harvest. "Domestically, we've just been having this really cold weather recently, so who knows if our planting is even going to be very successful." Ryan added that U.S. cotton production can't just rebound overnight; it will have to come back in increments as the U.S. builds back up its cotton infrastructure.
Stevens says also that a huge area of farmland running from New Mexico to Georgia has been "bone dry." Case in point: frequent new reports of brush fires in West Texas, where there are about about 2 million acres of cotton farming land. With the optimal planting period in West Texas typically taking place around May 20 and soon approaching, the hope is the dry spell ends soon.
The cotton industry estimates that the U.S. will have about 1.9 million bales of carryover cotton crop by the end of the current cotton crop year ending Jul. 31, which is far too low an amount to cover orders taking place during the months between the current crop year and the new crop year.
Stevens estimates that it takes at least 1.5 million bales of carryover crop a month, or 3 million bales in total, to comfortably cover those months. "The market now intimidates merchants," he said.
Furthermore, while Carolina cotton mills were expected to consume 3.6 million bales of cotton over the course of the season according to official figures, they have actually already consumed 3.9 million bales of cotton. That means over the course of the season they will consume at least 300,000 more bales than officials had expected. "That will make things just that much tighter come July 31," said Stevens.
China and the Post Recession Period
The growing appetite for clothing in the post-recessionary period has been driving demand for high-value, cotton-based fabrics by manufacturing powerhouse China.
Currently, China consumes a massive 50 million bales of cotton a year, according to Stevens, though analysts think that countries such as Vietnam, Bangladesh and Indonesia are gradually catching up to China in terms of cotton consumption as they too become major manufacturing hubs, helped by rising labor costs in the world's most populous country.
Although China is also a big cotton producer with the ability to yield crop sizes of 32 million bales with good weather, the weather has been less than perfect, with some cotton-bearing regions of China suffering from droughts. This hasn't been conducive to supporting growing consumer confidence in the post-recessionary period. According to Stevens the ratio of potential buying by cotton mills to potential selling of cotton is 27 to 1 today.
"The world has been coming out of a recession at a time when cotton pipelines are empty," he said.
China has had a "very bad crop" -- far below its own expectations -- and this has contributed to the explosiveness of cotton prices, according to Ryan. On Feb. 28, China's National Bureau of Statistics put the country's 2010 cotton crop figure at 27.4 million bales; the U.S. Department of Agriculture had expected 30 million bales. "I don't want to say they lied, but their statistics were flawed," Stevens said. "It stunned everybody."
Despite the Chinese government's efforts to bring more cotton to the market after a bad crop year by auctioning off its strategic reserves to uncomfortably low levels -- "they drove their reserves down to nothing," said Ryan -- "the prices still went higher." The government still hasn't been able to replenish these reserves.
So, when India imposed a cotton export ban, "the Chinese mills panicked," Stevens said. India is right next door to China and has been an invaluable source of cotton for the country. As for Pakistan, "they really left the Pakistanis to hang out and dry," Stevens said. According to the analysts, India has reneged on 1 million bales of cotton already sold to the country and Pakistan must now renegotiate the agreement at a time when prices are sky-high.
"The embargo that India put on really was extremely disruptive," said Stevens.
The independent cotton analyst believes that there will be much more pressure to come from the global textile industry to "get India to get their act in order. The international cotton community has really frowned highly upon what they've done."
Wal-Mart
(WMT) - Get Walmart Inc. Report
U.S. Chief Executive Officer Bill Simon says rising cotton and labor prices are hurting the retail giant's softlines, home and apparel businesses. "We're consolidating suppliers to improve purchasing power and leveraging our buying power with raw material suppliers."
Meanwhile, Wesley Card, the CEO of branded apparel company
Jones Group
(JNY)
says the company's confident its brands will be growing throughout 2011, despite the steeper material costs. Card said Jones "will support the bottom line through selective price increases, logistics enhancements and the maintenance of a lean operating structure."
>>Cotton Tales: What Retailers Are Saying About Rising Costs
Government Manipulation
One of the biggest drivers of cotton prices has been the result of government manipulation in times of tight supply.
Government control over trade mechanisms and cotton production are examples.
According to Ryan, the Chinese government has been more concerned about food production than fiber production and has therefore been actively involved with incentivizing local farmers to produce vegetable and grain crops. Meanwhile, the country has typically been able to buy fiber crops more cheaply overseas, according to Ryan.
"There are natural causes like the Chinese crop and the Pakistani floods that caused the prices to go up, but governments do act in their best interest or what they feel is their best interest in the cotton world," said Ryan. "Just like other commodities, cotton is a precious one these day and governments like India want to make sure their textile mills have enough cotton to spend ... but in essence they're just doing their jobs" by looking out for the local mills and farmers.
Still, "the world was counting on their cotton -- their extra cotton to come out to world markets this year," he noted.
Indeed,
Abercrombie & Fitch
(ANF) - Get Abercrombie & Fitch Co. Class A Report
CEO Michael Jeffries said "there is no doubt that sourcing costs are the biggest headwind we face." Jeffries expects the company to face double-digit cost increases for the fall 2011 season.
In the last 45 days,
Home Depot
(HD) - Get Home Depot, Inc. (HD) Report
vendors have been approaching the company with price increases because of elevated raw material costs, according to its Executive Vice President of Merchandising, Craig Menear. "We review each of these requests on an individual basis."
>>Cotton Tales: What Retailers Are Saying About Rising Costs
High Oil Prices
As oil surpasses $100 a barrel and heads higher, the potential impact on cotton is multifaceted.
"The rising prices of oil can be the cruelest of taxes," said Stevens. If oil prices continue to rise, it would "peel into the disposable income of consumers, hurting demand for cotton-based apparels such as T-shirts, blue jeans and underwear."
Every $20 rise in oil prices lops off about 1% of gross domestic product, he notes.
Higher oil prices would also raise production costs by making petroleum-based fertilizers and the operation of equipment more expensive, Stevens adds. That said, Ryan says "fertilizers are going up for all crops, so I'm not sure if that's a huge factor. The rising cotton prices have more than factored in rising fertilizer prices at this point."
On the other hand, says Stevens, higher oil prices could also raise the cost of petroleum-based polyester -- a synthetic substitute for cotton and major cotton competitor -- making it less attractive to buy; though mills may have to resort to it and other synthetics such as rayon, anyway, if cotton supplies remain tight or become unavailable -- and provided that consumer sentiment remains healthy.
In the end, the consumer may not like any of this -- discouraged by an inflow of lower-quality T-shirts and jeans.
"As we talk about our assumptions for 2011, the subject of commodity price increases is a key one. We are taking this challenge very seriously," said
Macy's
Chief Financial Officer Karen Hoguet.
>>Cotton Tales: What Retailers Are Saying About Rising Costs
Outlook
As cotton prices continue to rise, consumers may feel the impact at the retail level. But how badly -- and how high could cotton prices rise?
Stevens predicts that cotton prices for the current crop year are unlikely to dip below $1.50 a pound -- or even dip to $1.50 -- but could hit $2.50 for the March, May and July contracts of the current crop year ending Jul. 31.
"Never in history have we run out of cotton and that's what we're faced with -- a strong possibility -- this year," he warned.
"I don't think there's any cotton producing country that won't be trying to capture these high prices because a cotton run-up is very, very, very profitable," he added.
For the next crop year, Stevens predicts that demand will keep prices above the high 90 cent to $1 area on the downside and at the $1.50 area on the upside.
At the retail level, Stevens thinks consumers will see price hikes starting in spring. They will go up by anywhere between 10% and 30%, but the increase will be gradual, he said. "For the most part, you probably won't even notice it ... there's a several months lag time for the prices of cotton before it reaches the shelves."
Cotton goes through a fairly complex industrial chain, unlike corn and wheat, which get processed in one or two stages. "It goes through a lot of different hands," said Ryan. "It's a long process."
Cotton becomes thread and yarn, which serve as raw materials for textiles; meanwhile fabric and cloth can be traded on another commoditized market. From there, companies cut, finish and sew the textiles then sell it to retailers or suppliers.
The long process eventually leads to the sale of, for instance, a pair of jeans or a shirt. But how much of the cost of these goods are actually impacted by high cotton prices? "It's easy to make the conclusion that the prices of cotton have doubled and the raw material or finished goods should increase in price dramatically -- but that's really not the case in cotton," Ryan said.
>>From Field to Store: How Apparel Is Made
"If oil prices go up, gas prices go up pretty quickly, but if cotton prices go up, the price for a pair of jeans or T-shirt should only go up incrementally."
Ryan says, for instance, the total price of cotton in a $50 or $200 pair of jeans is just $3 to $5. Meanwhile, if the price of this cotton doubled, the jeans wouldn't suddenly cost $100 or $400. It would just go up by a few dollars.
Indeed,
Gap
(GPS) - Get Gap, Inc. (GPS) Report
CEO Glenn Murphy says, "what you need to know with us is we're not going to just do the math on this -- which is if our prices were to go up by an 'x' amount, that we're just going to spread that equally into our ticketed price. That, to me, is the way people priced maybe 20 years ago. You've got to be much more thoughtful when you know who your competition is, how you're going to win, what those categories are, that will dictate the pricing choices you're going to make."
>>Cotton Tales: What Retailers Are Saying About Rising Costs
In the short-term, prices will be firm for the front-month May and July contracts, according to Ryan. He predicts that May cotton could hit as much as $2.40, $2.42 or $2.45 a pound -- a new high above the $2.08 seen during the previous week of Feb. 21.
These front-month contracts represent prices of cotton that are already being sold and spun and only very little remaining supply that mills may still need to buy more of.
As for next year's crop, represented by the Dec. 11 and March 12 contracts, Ryan doesn't think prices will advance as much -- but they could move higher to keep or possibly attract more acreage.
"I think the spread between current crop prices -- May and July -- there' a huge premium over what's going to be produced next year ... and I think that spread can even widen because there's still a chance that we can get more cotton planted and have a great crop for next year." This, said Ryan, would ease prices back to normal levels or under a $1."
Pateva thinks that cotton prices will cool by the end of five years as world supplies are reestablished.
>>Will Cotton Kill Retail? The Cost of Rising Costs
>>Search for Highest Dividends by Rate or Yield
-- Written by Andrea Tse in New York.
>To contact the writer of this article, click here:
Andrea Tse
.
>To follow the writer on Twitter, go to
.
>To submit a news tip, send an email to:
.
Copyright 2010 TheStreet.com Inc. All rights reserved. This material may not be published, broadcast, rewritten, or redistributed.