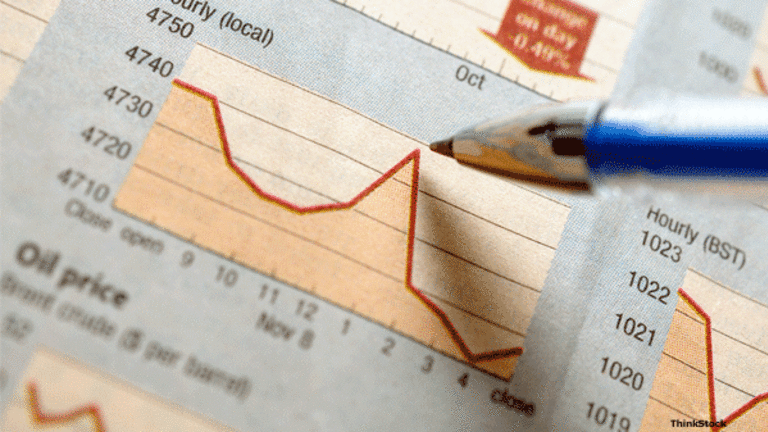 Publish date:
'Corrections' in Country, Sector ETFs: Value Plays
Here's an overview of key country and sector ETFs that have pulled back 10%+. Some offer value.
Here's an overview of key country and sector ETFs that have pulled back 10%+. Some offer value.
The following commentary comes from an independent investor or market observer as part of TheStreet's guest contributor program, which is separate from the company's news coverage.
NEW YORK (
) -- The
CBOE Volatility Index
closed more than 10% above its long-term 200-day moving average. That hasn't happened since August of 2010, back when investors fretted the possibility of a double-dip recession.
Today, the worries are more cumulative in nature. Uncertain job growth, depressed home values, debt troubles in Europe, rising commodity prices, the threat of rising rates, inflation in Asia, civil unrest in Libya, and now, nuclear radiation levels in Japan.
In spite of a laundry list of concerns, and in spite of a -17% 2-day collapse in Japan's Nikkei stock market average, the
S&P 500
has pulled back a mere -4.6% from multi-year highs. Even when one looks at the intra-day high to pullback low, it's only -6.1%.
There are several interpretations one might give for the relative resiliency. One, investors may view the tragedy in Japan and the Middle East-inspired spike in oil as "temporary." If that's the prevailing viewpoint, then there's little reason to be uneasy about the global economy's longer-term well-being.
A second possibility? Envy. Yes, envy! More specifically, scores of investors missed the remarkable gains in 2009 and in 2010. They've repositioned assets in 401k stock funds and they've returned to investment advisers for guidance. Stock fund managers are buying every dip with the extra cash, while money managing advisers are doing the same. The envy hasn't reached "irrational exuberance" levels of greed, but envy is playing a part.
A third interpretation? Investors are shrewdly focusing on positives for stock assets -- from strength in manufacturing to corporate earnings growth to easy-money
Fed
policy. Of course, the latter probably accounts for the
timing of Egyptian/Libyan/Tunisian unrest
, but you'll never hear Bernanke admit to it.
Whether investors have bull market envy, or whether they view the current geopolitical risks as temporary, or whether they've returned to an analysis of P/E ratios, nobody should ignore ETFs that have "corrected." Here's an overview of key Country ETFs and key Sector ETFs that have pulled back 10%+:
Market Vectors Nuclear Energy
(NLR) - Get VanEck Vectors Uranium+Nuclear Energy ETF Report
? I don't see any confidence returning to the sector for years. NLR is destined to become a day-trading tool with regulators debating the risks of a previously promising alternative energy source.
Guggenheim Airline
(FAA)
? Oil prices have been in control of this ETF's trading pattern since Day One. FAA holds promise for those that believe crude oil prices will head back down to the $80-$85 per barrel range.
Prior to more recent concerns about Chinese demand and geopolitical unrest, commodity-oriented investments (e.g., miners, "ag," etc.) were phenomenal. If you believe that the U.S. dollar will resume a long-term downtrend and if you believe the global industrial cycle is still headed for expansion, you might want to look for value here.
The same could be said for commodity-rich
Chile
(ECH) - Get iShares MSCI Chile ETF Report
and
Peru
(EPU) - Get iShares MSCI Peru ETF Report
; that is, their success is dependent on commodity demand and global economic expansion. If you're a believer, you might step up to the pullback plate.
In contrast, a direct investment in Japanese equities via
Small-Cap Japan
(SCJ) - Get iShares MSCI Japan Small-Cap ETF Report
may not be the best way to show confidence in a Japanese recovery. Look to
Steel
(SLX) - Get VanEck Vectors Steel ETF Report
,
Timber
(CUT) - Get Invesco MSCI Global Timber ETF Report
as well as
Coal
(KOL) - Get VanEck Vectors Coal ETF Report
to benefit from
rebuilding efforts in the Land of the Rising Sun.
You can listen to the ETF Expert Radio Show
"LIVE", via podcast or on your iPod
. You can review more ETF Expert features
here
.
Readers Also Like:
>>5 Stocks Hitting Highs Even Amid Turmoil
Disclosure Statement: ETF Expert is a website that makes the world of ETFs easier to understand. Gary Gordon, Pacific Park Financial and/or its clients may hold positions in ETFs, mutual funds and investment assets mentioned. The commentary does not constitute individualized investment advice. The opinions offered are not personalized recommendations to buy, sell or hold securities. At times, issuers of exchange-traded products compensate Pacific Park Financial or its subsidiaries for advertising at the ETF Expert website. ETF Expert content is created independently of any advertising relationships. You may review additional ETF Expert at the site.