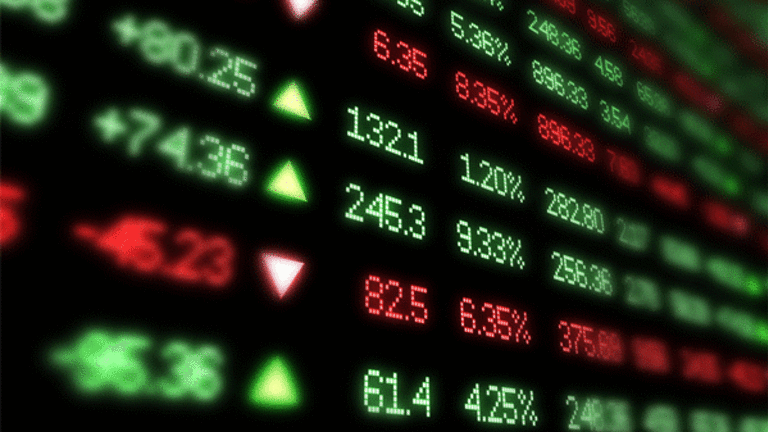 Coal, Corn Prices on the Rise: Market Bits
Corn, coal and catastrophe bonds were market attention grabbers amid the nuclear leak and earthquake news out of Japan.
(Prices, data updated with additional commentary on coal.)
NEW YORK (TheStreet) -- Corn futures popped until the market close after strong export data was released and unconfirmed reports of U.S. corn exports to China began to circulate.
Corn for May delivery settled at $6.84 ¾ a bushel, up 5.9% Friday. Agricultural commodities processor and transporter
Archer Daniels Midland
( CPO) rose 0.6% to $34.96.
The US Department of Agriculture said corn export sales more than doubled to 1.04 million tons in the week ended March 10 from the previous week and that a significant amount of it was going to unknown destinations -- rumors are that the destinations included China, where corn harvests are expected to continue to fall short of domestic consumption needs.
The U.S. is the largest producer and exporter of the grain.
The U.S. Grains Council said major grain importing facilities in northern mainland Japan have been severely damaged by the earthquake, causing some to be non-operational for the time being, though "no official reports on total grain trade impact have been made known to the Council," the organization said on its web site. Deutsche Bank's global market research team has heard no reports of canceled grain cargoes, which it said are being diverted to southern ports.
Japan is the biggest importer of corn. The country imported roughly 15.5 million metric tons or 610 million bushels of U.S. corn valued at more than $3 billion in 2010, according to U.S. Grains Council data.
Mark Levin, senior equity analyst covering the coal sector at BB&T Capital Markets, said while the near-term impact of the Japanese natural disaster is unclear at this point, these catastrophic events could potentially put upward pressure on metallurgical coal prices as Japan will likely require lots of steel to rebuild infrastructure. According to The Australian Bureau of Agricultural and Resource Economics (ABARE), Japan imported 53 million metric tons of metallurgical coal last year, making the country the largest mettallurgical coal importer in the world with 21% of the total seaborne market. Furthermore, if China and India turns negative towards nuclear power expansion in the wake of Japan's nuclear leaks, "we expect coal to be a big beneficiary."
Levin has been bullish on
Patriot Coal
( PCX),
International Coal Group
( ICO) and
Peabody
(BTU) - Get Report
May crude oil futures ended down 0.3% to $102.06 a barrel after Libyan leader Moammar Gadhafi ordered a ceasefire in his armed battle with rebel forces following the U.N. Security Council's authorization of a no-fly zone over Libya and military action to protect Libyan civilians. Negotiations with Libyan rebel forces were expected to begin soon.
Still, MFGlobal analyst Ed Meir cautioned, "we would argue that should the Libyan leader stay in power, the oil picture is somewhat more bullish, as under a strict sanctions regime, none of his output would be marketable."
Meanwhile, worries about oil demand disruptions due to a possible slowing of Japan's economy in the earthquake's aftermath eased as Group of Seven (G-7) central banks -- those from the world's most industrialized nations -- coordinated efforts to depreciate the Japanese currency.
"Barring a more negative view on Japan's economic growth, we believe higher demand for oil for power generation and potentially sustained refinery disruptions will tighten up the global oil balance," according to a Deutsche Bank report.
Oil and gas stocks were in mixed territory.
Chevron
(CVX) - Get Report
was up 0.7% to $102.90 and
ConocoPhillips
(COP) - Get Report
was down 1.2% to $75.82.
The benchmark ten-year treasury note fell 6/32, pushing the yield up to 3.277% after the Libyan leader called for a cease-fire.
Reuters
reported that key data needed to calculate whether catastrophe bonds will be triggered by the Japanese earthquake will be available early next week.
In high-yielding catastrophe bonds, issuers may be forgiven of interest or principal payments to their lenders if the borrowers suffered losses from the catastrophe defined within the terms of the bond agreement. In this case, they look to be facing big losses from the 8.9 magnitude earth quake.
The report said ten catastrophe bonds with a face value of $1.7 billion were exposed to the massive earthquake. Bond issuers named by
Reuters
include
Munich Re,
,
Scor
(SCRYY)
(SZCRF)
,
Flagstone Reinsurance
(FSR)
and
Swiss Re
( SWCEY).
The yen was falling against major currencies Friday as the Finance ministers in the G-7 nations coordinated an intervention to stem the yen's spike since Japan's earthquake a week ago. The gain was threatening Japan's economy by making it more expensive for companies to export products.
>>Futures Rise After G-7 Intervenes to Restrain Yen
The Bank of Japan, Bundesbank, Bank of England, Bank of France and Bank of Italy were all selling the yen currency; the Federal Reserve and Bank of Canada participated during the early hours of New York trading Friday. This was the first coordinated currency intervention since Sept. 2000 -- last done to lend support to a falling euro.
"Three elements may increase the odds of success of this intervention," said Brown Brothers Harriman Global Head of Currency Strategy Marc Chandler. "First, that it is coordinated with other central banks. Second, the Bank of Japan is in the midst of dramatic easing of monetary policy through doubling the size of its asset purchases and now agreeing to buy the reconstruction bonds the government will sell. Third, market positioning among speculators may have caught the market leaning the wrong way."
The U.S. dollar was rising 2.5% against the Japanese currency at $80.829 yen.
CurrencyShares Japanese Yen Trust
(FXY) - Get Report
fell 2.3% to $122.27.
>>Search for Highest Dividends by Rate or Yield
-- Written by Andrea Tse in New York.
>To contact the writer of this article, click here:
Andrea Tse
.
>To follow the writer on Twitter, go to
.
>To submit a news tip, send an email to:
.
TheStreet Wins Four SABEW Journalism Awards   Creative Use of Online Media: The Shanghai Numbers
  Best Investigation: The Shanghai Numbers
  Best Feature Writing: The Pirates' Toll
  Best Opinion/Column: Adam Feuerstein's Biotech Coverage
Copyright 2010 TheStreet.com Inc. All rights reserved. This material may not be published, broadcast, rewritten, or redistributed.