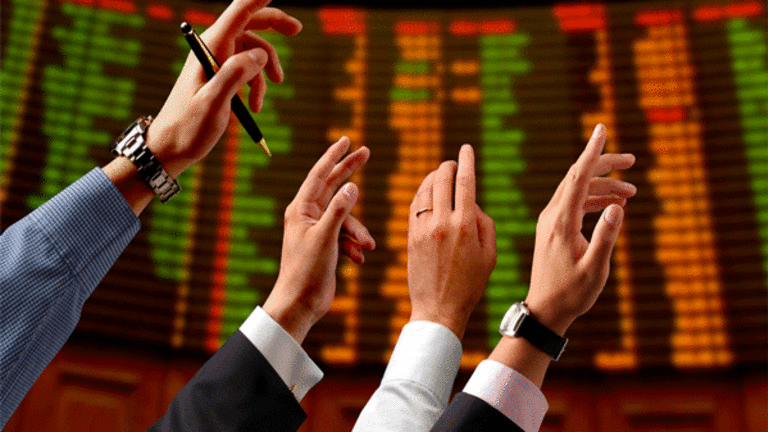 Commodities That Could Heat Up in 2011
Market experts from Jim Rogers to Marc Faber say we're in the middle of a multi-year boom in commodities, as demand from China and India grow to unprecedented levels.
NEW YORK (TheStreet) -- Commodities had a blistering rally in 2010, on the back of global supply shortages, strong demand from China and a weak dollar.
The rally in the second half of 2010 was particularly strong, as further quantitative easing from the Federal Reserve sparked inflation fears and drove investors to add commodities to their portfolio.
Still, Barclays Capital notes that the recent commodities rally isn't due entirely to the weak dollar. The Dow Jones-UBS Commodity Index, adjusted for the trade weighted value of the dollar, is still up 13% since June.
Market experts from Jim Rogers to Marc Faber have been arguing that we are in the middle of a multi-year boom in commodities, as demand from China and India grow to unprecedented levels for everything from food to gold and industrial metals and supply trails behind.
Total commodity assets under management is projected to end the year at $340 billion after starting 2010 at $270 billion, as prices rise and investors pour money into commodities, according to Barclays Capital.
>>Top 10 Commodity Stocks of 2010
In a survey of more than 300 institutional investors, including hedge funds and professional money managers, 69% of the respondents said they will initiate or increase their exposure to commodities over the next three years. About 60% said the annual average benchmark commodity returns will be about 6% to 10% in 2011, while 28% estimate returns will exceed 10%.
Most investors said they sought commodities for portfolio diversification, but 36% said they bought commodities for absolute returns, in another sign of bullishness in the asset class.
Commodity prices remain hugely dependent on China's demand. Investors will be closely watching for measures its government takes to curb inflation and cool its overheating economy.
Regulation of commodities markets in a bid to curb speculation amid rising food prices could also hurt commodity prices.
Read on for an outlook on the main commodity classes and tips for how best to trade them.
Crude Oil
Energy prices are poised to head higher in 2011, as investors bet on a global recovery. Crude oil has already made a strong recovery in 2010, up over 15% year to date and 25% from its February low of around $71 a barrel.
Several analysts are predicting oil prices could easily rise to $100 a barrel in 2011 as demand picks up and supply tightens.
Global oil demand in 2010 was its second strongest in 30 years, according to Barclays Capital analyst Kevin Norrish. Underlying demand in the U.S. also remains strong, Norrish notes, with oil demand in September increasing by 913,000 barrels/day, the highest monthly increase since 2004. The recent blast of cold weather is also likely to boost distillate demand.
Meanwhile, OECD crude oil inventories outside the U.S. have fallen below seasonal norms and overhang of U.S. oil inventories is declining, indicating tighter supplies in the near term. There could also be further upside surprises in the form of unseasonably cold weather and geopolitical risks.
How to Trade
: Investors seeking direct exposure to crude oil might want to consider ETFs, but that could be tricky. ETFs such as the
United States Oil Fund
(USO) - Get Report
and
iPath Crude Oil Index ETN
(OIL) - Get Report
have performed terribly despite a rise in crude spot prices.
In the past two years, a phenomenon called contango has messed up returns for these oil ETFs. Contango means longer dated futures contracts are more expensive than those approaching expiration. That means funds buy at higher prices when they roll over the contract, a money losing proposition.
But now the opposite has happened. The futures contracts for oil are moving into backwardation, meaning near-month contracts are once again at a premium to longer dated ones. That makes this a better time to buy funds such as USO and OIL than in the past.
Still Morningstar analyst Paul Justice recommends buying a fund such as
PowerShares DB Oil Fund
(DBO) - Get Report
which uses Deutsche Bank's trademarked "Optimum Yield" indexing methodology to maximize gains or minimize losses posed by the implied roll yield. In other words, investors can get a long-term exposure to oil without having to worry about words like contango and backwardation and the daily dynamics of the futures market.
For investors who prefer to play the commodity rally through stocks,
TheStreet
contributor Daniel Dicker recommends integrated oil companies, with
ExxonMobil
(XOM) - Get Report
as his top pick (see chart above). A more speculative play would be
SandRidge
(SD) - Get Report
, Dicker says, as it moves from natural gas to oil assets.
Natural Gas
Contrarians are betting that 2011 might be the year
natural gas prices could explode, because there really is no way to go but up.
Natural gas prices have been depressed in the last couple of years in the U.S. as a result of significant spare capacity and slowing demand. But with natural gas companies switching their focus to crude oil, there could be some draw in production notes Dicker. Meanwhile demand for natural gas is slowly but surely increasing.
Most analysts remain bearish, but natural gas prices have already started showing signs of life in recent months. "I strongly and sharply disagree with most of the analysts' expectations for continued depressed pricing for gas during 2011. When the first real turnarounds of demand begin to show themselves, the price will quickly (and illogically) completely outstrip the admittedly huge inventories of gas in storage. It may not make sense, but I've seen it too many times in the past to expect anything different this time around," Dicker wrote in a recent article for
TheStreet.
James Dailey of Team Asset Strategy says U.S. natural gas producers could benefit from import demand for liquefied natural gas, or LNG, from India and China. Currently, the U.S. has limited export capacity for LNG but that could change. "In 2012 and 2013, significant export capacity for LNG will come on stream. India and China have a supply deficit," said Dailey. "The U.S. finally has something to export," he quipped.
How to Trade
Rather than take exposure to ETFs such as
United States Natural Gas
(UNG) - Get Report
, analysts recommend exposure to natural gas plays such as
EOG Resources
(EOG) - Get Report
,
Chesapeake Energy
(CHK) - Get Report
,
Devon Energy
(DVN) - Get Report
,
Cheniere Energy
(LNG) - Get Report
and Canada's top natural gas producer
Encana
(ECA) - Get Report
.
Cheniere is currently seeking DOE approval to export LNG from Sabine Pass in Louisiana to all countries that have LNG import capacity. Regulations allow the Energy Department to block shipments to countries other than those that have a free trade pact with U.S. if it deems exports are against public interest.
Gold and Precious Metals
The momentum in gold and other precious metals might wane a bit in 2011, as investor appetite for risk assets picks up as the global economy recovers.
"The much stronger performance of other commodity sectors relative to precious metals over recent months, despite what is arguably an even more severe debt situation for sovereign debt risk, reflects a big change in market psychology," notes Kevin Norrish of Barclays. "With economic growth once again surprising on the upside, the re-emergence of sovereign debt concerns has much less of an effect on energy or industrial metals markets than earlier this year."
Still, analysts maintain a positive outlook for gold as the
Fed
continues its easy money policy and sovereign debt problems in Europe remain in focus.
Adrian Day, who runs an asset management company bearing his name, says gold should remain a defensive holding in investors' portfolios. "Currencies are losing purchasing power. People are buying gold because they do not trust paper money. They are buying it as a defensive measure, regardless of price," says Day. Investors are also likely to continue buying gold even as the economy recovers as a hedge against inflation. "If there is a recovery in U.S. and E.U., I don't see how that can happen without being accompanied by inflation. So copper and oil will do well, but so will gold."
Renowned commodity investor Jim Rogers
who has said gold can rise as high as $2,000 an ounce and silver can still rise to $50 told
TheStreet
that he continues to hold both the metals, though he is not buying just now.
Other precious metals might be more volatile. Silver's sparkling rally in 2010 took everyone by surprise. But experts are uncertain whether the rally will continue in 2011. "Silver is even more dependent on investor interest
than gold, as mine supply continues to hit record highs and shows no sign of slowing; hence we are less positive on silver relative to gold," according to Barclays Capital's Norrish.
How to Trade: Analysts advise those who are underinvested in gold to continue buying it on dips. The
SPDR Gold
(GLD) - Get Report
and the
iShares Gold Trust
(IAU) - Get Report
are two physically backed gold ETFs that are popular investment vehicles. IAU has a lower expense ratio and recently found place in the portfolio of George Soros.
Copper
Copper prices have surged about 20% this year but strong demand from China and a tight supply situation makes this among the top bets in the industrial metals space.
In a Barclays Capital survey of hedge funds and institutional investors at its annual commodity conference, most investors voted copper as the commodity that will perform best in 2011.
"We are already at highs but supply is still tight and I don't see how we are going to boost supply in the short-term. And by short-term I mean the next two to three years," says Adrian Day.
"Copper and tin are set to hit all time highs next year, making them our picks from the base metals complex," Barclays Capital noted in its commodity outlook. "Copper fundamentals continue to tighten, mine supply remains constrained and global demand is coming in above expectations."
Copper prices have the potential to go past $10,000 a ton, according to Norrish, as copper stocks fall to new lows in 2011.
Fears of a slowdown in China as it counters higher inflation have been weighing on the outlook for industrial metals, but analysts believe the fears are overdone. "These are not fresh concerns. They have
cropped up many times over the year. What we have learned is that China can manage its economy pretty well," Norrish of Barclays Capital said at a media briefing.
"As long as China's economy does not stop growing (stop, not slow down), demand is going to be strong," says Day.
How to Trade:
Investors seeking a broader exposure to industrial metals to play on the recovery can consider the
PowerShares DB Base Metals ETF
(DBB) - Get Report
. The ETF provides exposure to aluminum, zinc and copper. There is also a copper ETF,
iPath Dow Jones UBS Copper ETF
(JJC) - Get Report
,
But Day still prefers
Freeport McMoRan
(FCX) - Get Report
as the best way to play the boom in copper. The largest publicly traded copper miner is up 40% year to date, but makes for good buying on dips, according to the analyst.
Agri-commodities
Agri-commodities have been the strongest performers in the last six months with the DJ-UBS Sector Index up nearly 40% this year. Weather disruptions to supply and higher global demand have fueled the prices of cotton, wheat, coffee, corn and soybean.
As China battles food inflation, agri-commodities are seen as a natural hedge. However, after a tearing run, the rally might be a little more selective in the year ahead.
Corn and soybean are emerging as favorites for 2011. "U.S. corn supplies have tightened materially on lowered yields, while stocks remain very tight and ethanol production has set multiple record highs. Concerns have surfaced about the effect of La Nina on Southern Hemisphere crops, while China has stayed a net importer of corn in the past five months," Barclays Capital wrote in a commodity outlook.
Darin Newsom, senior commodities analyst at DTN Securities says he likes soybean and that the crop should benefit from strong demand from China. An acreage battle could emerge in the U.S. as farmers cater to rising demand for corn and soybean and a tight supply situation could emerge.
Newsom tends to favor agri-commodities that are benefiting from strengthening demand trends rather than short supply situations as a harvest can quickly change the supply outlook.
Cotton, which remains 2010's top performing commodity with its nearly 90% rise in prices, is currently facing a tight supply situation so prices could remain strong in the first half of 2011. But Newsom expects that the supply situation will probably be rectified in subsequent harvests as farmers in India grow more cotton to benefit from prices.
How to Trade:
ETFs might present the best way to trade agri-commodities as agri stocks tend to be ruled by multiple factors besides commodity prices. There are several broad-based ETFs that provide exposure to a range of agri-commodities. The
PowerShares DB Agriculture Fund
(DBA) - Get Report
is one fund that offers broad exposure to a range of commodities. Dailey of Team Asset Management recommends the
Elements Rogers Commodity Index
(RJA) - Get Report
.
The
iPath Dow Jones UBS Agriculture ETF
(JJA) - Get Report
offers exposure to seven commodities including soybean, corn, wheat, soybean oil, coffee, cotton and sugar.
There is also a single corn-based ETF, the
Teucrium Corn Fund
which invests in corn future swaps.
Investors looking for indirect exposure may consider fertilizer stocks like
Potash
(POT)
or the
Market Vectors Agribusiness ETF
(MOO) - Get Report
as rising farmer incomes is likely to benefit companies in the agri business.
-- Written by Shanthi Bharatwaj in New York
>To contact the writer of this article, click here:
Shanthi Bharatwaj
.
>To follow the writer on Twitter, go to
.
>To submit a news tip, send an email to:
.
Disclosure: TheStreet's editorial policy prohibits staff editors and reporters from holding positions in any individual stocks.