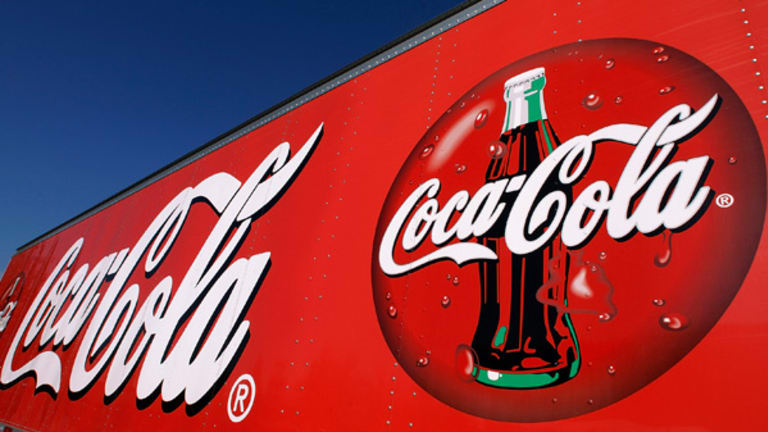 Coca-Cola's Pause Can Refresh Your Profits
On the basis of long-term margin expansion and 3% to 4% volume growth, these shares should trade at $45 by the second half of the year.
NEW YORK (TheStreet) -- It's not often that shares of Coca-Cola (KO) - Get Coca-Cola Company Report fall below their fair-market value. Even amid so-called "bad quarters," these shares rarely get cheap. Although Coca-Cola didn't have an exceptional fourth quarter, don't expect the stock's recent 4% decline to snowball out of control. With shares down roughly 13% from their May 2013 high, there's still plenty of value to be had here.
As seen in results from PepsiCo (PEP) - Get PepsiCo, Inc. Report and Dr. Pepper Snapple (DPS) , weak volume and compressed margins have been the story in the food and beverage sector. Not to mention, the entire group has been hurt by the term "liquid candy," shorthand for heightened nutritional fears regarding the rise of obesity. This is an issue that plagues close to 40% of Americans and has become a global concern.
[Read: Sozzi: 10 Awesome New Foods Invading U.S. Supermarkets]
Accordingly, with vocal opposition from the likes of former Mayor Bloomberg in New York, many states have begun to prioritize ways to address (among other things) beverage consumption, which according to many experts is a key contributor to weight gain. Today, the Street is acting surprised that Coca-Cola's fourth-quarter revenue declined 4% year over year.
It's true the 1% total volume growth for the quarter (versus expectations were for 2-3%) disappointed. I won't even pretend that that 1% decline in North America isn't a big deal. But with so many social/business obstacles in the Carbonated Soft Drink  market, what did we expect?
[Read: Jim Cramer: Where the Bargains Are]
As TheStreet's Stephanie Link pointed out in an article yesterday, there is still much more to Coke than a meager North American soft drink company. The soft drinks segment is only one aspect of it its business.
Link pointed out that close to 80% of Coca-Cola's operating profit comes from international markets, with a meaningful percentage (roughly 55% of its total operating income) coming from emerging markets. Let's also not discount that the company grew volumes by 8% and 6% in India and Africa, respectively. And despite China's economic struggles, the region still grew 3%. What this means is that Coca-Cola, despite the downbeat results, still has growth on tap.

Somehow the Street ignored the quicker-than-expected uptick and the balance Coca-Cola showed in these important markets. In an unpredictable global economy, no less! As we've seen in reports from global brands like Yum! Brands (YUM) - Get Yum! Brands, Inc. (YUM) Report and McDonald's (MCD) - Get McDonald's Corporation (MCD) Report, China's economic conditions have taken a toll. But Coca-Cola's brand persevered. What does that tell you?
[Read: What Is the Problem With Adult Dental Insurance Plans on Healthcare.gov?]
It goes back to Link's point about the company's global footprint. And it's narrow-minded to judge Coca-Cola solely based on its North America performance. With strategic product mixes and promotional shifts, management has figured out ways to offset weakness in certain areas by finding strengths in others.
Along those lines, management deserves credit by having not shied away from the "liquid candy" situation. They have, instead, gone out of their way to educate consumers about the health effects of its products. And they've done this, while at the same time promoting regular exercise. So with some modest sequential growth numbers, there's no evidence that Coca-Cola is seeing the so-called "unhealthy effects" of the new health-conscious consumer, assuming the informational push is working.
This company has not lost its innovative edge. New products such as Coca-Cola Life, which uses a blend of sugar and plant-based Stevia as a natural sweetener, is a perfect example of how innovative the company can still be. And I haven't even mentioned the company's recent joint-venture with Green Mountain Coffee (GMCR) .
These initiatives (among others) helped Coca-Cola increase its global market share in non-alcoholic/ready-to-drink beverages for the 26th consecutive quarter. Coca-Cola isn't going anywhere. So it really comes down to how much patience you have in management to do what it is capable to doing to return to growth. And I don't see anything standing in the company's way of delivering the long-term profits investors have come to expect.
With the stock trading at around $37 with a P/E of close to 20, these shares aren't cheap. But there's always been a good reason for this. And they certainly won't get any cheaper given that they're already down 13% over the past year. On the basis of long-term margin expansion and 3% to 4% volume growth, these shares should trade at $45 by the second half of the year.
At the time of publication, the author held no position in any of the stocks mentioned.
This article represents the opinion of a contributor and not necessarily that of TheStreet or its editorial staff.