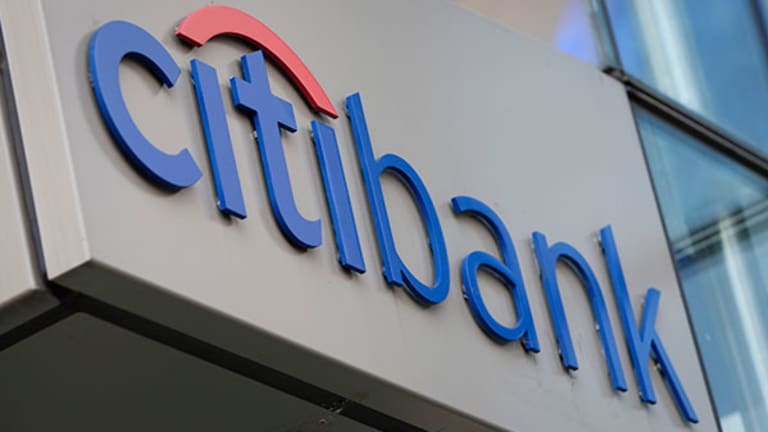 Citigroup Is Sticking With Russia Even as It Exits 11 Markets
Citigroup has no plans to exit Russia, even as the financial services giant laid out a plan to sell its consumer banking businesses in 11 markets around the world.
NEW YORK (TheStreet) -- Citigroup (C) - Get Citigroup Inc. Report is sticking with Russia even as the financial services giant plans to sell its consumer banking businesses in eleven other countries, including Japan. Citigroup's commitment to Russia comes as the country's economy is being severely hurt by U.S.-led financial sanctions over the conflict in Ukraine.
"We are not leaving Russia," said Citigroup chief financial officer John Gerspach in a media call after the company reported quarterly earnings, which beat expectations. Gerspach also affirmed Citigroup's commitment to significant operations around the world, a strategy that makes the firm the most geographically diverse large bank in the U.S.
"We think it is very important for Citi to be a global bank," Gerspach said. He emphasized that Citigroup plans to maintain a presence in emerging markets, particularly those with a rising number of affluent customers and ones that are concentrated in urban areas. Russia, it appears, continues to fit within Citigroup's long-term plans, even if the region doesn't appear to be generating profits for the bank. 
In the third quarter, Citigroup's global consumer banking business generated $9.6 billion in revenue and $1.9 billion in net income. The firm's North American business generated $5 billion in revenue, while its Latin American and Asian businesses generated $2.3 billion and $1.9 billion in revenue, respectively.
Citigroup's Europe, Middle East and African business, which counts Poland, Russia and the United Arab Emirates as its largest presence, generated $347 million in third quarter revenue and just $1 million in earnings from continuing operations, making it the smallest and least profitable unit within the firm's Global Consumer Bank.
Last quarter, as Citigroup was preparing to cut its geographic footprint, the bank said that an escalating conflict between Russia and Ukraine had not had a material impact on its financial results.
"To date, the ongoing instability in Russia and Ukraine has not had a material impact on the results of operations of EMEA GCB. However, future developments, including actions by Citi to mitigate its exposures and risks or the imposition of additional sanctions, such as asset freezes, involving Russia or against Russian entities, business sectors, individuals or otherwise, could negatively impact the business," Citigroup said.
In May, Citigroup CEO Michael Corbat cancelled a visit to the St. Petersburg International Economic Forum amid rising tension with Ukraine. However, other representatives of the company planned to attend, Citigroup said at the time.
Citigroup's continued commitment to Russia also comes at a time when competitor Morgan Stanley (MS) - Get Morgan Stanley (MS) Report is having trouble selling its oil merchanting business to Rosneft amid escalating tension. Nonetheless, Citigroup's geographic footprint remains a fluid situation.
On a call with investors, Corbat said Citigroup is continuing to work to improve performance in geographies classified by the bank as the "optimized bucket," and he noted noted progress. 
Exiting Eleven Markets
On Tuesday morning, Citigroup said it would pull out of consumer banking in Costa Rica, Czech Republic, Egypt, El Salvador, Guam, Guatemala, Hungary, Japan, Nicaragua, Panama and Peru, as well as its consumer finance business in Korea, as the bank simplifies its geographic footprint and focuses on profitable markets.
Those businesses, in total, accounted for roughly 5% of Citigroup's Global Consumer Banking business and generated $1.6 billion in revenue and $34 million in net income over the past 12 months, Citigroup CFO Gerspach said, while noting that its institutional businesses will remain in those markets.
Bank of America Merrill Lynch analysts said that the market exits could aid Citigroup's annual stress-testing review and will be seen favorably by investors.
"We believe this announcement will be particularly well received by investors who had been looking for management to take additional actions within Citicorp that would not only simplify GCB's operating structure but also help improve Citigroup's overall return profile," the analysts said in a note to clients. Citigroup's efficiency ratio in markets it is exiting is around 82.5%, indicating that revenues are only driving minimal profits. That contrasts with a 56.4% efficiency ratio across Citigroup's global consumer bank.
Active sale processes are underway for the businesses Citigroup is exiting, which will be reported as part of Citi Holdings in the first quarter of 2015. Since taking over as CEO, Corbat has pared Citigroup's presence in some markets such as Spain, Greece, Turkey, Pakistan, Romania and Uruguay. In total, the bank has exited 19 consumer banking markets.
Citigroup's global consumer bank will now serve nearly 57 million clients in 24 markets, the bank said.
"While we have made progress optimizing these 11 consumer markets, we believe our Global Consumer Bank will achieve stronger performance by focusing on the countries where our scale and network provide a competitive advantage," CEO John Corbat said in a press release.
-- Written by Antoine Gara in New York