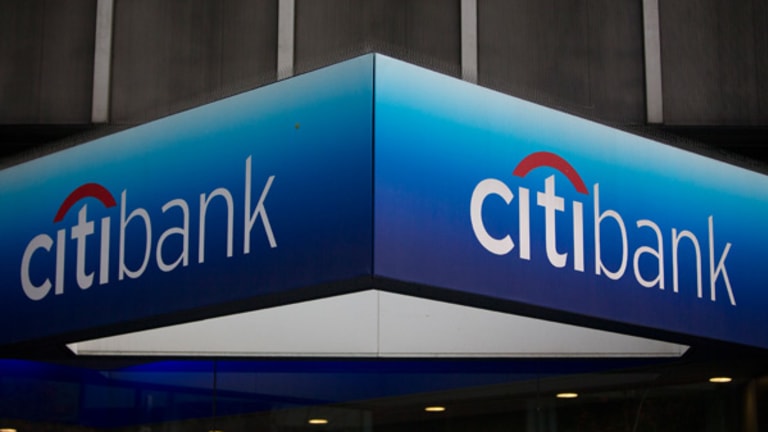 Citigroup Debate Continues as Global Fears Extend
European and Asian markets were very weak on Friday, as investors continued to worry over emerging-market and European economies, which is especially important to Citigroup.
NEW YORK (TheStreet) -- Citigroup's (C) - Get Citigroup Inc. Report stock is down 8% so far this year through Thursday's close at $48.30, and while most sell-side analysts still rate the stock a "buy," there has been s serious difference of opinion this week about the company's near-term prospects.
The shares were down another 1.5% in early trading Friday, to $47.48.
Rafferty Capital Markets analyst Richard Bove on Wednesday harshly downgraded Citi all the way to a "sell" rating from a "buy" rating, while lowering his price target for the shares to $44.50 from $57.00. Bove wrote in a client note that his previous "buy" recommendation was based on Citigroup trading below tangible book value, but that "Citigroup's book value can [no longer] be trusted," because of the company's exposure to troubled emerging market (EM) economies.
"When a currency problem arises in multiple countries worldwide that forces dramatic changes in interest rates... banks suffer," Bove wrote. "Business in those countries weakens. Citigroup is the only U.S. based bank that is vulnerable to those trends."
Citi's numbers show its unique position among large U.S. banks, with most of its earnings derived from outside the United States. For the bank's core unit, Citicorp, 57% of fourth-quarter adjusted revenue came from outside the United States, excluding credit and debit valuation adjustments (CVA and DVA) and minority investments. On a similar basis but also excluding a credit card divestiture, 69% of Citicorp's fourth-quarter earnings came from outside the U.S.
Investors are continuing to worry in a big way about emerging markets and the European economy, with markets in Asia and Europe seeing significant losses and U.S. markets opening sharply lower.
KBW analyst Fred Cannon last Friday had called Citi's exposure to Argentina "manageable," and estimated that even in the worst-case scenario of a full write-down of the bank's business in that country, the hit to Citi's tangible book value would only be 45 cents a share. A loss of that magnitude would be less than 1% of Citi's reported Dec. 30 tangible book value of $55.38.
But according to Bove, "The issues arising in a number of foreign nations suggest that loan quality at Citigroup may erode. The bank was the only one I follow that showed weaker loan quality in the fourth quarter and the problems here may accelerate."
These troubled emerging economies include Turkey, whose central bank on Tuesday raised its overnight lending rate to 12% from 7.75%, in an effort to defend its currency. Other troubled economies cited by Bove in a separate report Tuesday included South Africa, Brazil and Indonesia.
First a Capital Return Play, Then an Earnings Play
Cannon on Thursday followed up with another report on Citigroup after he and other KBW analysts met with the bank's CFO John Gerspach.
"We came away feeling better about the balance sheet risks that Citi potentially faces -- including a conviction that recent emerging markets turmoil should not present balance sheet or capital management risks in 2014. Further, management continue to express conviction in their 2015 goals, including a 90 to 110 basis point ROA," Cannon wrote.
Citigroup's post-crisis "good bank/bad bank" strategy has been paying off. Citi Holdings, the runoff subsidiary, had $117 billion in total assets as of Dec. 31, down 35% from a year earlier and making up just 6% of Citigroup's total assets.
The company's estimated Basel III Tier 1 common equity ratio was 10.5% as of Dec. 31, rising from 8.7% a year earlier, and putting the company in a solid position to raise its nominal quarterly dividend of a penny a share and announce significant share buybacks following the completion of the Federal Reserve's stress tests and reviews of banks' capital deployment plans in March.
Cannon wrote that Gerspach feels the Fed's "severely adverse scenario" being used in the stress tests is "'multiples' more stressful than the current EM situation."
The CFO according to Cannon also said Citigroup was overcapitalized and its conservative 2013 capital plan "was establishing an initial foundation. This year is about increasing capital return and establishing a foundation that allows for more capital return in future periods."
Gerspach also said Citigroup remained committed to its 2015 operating targets, including a return on average assets (ROA) ranging from 0.90% to 1.10% and a return on tangible common equity (ROTCE) of 10% that CEO Michael Corbat laid out last March. The company reported a preliminary ROA of 0.74% for 2013, improving from 0.40% in 2012, with ROTCE improving to 7.1% in 2013 from 4.1% the previous year.
The CFO also estimated that Citigroup's reserve releases were being made at a slower pace than peers, mainly because of higher relative reserve levels within Citi Holdings, "and also believes it is prudent to see how home equity loans within Citi Holdings perform in a reset environment (2015)." Cannon was referring to the Federal Reserve's eventual raising of the short-term federal funds rate from its current range of zero to 0.25%. Depending on how quickly the Fed raises short-term rates, there could be "rate shock" among some home equity borrowers as their variable-rate payments go up.
Gerspach also said Citigroup was rebuilding its equity trading desk after being forced to make major cuts during the credit crisis. He also said it was too early to know how fixed-income trading for the first quarter would turn out.
Cannon rates Citigroup "outperform," with a price target of $58, implying upside over the next 12 months of 20% from Thursday's close.  The analyst estimates Citi will earn $4.75 a share during 2014, with EPS rising to $5.15 in 2015.
Citigroup is the cheapest large-cap U.S. bank stock on a forward P/E basis, trading for just 8.4 times the consensus 2015 EPS estimate of $5.76 among analysts polled by Thomson Reuters, at Thursday's close. 
So investors need to consider whether or not they are being handed a golden opportunity to pick up shares of Citigroup, or if this latest panic in emerging markets and Europe is "the big one." After all, these panics are not such a rare event.
This chart shows the performance of Citi's stock against the KBW Bank Index (I:BKX) and the S&P 500undefined since the end of 2011:
data by YCharts

Bank of America Faces Earnings Dip When Reserve Releases End

JPMorgan Has Major Upside When Short-Term Rates Rise
Philip W. van Doorn is a member of TheStreet's banking and finance team, commenting on industry and regulatory trends. He previously served as the senior analyst for TheStreet.com Ratings, responsible for assigning financial strength ratings to banks and savings and loan institutions. Mr. van Doorn previously served as a loan operations officer at Riverside National Bank in Fort Pierce, Fla., and as a credit analyst at the Federal Home Loan Bank of New York, where he monitored banks in New York, New Jersey and Puerto Rico. Mr. van Doorn has additional experience in the mutual fund and computer software industries. He holds a bachelor of science in business administration from Long Island University.