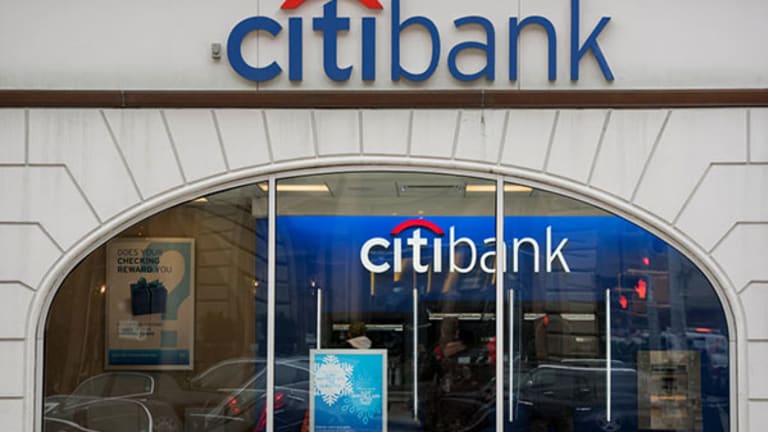 Citibank Settles, Will Exit Bond Custody Business in Argentina
Under the settlement, the U.S. court agreed to let Citibank Argentina make a $3.7 million payment on the U.S. dollar-denominated Argentine law exchange bonds.
NEW YORK (The Deal) -- Caught between a rock and a hard place due to conflicting demands from a U.S. court and Argentina's government, Citibank has reached a settlement that calls for it to exit a contentious segment of its business in the Argentine Republic. 
According to documents filed with the U.S. District Court for the Southern District of New York in Manhattan on March 20, the Citigroup (C) unit will exit its bond custody business in Argentina that involved processing contested payments to holders of Argentina's U.S. exchange bonds governed by Argentine law.
Helping those payments get from Argentina to its bondholders would have violated an order from Judge Thomas Griesa, who ruled that Argentina couldn't continue its practice of paying only the bondholders who participated in 2005 and 2010 debt exchanges and refusing to pay the holdouts.
Under the settlement, Griesa agreed to let Citibank Argentina make a $3.7 million payment on the U.S. dollar-denominated Argentine law exchange bonds that come due on March 31, and make a further payment on June 30. His ruling doesn't affect Argentina's other sovereign bonds.
Citibank had argued in court that it should be allowed to make payments on the U.S. dollar-denominated Argentine law bonds, but Griesa denied its request in a March 12 ruling that said the pari passu clause applies to all of Argentina's restructured bonds, even those issued under Argentine law.
Argentina's government turned up the heat on Citibank the day after the ruling came down, threatening that if the bank refused to process the payments, it would revoke its license and even pursue criminal sanctions against its employees.
Citibank's attorney, Karen Wagner of Davis Polk & Wardwell, begged Griesa for help in a March 13 letter, warning that the bank would face "serious and irreparable harm" and "immediate dire consequences" if it couldn't avoid Argentina's sanctions.
Citibank and plaintiffs led by NML Capital, a New York hedge fund affiliated with Elliott Management which is one of the holdouts litigating to get paid by Argentina, reached a settlement under which Citibank will exit the Argentine custody business and agree not to appeal the March 12 ruling. The agreement has the court's sanction.
An NML spokesman said in an e-mailed statement, "Judge Griesa approved this agreement, which applies only to Citibank and was specifically tailored to address the unique circumstances facing Citi Argentina after Citibank announced it was exiting the custody business in Argentina."
Indeed, Griesa specified that only Citibank is allowed to make the payment, meaning that neither Argentina nor Citibank's replacement will be permitted by New York courts to do so or they will violate the March 12 ruling.
In court documents, NML and its fellow plaintiffs promised not to say that the transfer of bond custody from Citibank Argentina to another party violated court orders-and added that they wouldn't come out against a sale of Citibank Argentina, either.
According to a source familiar with the situation, NML has contacted other third parties involved in the payment processing chain to tell them that they aren't allowed to process Argentina's March 31 and June 30 debt service payments.
Court papers say Euroclear and Clearstream, the clearing systems used by Argentina's bondholders in Europe, are "permitted, but not required," to transfer their U.S. dollar Argentine law exchange bonds to Caja de Valores SA, an Argentina-based depository for public bonds and private securities.
The dispute has a long history. A group of holdout bondholders led by NML and fellow hedge fund Aurelisu Capital Management LP had originally declined to participate in Argentina's 2005 and 2010 debt swaps and litigated to get paid in full, protesting Argentina's practice of paying only its restructured bondholders.
Griesa awarded that group a so-called ratable payment injunction, which prohibits Argentina from paying restructured bondholders without also paying the holdout group. It also prohibited third parties from helping Argentina distribute payments to bondholders.
When bond trustee Bank of New York Mellon decided last summer not to give the restructured bondholders the interest payments that Argentina deposits for them for fear of violating Griesa's order, Argentina again defaulted on its sovereign debt on July 30.
A Citibank spokesman couldn't be reached for comment.