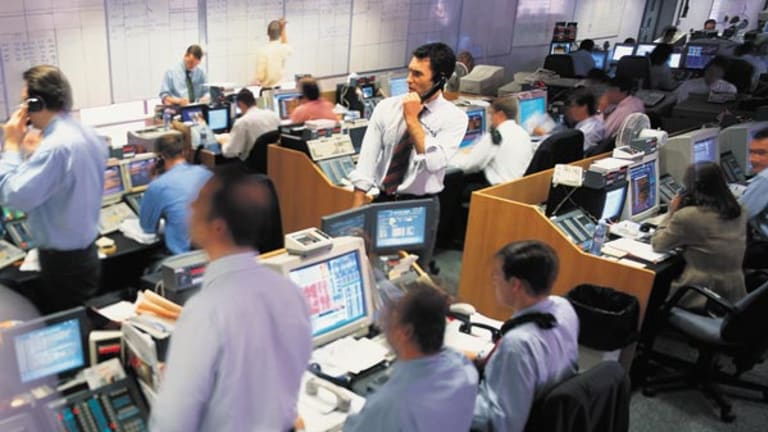 Publish date:
Chinese Yuan Winners: E-House, Ctrip.com
The news from China that the government will allow the yuan to appreciate sends shares of Chinese real estate and travel stocks higher.
The news from China that the government will allow the yuan to appreciate sends shares of Chinese real estate and travel stocks higher.
NEW YORK (
) -- Chinese real-estate company
E-House
(EJ)
and Chinese travel services company
Ctrip.com
(CTRP) - Get Report
are among the Chinese stocks popping in Monday trading as a result of the big news over the weekend that China would allow the yuan currency to appreciate.
E-House was up more than 10% at the midday mark -- the Chinese real estate company had been up more than 13% earlier in the morning.
Ctrip.com was up close to 9% at the midday mark.
If one of the two stocks deserves more of the yuan-pop, it may be Ctrip. Ctrip provides travel services -- from airline tickets to package tours, to China's consumer market. With the yuan appreciating, Chinese consumers will have the impetus to travel more, both domestically and internationally, analysts say.
The issue with Ctrip is valuation, as with the spike on Monday the travel services company hit a 52-week high over $46.
In the past two weeks, Ctrip.com shares have appreciated by $10.
E-House, on the other hand, one of the largest residential real estate companies in China, had fallen to 52-week lows in recent trading sessions, and the yuan appreciation announcement is triggering a big rebound.
Yet it's a complicated story for E-House, and one analyst who covers the company said that if investors are bidding up E-House based on the Chinese government's announcement about a flexible yuan, investors are overreacting.
Ella Ji, analyst at Oppenheimer & Co., said that the Chinese government is trying to boost consumer spending and consumption. It's not to say that money won't flow into the real estate sector. In fact, Ji said that with the yuan appreciating, foreign investors can be expected to pour more money into China's real estate sector.
China's Consumer Price Index has also been showing inflation in recent months; investors will therefore be looking at real estate as a safe haven. "Foreign investors who bring money to China and will be looking at real estate as a potential investment area, that's about as far as I can go in making a case for E-House based on the yuan appreciation," the Oppenheimer analyst said,.
However, the safe haven of real estate is among the most overvalued assets in China. The Chinese real estate sector has been talked about as a property bubble potentially larger than the U.S. housing implosion all year long. The Oppenheimer analyst Ji wouldn't describe China as a property bubble, because it's tier 2 and tier 3 cities are still ripe for development, even if some of its marquee cities have become overvalued. There is still further price appreciation to come in the tier 2 and tier 3 cities, and E-House's business is split 50%-50% between the tier 1 market and the rest of China.
For Oppenheimer's Ji, though, the E-House story has to be a long-term bet, based on the dip in the shares that E-House recently took, and not a play on the yuan appreciation being a game-changer for the real estate company. "If you're a long-term investor, I do think e-House was down to a very low level," Ji said, adding that even after its 10% rise on Monday and spike of $1.50 to $16 per share, E-House still has upside potential (the Oppenheimer price target is $20).
The big issue for E-House is that transaction volume has dried up in China as prices have risen too quickly. The residential real estate market is frozen in China. And, as a result, the transaction volume that E-House depends on to generate its commission revenue has been hit hard. E-House's business is a combination of the revenue generated from transaction volume and commissions paid, both general commissions and bonus commissions.
The hard stop on transaction volume in residential real estate sent E-House down to a 52-week low, and the Oppenheimer analyst, for one, doesn't expect a rebound in the residential market until prices come down by 10% to 15%. As a result, the E-House bonus commission revenue has decreased and is expected to decrease again for the full year 2010. Oppenheimer's Ji doesn't expect the pricing adjustment to come in the Chinese market until next autumn, a more active season historically for real estate in China.
"I don't think currency will be a strong driver in real estate in the near-term," Ji said, adding, "We need to wait for the price adjustments, and it's the consumer related companies that should benefit more from the yuan appreciation," Ji said.
>>Chinese Solar Stocks: Yuan D-Day Impact
-- Reported by Eric Rosenbaum in New York.
Follow TheStreet.com on
and become a fan on
Copyright 2009 TheStreet.com Inc. All rights reserved. This material may not be published, broadcast, rewritten, or redistributed.