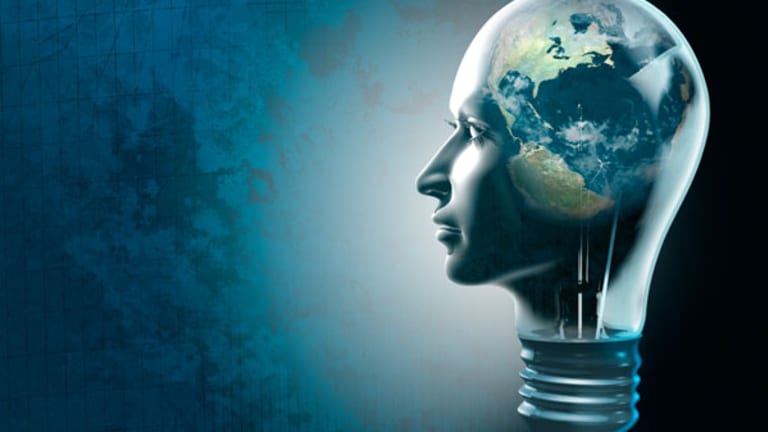 (Chinese solar stock, Chinese yuan story updated for Collins Stewart analysis)
NEW YORK (
) -- A long-awaited currency event in the solar sector is finally taking place, and it's not the euro rebounding from its freefall and helping solar shares to recover from recent lows -- though the euro did that last week. The Chinese government announced over the weekend that it plans to take the first steps to allow the Chinese currency to appreciate against the dollar. While the recent euro woes have exacted a heavy toll on solar with a majority of sales into the region, it is the concession from China to change its monetary policy that will have the longer-lasting impact on Chinese solar shares.
The opinions from the Street about the impact on Chinese solar stocks from the Chinese currency appreciation plan have started coming out.
Appreciation of the Chinese currency effectively increases costs for Chinese solar companies, since almost all of the solar panels are exported to other countries. Added on top of the decline of the Euro, Chinese solar-module manufacturers are facing increased costs and lower revenues, resulting in lower margins.
Edwin Mok, analyst at Needham & Co., said the Chinese currency change will have a long-term impact on the margins of Chinese solar companies. The short-term industry dynamics seem good -- and the Chinese currency decision could give U.S. solar stocks like
First Solar
(FSLR) - Get First Solar, Inc. Report
and
SunPower
(SPWRA)
a boost. Yet the Chinese currency change could be "a long-term negative for solar demand due to a lack of growth coming from price elasticity. With subsidy cuts and a significant increase in supply coming on line, we remain concerned that the solar industry will swing back to oversupplied in 1H11, and suggest investors remain more defensive on the solar group."
Many analysts had thought that when China finally capitulated on the currency issue it would have a big negative impact on solar shares. However, that was before the euro depreciation brought many solar shares down to trading near or at book value.
Collins Stewart analyst Dan Ries thinks the euro action remains the larger currency headwind, at least in the immediate future, as the Chinese currency shift has begun with a modest revaluation. The Collins Stewart analyst says that a more dramatic appreciation in the Chinese currency would significantly erode one of the cost advantages of the Chinese solar module companies: the module cost. Chinese solar companies still have advantages in cost of labor, scale and cost of capital that are not impacted by the currency shift.
It is important to separate the costs incurred in Chinese currency versus in other currencies, also. Polysilicon is still usually purchased in USD or euros by Chinese solar companies, though the portion purchased in Yuan is increasing, according to Collins Stewart.
Nevertheless, most costs of solar module production are in yuan. Collins Stewart estimates that China- based solar module manufacturers incur approximately 7 Yuan-denominated costs per watt to make a solar module. A 10% strengthening of the Yuan to a 6.21 exchange rate to the USD would raise module production costs of China-based module vendors by roughly $0.10/watt on average. While that would erode the Chinese solar cost advantage, it would not eliminate a cost advantage that can range as high 30 cents to 60 cents/watt, versus European, Japanese and U.S. peers.
As of Monday morning, the 12-month forward contracts for the Yuan were trading at a 6.63 exchange, reflecting only a 3% appreciation over the next year. At that 6.63 exchange, the 7 Yuan costs per watt to make a solar module would convert to $1.055, which would represent only a $0.03/w increase in manufacturing costs for Chinese solar companies, in the analysis of Collins Stewart.
Gary Hseuh, analyst at Oppenheimer, said the Chinese decision is likely to be perceived as negative for Chinese solar stocks. "We don't disagree with this likely reaction, but note that many China-solar ADR's are trading at balance sheet support levels (e.g., ~1.0x book), and thus we see limited downside risk."
The Oppenheimer analyst sees the level of vertical integration within each solar firm being a reference point for the impact of the currency change. "Given wafer prices are denominated primarily in USD, Chinese solar companies with significant external wafer buys
Suntech Power buys from MEMC Electronic Materials could be more insulated, naturally hedged against RMB appreciation."
Oppenheimer's Hseuh thinks investors will need to pay greater attention to bank borrowing by Chinese solar companies also. Both
Suntech Power
(STP)
and
Yingli Green Energy
(YGE)
have significant debt ratios, although Suntech has a much greater proportion of debt in USD-denominated convertible notes.
The Needham analyst thinks the biggest issue is the fact that the Chinese solar ability to continually lower the price bar may now erode more significantly, and Chinese producers may have to keep pricing more firm. "Falling prices have been one of the main drivers for increased solar demand due to price elasticity.... However, with prices more likely to remain firm and subsidy rates being reduced ... demand for solar could slowdown in the coming year. Combined with a substantial increase in solar supply in 2H10, we believe the market will be pushed back to a supply/demand imbalance, ultimately hurting all solar producers."
Solar shares looked to open higher on Monday morning, but this is just the beginning of a long debate over what the Chinese currency move means for solar industry dynamics.
The Needham analyst was also not convinced that the negative currency headwind for Chinese stocks was necessarily a game-changer for U.S. solar stocks like First Solar, writing, "we would use any near-term strength in the share price as a selling opportunity."
Shares of
Trina Solar
(TSL)
, were up by more than 5% on Monday morning to start the week. First Solar, which rose last week as the euro rebounded, was up by only 1% in early trading on Monday, though saw big gains last week. Trina has been among the stocks hardest hit in the recent euro-related selling. Still, if the Chinese currency shift was to be a net gain for First Solar and net loss for Trina and its Chinese stocks peers, it wasn't obvious in early trading on Monday.
-- Reported by Eric Rosenbaum in New York.
Follow TheStreet.com on
and become a fan on
Copyright 2009 TheStreet.com Inc. All rights reserved. This material may not be published, broadcast, rewritten, or redistributed.