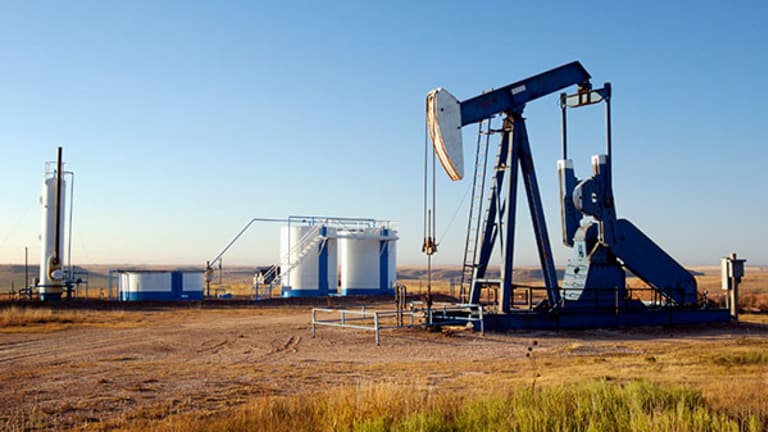 China's Biggest Oil Refiner Refocuses on Exploration -- and Profit
Sinopec's divestiture from its marketing business and new focus on higher-margin operations will give a boost to shareholder returns.
NEW YORK (TheStreet) -- Investing in oil companies in China is about to become a lot more profitable.
Last November, China's leaders called on private investors to play a bigger role in the country's economic revival as they unveiled a new package of economic reforms. Investors can now turn to China's biggest oil refiner, China Petroleum & Chemical (SNP) - Get Free Report, more common known as Sinopec. The company has decided to sell some of its marketing operations to outside investors.
[Read: How to Profit on Stock Market Volatility]
The company's move is a big step in the right direction, as it can now increase its focus on its exploration and production unit, from which Sinopec gets more than half of its income. Moreover, by selling its stake in the marketing business, Sinopec can continue growing its reserve base without amassing additional debt.
By increasing its focus on higher-margin operations, Sinopec will be able to improve shareholder return. Wall Street has reacted positively, and Sinopec's American depository receipts bounced up by more than 9% to $84.30 from the announcement until the markets closed on Friday, Feb. 21. Since then they've sunk a bit to $82.21. Despite the surge, the company's shares are now trading just 8.5 times its trailing earnings, which make it an attractive investment.
China has been suffering from an economic slowdown and is expecting one of the slowest annual growth rates in more than two decades. To encourage a turnaround, Chinese officials introduced new economic reforms. The government asked the private sector to play a bigger role in China's future, as the country moves towards mixed-ownership economy. As part of these efforts, an overhaul of the country's enormous oil companies was also expected.
Subsequently, Sinopec's board has agreed to restructure and diversify the ownership of its marketing business by selling up to 30% of its shares. Sinopec's marketing segment includes China's biggest network of around 30,500 gasoline stations, nearly 10,000 km of pipelines and more than 15,000 cubic meters of storage facilities.
Analysts have put a price tag of more than $20 billion on that 30% marketing stake. This means that in the eyes of Wall Street, Sinopec's massive oil marketing operations are valued at more than $66 billion.
Sinopec has recently raised $3.1 billion in private share placement, as it intends to purchase around $8 billion in assets from its parent, Sinopec Group.
Eventually, Sinopec will acquire between $30 billion and $40 billion in assets from its parent as it aims to compete with the big boys of the oil industry such as ExxonMobil (XOM) - Get Free Report and Chevron (CVX) - Get Free Report.
[Read: Everyone Loves Warren Buffett, But Should We?]
Therefore, the current sale of its stake comes at a good time for Sinopec. It eliminates the need to raise further debt.
The company's decision to divest some of its marketing assets is also in line with the general global trend in the energy space. More and more oil and gas companies, including China's biggest oil producer PetroChina (PTR) - Get Free Report, have been divesting from their marketing and infrastructure assets to increase their focus on the exploration and production side of the business. This is because the latter is considerably more lucrative.
This was evident in Sinopec's annual results. In 2012, Sinopec's exploration and production segment reported an operating margin of 27.2%. On the other hand, its marketing segment, which was the biggest contributor to sales, operated with a margin of just 2.9%.
In its most recent results for the nine months ending in September 2013, Sinopec revealed that its marketing segment was responsible for 35% of its operating profits. On the other hand, its exploration and production arm contributed 60% to the company's operating profits.
By divesting from the lower-margin business and investing in the higher-margin operation, Sinopec can considerably improve its profitability in the future.
Meanwhile, analysts have speculated that PetroChina might accelerate its divestiture program in response to Sinopec's sale. However, PetroChina will mainly focus on selling its infrastructure assets as, unlike Sinopec, PetroChina's oil marketing operations consist of fewer and less lucrative retail outlets. In mid-2013, PetroChina revealed that it owns more than 20,000 gas stations.
[Read: iPhone Insecurity? You Need to Do This if You're an Apple User]
Furthermore, Sinopec says that by working with private investors with experience in the oil marketing business, the marketing segment will become more efficient in the future.
In short, Sinopec's decision to increase its focus on exploration and production by divesting from marketing makes a lot of sense.
The potential buyers of the stake in Sinopec's marketing segment would be looking at the segment's ability to generate a lot of revenue from its huge network of gas stations. The oil and gas retail business is considerably less capital-intensive than the exploration, production and refining businesses. This makes the retail business more attractive for the private sector. Furthermore, unlike the chemicals segment, the market business remained profitable throughout 2012.
Another advantage is that Sinopec's retail segment is already integrated with Sinopec's enormous refining segment.
Analysts have also highlighted the fact that Sinopec's 30,000 gas stations are seriously undervalued. With the new investment, these stations, and the retail shops on them, can be revamped. That could improve their profitability.
At the time of publication, the author held no positions in any of the stocks mentioned.
This article represents the opinion of a contributor and not necessarily that of TheStreet or its editorial staff.