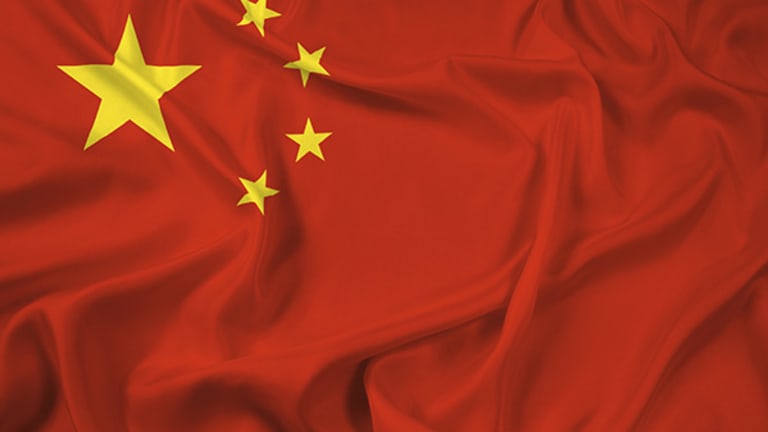 China Worries, Real and Overblown: What Wall Street Is Saying
Investors remain wary of growing pains in China, which lowered its assessment of 2014 economic growth, and is reporting more data this week. Goldman Sachs says impact will be limited.
NEW YORK (TheStreet) -- U.S. markets got a boost from China on Tuesday, but investors remain wary of growing pains in the world's second-largest economy.
The Shanghai Composite Index closed with a gain of 2.9% following a choppy trading day on Monday, and key U.S. indices rose more than 1% after trading reopened following the Labor Day holiday weekend. Economic data from China remains troubling, with the country curbing its 2014 growth rate to 7.3% from a previous estimate of 7.4%; the figure reached double digits in recent years. Estimates for 2015 are for 7% growth, and 6.8% growth for 2016.
Even though exports to China account for only 1% of U.S. gross domestic product, traders and investors are concerned by the broader effects of slumping growth in the country, which accounts for nearly 20% of the world's population. Following is a sampling of what Wall Street professionals are saying about it.
Jan Hatzius, Goldman Sachs
While the slowdown in China will hit the U.S. economy in many ways, the actual effects will be minimal, Hatzius said in a research note. After modeling the effects of a slowdown in Chinese trade, the devaluation of China's currency, and other difficult-to-quantify spillover effects, Goldman Sachs believes that negative news from China could lower U.S. growth by about 0.2%.
"Our bottom line is that even under a more comprehensive analysis that takes into account not just the direct trade links but also third-country trade and various financial links, the drag on U.S. growth from China still looks quite limited," Hatzius wrote. "But the uncertainty is significant in light of the difficulty of disentangling financial spillovers and the continued downside risks to the Chinese economy."
Jan Loeys, JPMorgan Chase

China worries are unlikely to rattle U.S. markets much more, Loeys said in a report: the effects of China's slowdown are likely to be felt more acutely in emerging markets than in developed ones. Much of the recent U.S. volatility, Loeys said, is because of "sentiment and position squaring."
E. William Stone, PNC Bank
The bank will be monitoring Chinese economic data, including reports on inflation, lending and money supply this week, Stone said. Recent data from China has been poor, with imports and exports declining 13.8% and 6.1%, respectively, from August 2014. The team forecasts volatility in U.S. markets this week due to China concerns, speculation on whether the Federal Reserve may raise interest rates, and how the two may affect each other.